List of Best Netflix Series
See here the Best Netflix Series you must watch,  All Top rated Series on Netflix you can watch.
Money Heist
The Netflix series Money Heist (La casa de Papel) is a Spanish heist crime drama television series created by Álex Pina for Netflix. It is rated TV-MA for Violence, Sex, Nudity, Substances, Sexual Violence.
In this series, eight thieves take a hostage and lock themselves in the Royal Mint of Spain as a criminal mastermind manipulates the police to carry out his plan. The whole series is meant to be intense. Each season starts off slowly and ramps up the tension until the climax of the end. This formula is reused every season with little twists and turns and escalating violence.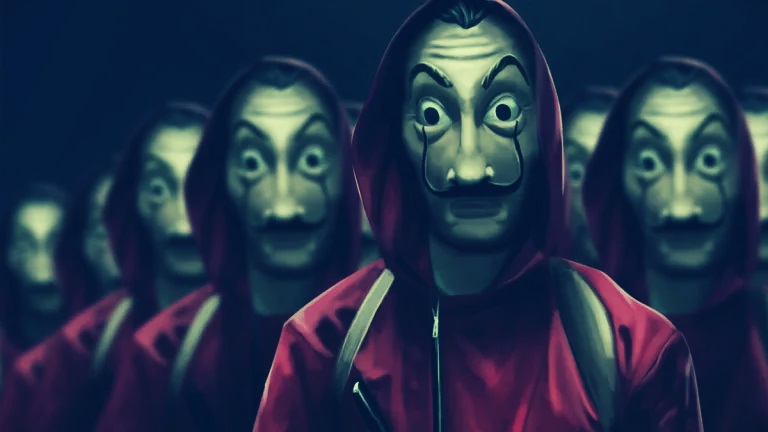 The series deals with a lot of gray morality. The robbers supposedly steal money from Spain's central bank by printing it. Labeling it a victimless crime in an unjust society. Manipulating hostages they take at gunpoint and the public that behave in predictable sheeplike manners, they face off against gullible and incompetent police.
Stranger Things
The Netflix series Stranger Things is an American science-fiction horror television series created by Duffer Brothers for Netflix. It is rated TV-14 for Violence, Sexual References, Drug Use, Nudity, and Language Throughout.
This story is from the 80s and it starts when Mike, Lucas, Dustin, and Will four best friends were playing Dungeons and dragon a board game, after the game when Will was on his way home then Demogorgon named animal from another dimension pulls him to his world, this another hidden world is known as the Upsidedown an alternate dimension.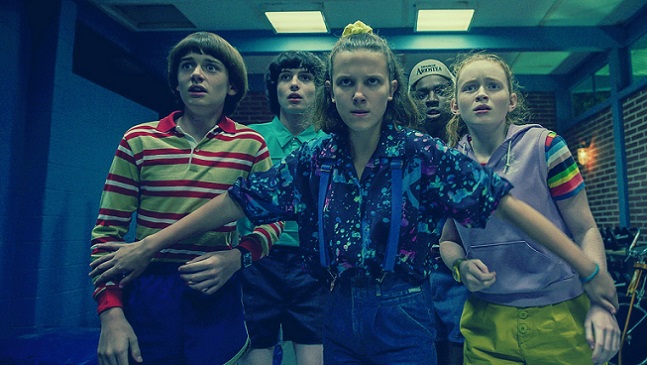 Another day in the morning Will's mother and his brother Jonathan goes to file the missing complaint, chief inspector Jim Hopper takes the case in his hand, then we see Eleven who's stealing food from a restaurant, restaurant owner caught her and calls the social service department that's she has found a girl, but instead of social service teams here comes the agents of Dr. Brenner, these are the guys Eleven ran from because they were performing various experiments on her at Hawkins lab.
Squid Game
The Netflix series Squid Game (Round Six) is an upcoming South Korean television series written and directed by Hwang Dong-hyuk. It tells the story of people who risk their lives in a mysterious survival game having a prize of $45.6 billion. It is rated TV-MA for violence, sex nudity, suicide.
This series tells the story of people who fail at life for various reasons but suddenly receive a mysterious invitation to participate in a survival game to win ten million US dollars. The game takes place at an unknown location, and the participants are locked up until there is a final winner.
The story will incorporate popular children's games from the 1970s and 1980s of Korea, such as squid games.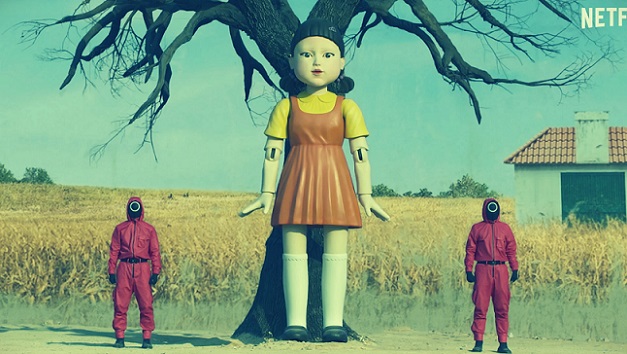 The End of the F**ing World
The Netflix series The End of the F**ing World is a British dark comedy-drama television series created by Charlie Covell, Jonathan Entwistle, Lucy Tcherniak for Netflix.
The story of a young boy named James, who is a  psychopath because he likes to kill the animal but now he fed up with this, so now he wants to be a homicide, and a girls Alyssa, an enthusiastic girl, it is a fantastic story with deep analysis of crime.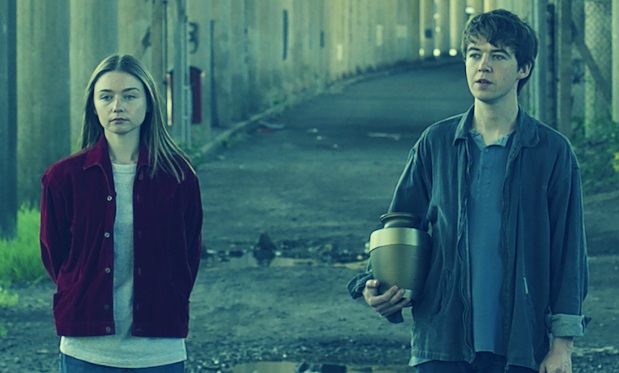 Alyssa foolishly runs abroad after James, abrogation alone a cryptic letter, alarming him into cerebration she ability be affliction herself. He eventually finds her at the antecedent of her pain: Professor Koch's home, the area she was assaulted and James committed annihilation to assure her. 
Breaking Bad
The Netflix series Breaking Bad is an American neo-Western crime drama television series created by Vince Gilligan for Netflix. It is rated TV-MA for Sexual References, Nudity, Violence, Drug Misuse, and Language Throughout.
In this series, a chemistry teacher named Walter White is diagnosed with Stage III cancer, and given only two years to live, he decides he has nothing to lose. He lives with his teenage son, who has cerebral palsy, and his wife, in New Mexico. Determined to ensure that his family will have a secure future, Walt embarks on a career of drugs and crime.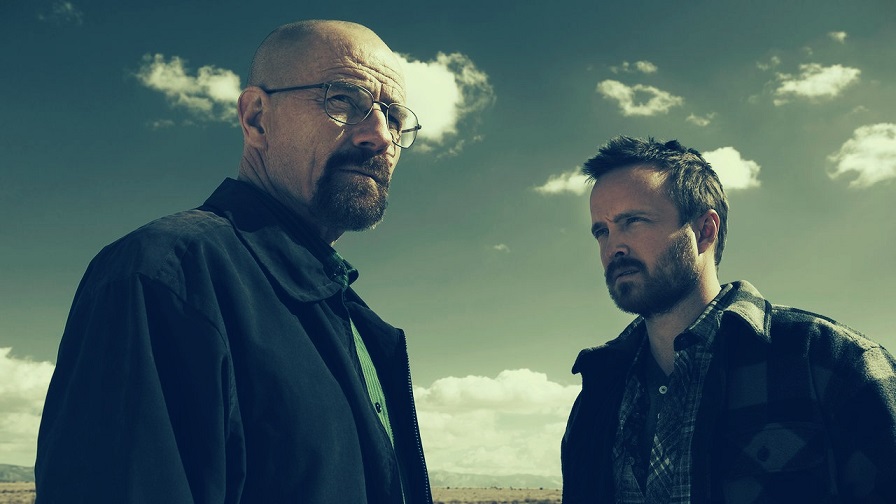 He proves to be remarkably proficient in this new world as he begins manufacturing and selling methamphetamine with one of his former students. The series tracks the impacts of a fatal diagnosis on a regular, hard-working man, and explores how a fatal diagnosis affects his morality and transforms him into a major player in the drug trade.
Lucifer
The Netflix series Lucifer, an American urban fantasy television series created by Tom Kapinos for Netflix. It is rated TV-14  for violence, sexual content, nudity, and drug usage.
Lucifer Morningstar, bored from his sulking life in hell, comes to live in Los Angeles. While there, he helps humanity with its miseries through his experience and telepathic abilities to bring people's deepest desires and thoughts out of them. While meeting with a Detective in his nightclub, a shootout involving him and the Detective leads him to become an LAPD consultant who tries to punish people for their crimes through law and justice.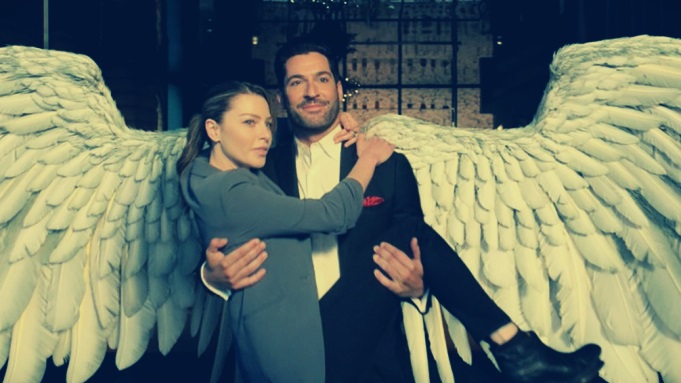 The Umbrella Academy
The Netflix series The Umbrella Academy is an American superhero television series created by Steve Blackman for Netflix. It is rated TV-14 for Nudity, Violence, Sexual Content, Drug Use, and Language Throughout.
In this series, forty-three infants are inexplicably born to random, unconnected women who showed no signs of pregnancy the day before. Seven are adopted by Sir Reginald Hargreeves, a billionaire industrialist, who creates The Umbrella Academy and prepares his "children" to save the world. But not everything went according to plan. In their teenage years, the family fractured and the team disbanded.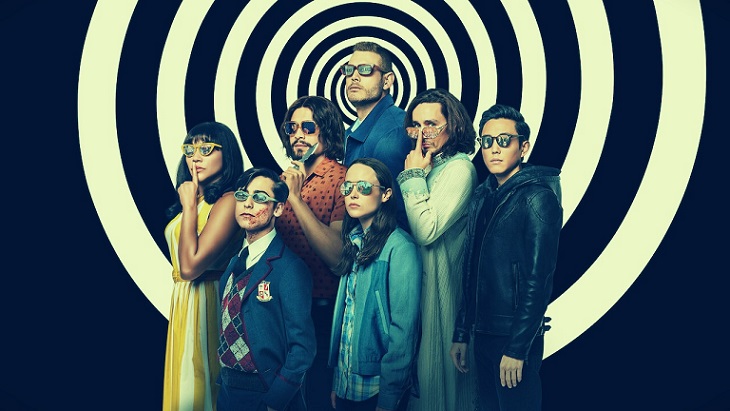 Now almost thirty years old, the six surviving members reunite upon the news of Hargreeves' passing. Luther, Diego, Allison, Klaus, Vanya and Number Five work together to solve a mystery surrounding their father's death. But the estranged family once again begins to come apart due to their divergent personalities and abilities, not to mention the imminent threat of a global apocalypse.
Elite
The Netflix series Élite is a Spanish thriller teen drama television series created by Carlos Monte, Darío Madrona for Netflix. It is rated TV-MA for Strong, Nudity, Sexual References, Drug Misuse, and Bloody Violence.
Las Encinas is the most exclusive school in the country, where the Elite sends their children to study. Three working-class teens have just been admitted as new students after an earthquake destroyed their school. The clash between those who have everything and those who have nothing to lose creates a perfect storm that ends in a murder.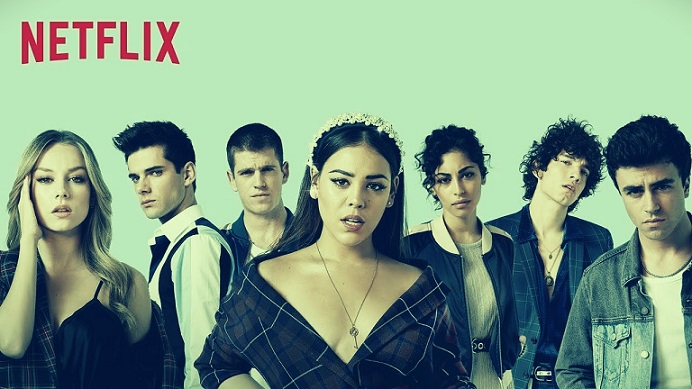 Peaky Blinders
The Netflix series Peaky Blinders is a British period crime drama television series created by Steven Knight for Netflix. It is rated TV-MA for Sexual References, Violence, Nudity, and Language Throughout.
Thomas Shelby and his brothers return to Birmingham after serving in the British Army during WWI. Shelby and the Peaky Blinders, the gang he is the leader of, control the city of Birmingham But as Shelby's ambitions extend beyond Birmingham, he plans to build on the business empire he's created, and stop anyone who gets in his way.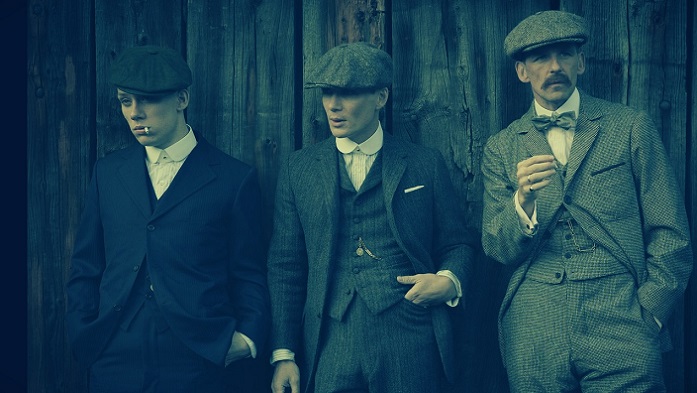 Ginny and Georgia
The Netflix series Ginny and Georgia is an American comedy-drama streaming television series created by Sarah Lampert for Netflix. It is rated TV-14 for Sexual Content, Violence self-harm, Drug Misuse.
It follows a 15-year-old girl named Ginny Miller who is more full-grown than her kid mother, Georgia, in a New England town where Georgia chooses to settle down with her little girl Ginny and child Austin to give them a preferred life over she had.
Vincenzo
The Netflix series Vincenzo is a South Korean crime romantic television series directed by Kim Hui-won. It is rated 16+ by Netflix for Some Violence, Nudity, Drug Misuse, and Language Throughout.
At eight years old, Park Joo-Hyung was received by an Italian family and went to live in Italy. He later joins the mafia and is embraced by Don Fabio, top of the Cassano mafia family. Renamed "Vincenzo Cassano" he turns into an Italian legal advisor, a consigliere for the mafia, and Don Fabio's right-hand man. After Fabio passes on, Paolo, Fabio's natural child and the new head of the Cassano Family endeavors to kill Vincenzo.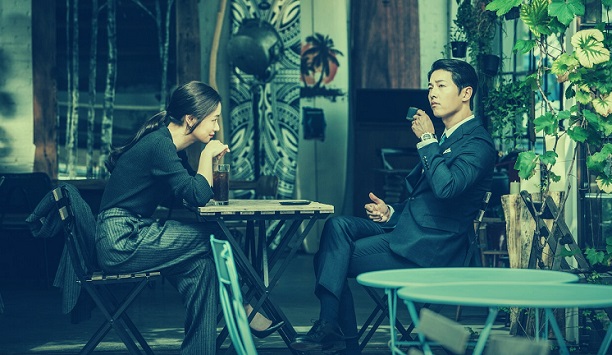 Vincenzo then, at that point escapes to Seoul and decides to recuperate 1.5 huge loads of gold that he helped a Chinese head honcho who as of late passed on covertly stash inside the storm cellar of Geumga Plaza. Notwithstanding, a land organization under Babel Group has unlawfully taken responsibility for building, and Vincenzo should utilize his abilities to recover the structure and recuperate his fortunes.
13 Reasons Why
The Netflix series 13 Reasons Why is an American drama streaming television series created by Brian Yorkey for Netflix. It is rated TV-MA for strong language, sex, sexual violence, sex references, drug misuse.
The story follows teenager Clay Jensen as he returns home from school to find a mysterious box with his name on it lying on his porch. Inside he discovers a group of cassette tapes recorded by Hannah Baker his classmate and crush-who tragically committed suicide two weeks earlier.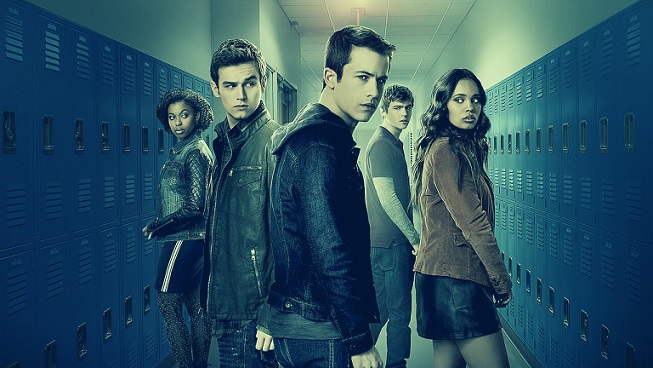 On tape, Hannah unfolds an emotional audio diary, detailing the thirteen reasons why she decided to end her life. Through Hannah and Clay's dual narratives, Thirteen Reasons Why weaves an intricate and heartrending story of confusion and desperation that will deeply affect viewers.
The Vampire Diaries
The Netflix Series The Vampire Diaries is an American supernatural teen drama television series created by Kevin Williamson, Julie PlecIn for Netflix. It is rated TV-14 for moderate violence, occasional gory moments, strong injury detail, drug use, strong violence.
After centuries Stefan and Damon Salvatore return to their town of Mystic Fall Virginia. Stefan meets a high school girl named Elena Gilbert who he instantly falls in love with. While Damon the gorgeous, dangerous, and selfish vampire is after his brother's girl to pay him back for making him turn into a vampire in 1864.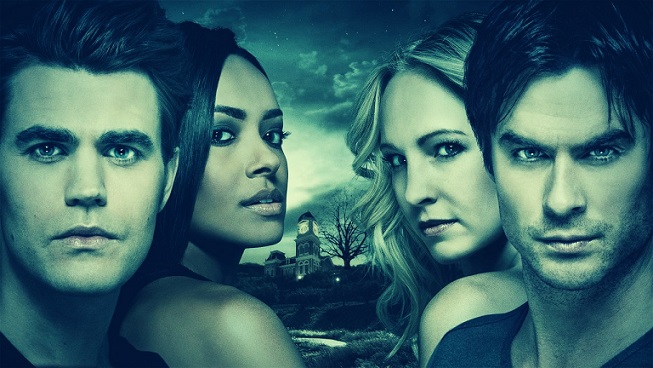 Emily in Paris
The Netflix series Emily in Paris is an American-French comedy-drama television series created by Darren Star for Netflix. It is rated TV-MA for Brief Nudity, Sexual References, Drug Use, and Language Throughout.
The story follows Emily, a driven 20-something American from Chicago who moves to Paris for an unexpected job opportunity. She is tasked with bringing an American point of view to a venerable French marketing firm. Cultures clash as she adjusts to the challenges of life in Paris while juggling her career, new friendships, and love life.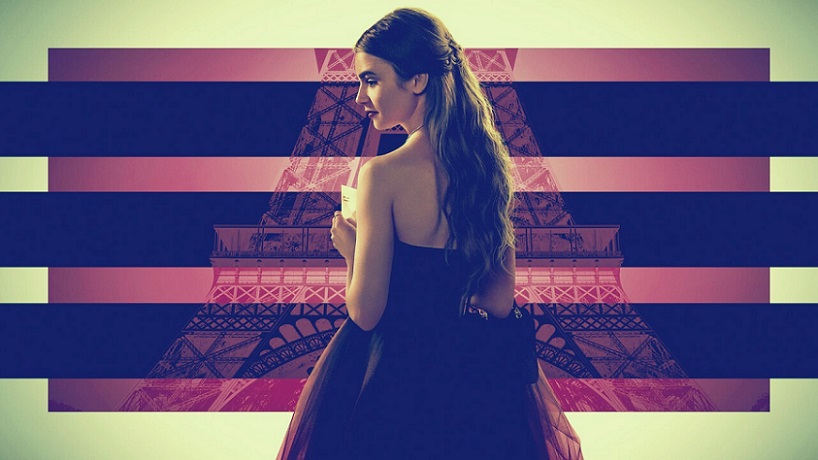 Anne with an E
The Netflix series Anne with an E is a Canadian episodic television series created by Moira Walley-Beckett for Netflix. It is rated TV-PG for Some Violence and Language Throughout.
The adventures of a young orphan girl living in the late 19th century. Follow Anne as she learns to navigate her new life on Prince Edward Island, in this new take on L.M. Montgomery's classic novels. It is described as a coming-of-age story about a person, not in the group who fights for a bill of exchange, for her place in the earth, and for love.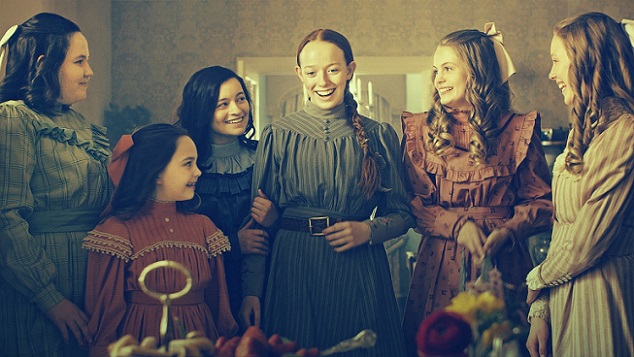 Anne and Cole band over their differences as Gilbert makes his way home. Anne faces the apple with an abominable new attending while the boondocks prep for its anniversary Christmas pantomime. Gilbert and Bash accompany the Cuthberts for dinner. Cole accompanies the girls to Aunt Josephine's for an abundant affair abounding with surprises.
Girl from Nowhere
The Netflix series Girl from Nowhere is a Thai-language television anthology series created by Sour Bangkok for Netflix. It is rated TV-MA for lots of depictions of rape, sexual assault, suicide, murder, assault, and violence.
The plot revolves around Nanno, an enigmatic girl who transfers to different private schools in Thailand and exposes the students and faculty's stories of lies, secrets, and hypocrisy. Nanno on occasion lies to provoke others. She is revealed to be an immortal entity, punishing wrongdoers for their crimes and misdeeds.
Riverdale
The Netflix series Riverdale is an American teen drama television series created by Roberto Aguirre-Sacasa for Netflix. It is rated TV-14 for Some Violence, Nudity, and Language Throughout.
After the death of one of the rich and popular Blossom twins on the 4th of July, the small town of Riverdale investigates the murder. The series starts in September, the beginning of a new school year, that brings with it new students, relationships, and reveals the mysteries of the past 4th of July.
All the above series are available on Netflix