Money Heist Parents Guide
Money Heist (Spanish: La casa de Papel, "The House of Paper") is a Spanish heist wrongdoing show TV arrangement made by Álex Pina.
The arrangement follows two since quite a while ago arranged heists drove by the Professor (Álvaro Morte), one on the Royal Mint of Spain, and one on the Bank of Spain.
The Netflix TV Series  Money Heist is a Spanish heist crime drama television series created for Netflix by Álex Pina. 
One of the Best Netflix Show.
In fact, the Netflix TV Series, Money Heist is a Crime drama, Heist, Thriller, Mystery, Suspense, genre TV Series produced by Atresmedia and Vancouver Media.
Moreover, the TV Series is Distributed by Antena 3 Television and Netflix. Read more about the Netflix TV Series, Money Heist age Rating, and parents guide for kids.
Money Heist Age Rating
Money Heist age rating is TV-MA
 Program-rated TV-MA is intended to be viewed by mature, adult audiences and may be unsuitable for children under 17. Contains content that is unsuitable for children.
Also, Money Heist rated 18+ by Netflix officials for violence, Sex, Nudity, Substances, Sexual Violence.
Money Heist Parents Guide
[su_box title="Why is Money Heist TV-MA?" style="noise" radius="9″]
[su_table responsive="yes"]
Sexual content and nudity. A scene of a rape, upper part nudity of a female in more than one scene.
2 scenes of sexual violence in the series. Sexual threatening.
A scene in the toilet with a couple making out. Brief Kissing scene.
Multiple scenes of sexual content include female nudity.
A female is trying to arouse a man her butt is clearly shown. There is a brief sex scene shown where the breast of the female character is shown briefly.
The hostages are seen naked.
Brutal violence and use of weapons, massive blood content, people are tortured.
So many people were injured by gunshots and treatment of gunshot wounds were being treated on screen.
Mental torture and real torture and intend to murder by both the leaders of robbers and police.
In a scene, a man gets stabbed in the neck with a needle, blood is shown.
Use of profanity throughout the series.
A man gets hung with a rope around his neck. He doesn't die but the scene was so intense.
 Use of alcohol and smoking cigarettes. Other drugs are also shown.
[/su_table][/su_box]
Money Heist Season 5 Release Date
Money Heist 5 will also mark the final season of the Spanish show, also called La Casa De Papel. Season 5 will split into two halves again. 
Season 5 volume 1 of Money Heist will arrive on September 3rd, 2021.

Money Heist season 5 volume 2 of Money Heist will arrive on December 3rd, 2021.
Official Poster and Details
[su_box title="Only Murders in the Building " style="noise" radius="9″]
[su_row][su_column size="1/2″ center="no" class=""]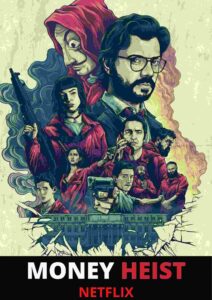 [/su_column] [su_column size="1/2″ center="no" class=""]
[su_table responsive="yes"]
[/su_table][/su_column][/su_row] [/su_box]
Note! If you already watched the series, please inform us about the parental guidance here with your support, we can bring out a better vision to everyone.
Money Heist Plot
Eight thieves take a hostage and lock themselves in the Royal Mint of Spain as a criminal mastermind manipulates the police to carry out his plan.
The whole series is meant to be intense. Each season starting off slowly and ramping up the tension until the climax of the end. This formula is reused every season with little twists and turns and escalating violence.
The series deals with a lot of gray morality. The robbers supposedly (Robin Hoodesque) steal money from Spain's central bank by printing it.
Labeling it a victimless crime in an unjust society. Manipulating hostages they take at gunpoint and the public that behave in predictable sheeplike manners, they face off against gullible and incompetent police.
As the series progresses and the violence turns into torture and murder on both sides the series remains by its portrayal.
[su_expand more_text="Continue Reading" less_text="Show less" height="90″ link_style="dotted" link_align="center" more_icon="icon: arrow-down" less_icon="icon: arrow-up"]
[su_accordion][su_spoiler title="Season 1" open="no" style="default" icon="plus" anchor="" class=""]
Ep. 1 The Professor recruits a young female robber and seven other criminals for a grand heist, targeting the Royal Mint of Spain.
Ep. 2 Hostage negotiator Raquel makes initial contact with the Professor. One of the hostages is a crucial part of the thieves' plans.
Ep. 3 Police grab an image of the face of one of the robbers. Raquel is suspicious of the gentleman she meets at a bar.
Ep. 4 Raquel is adversely affected by a personal crisis with her ex-husband. The hostages are afraid of the sound of gunshots they heard. Thieves argue among themselves.
Ep. 5 The team let the medical team enter the Mint, and an undercover policeman sneaks in with them. Can the professor stay one step ahead of Raquel?
Ep. 6  Monica's condition worsens. The professor enjoys the spoils of his latest trick. Rio is distributed by the news he sees on the television.
Ep. 7 A break in the investigation and a mistake by one of the thieves put the Professor at serious risk of being discovered.
Ep. 8 Tokyo catches Alison chatting with Rio and confronts her. The police suspect a spy is in their midst.
Ep. 9 The professor races to stop a witness from identifying him. Berlin seeks revenge once his own name is revealed and slandered in the press.
Ep. 10 Raquel enters the Mintto ascertain that all of the hostages are still alive and well. Nairobi gives Alison advice.
Ep. 11 Angel and Raquel question each other's loyalty. Monica makes a move on Denver. Rio is faced with a difficult decision.
Ep. 12 Arturo continues to formulate an escape plan for a group of hostages. The Professor reveals who gave him the idea for the heist.
Ep. 13 The Professor meets Raquel's mother under stressful circumstances. At the Mint, the thieves offer the hostages a decision: money or freedom?
[/su_spoiler]
[su_spoiler title="Season 2" open="no" style="default" icon="plus" anchor="" class=""]
Ep. 1 As forensic experts comb the Toledo country house for DNA, the professor losses control. Inside the Mint, the robber's nerves reach a breaking point.
Ep. 2 The police interrogate the first robber to be captured. Furious over Berlin's recent action, Rio takes a stand against him.
Ep. 3 Hoping to learn the Professor's identity, Raquel appeals to her captive's emotions. A punishment for high treason sparks a revolt among the robbers.
Ep. 4 Recognizing their plan is not working out, the robbers instead aim to win over the public via the press. Raquel traps a plan to capture the Professor.
Ep. 5 Arturo tries to set another escape plan in motion. During a conversation with Salva, Raquel spots a tiny detail that gets her mind racing.
Ep. 6 After confessing a long-held secret, Moscow losses his son's trust. A contingency plan to free Tokyo hits a snag, forcing her to improvise.
Ep. 7 With one of their own critically injured, the robber's race against time to save a life. During a moment alone, Ariadna makes a confession to Monica.
Ep. 8 After being removed from the case due to her friendship with the Professor, Raquel sets out the conduct her own search for the mastermind.
Ep. 9 As the police enter the Mint Berlin leads the robbers in a final showdown. Will they escape with the 984 million euros and with their lives intact?
[/su_spoiler]
[su_spoiler title="Season 3" open="no" style="default" icon="plus" anchor="" class=""]
Ep. 1 When Rio is captured, a distraught Tokyo turns to the Professor for help. Armed with a bold new plan, they reunite the team in order to rescue him.
Ep. 2 The Professor recruits Martín to put his brother's plan into action and target the Bank of Spain. First step? Create total chaos.
Ep. 3 Tokyo and Nairobi's efforts go drastically awry. The Professor recalls Berlin detailing how they'd steal the gold from the water-logged vault.
Ep. 4 Tamayo's breaches of protocol surprise the Professor. Bogotá calms Denver's anxieties. With time running out, Palermo initiates the "Flipper" plan.
Ep. 5 The Professor shocks officials with his latest stunt, but in response, a new inspector rattles Raquel. Palermo and Nairobi get into a heated argument.
Ep. 6 Just as Inspector Sierra orchestrates a plan to sneak a team into the Bank of Spain, the Professor and Raquel lose communication with Palermo.
Ep. 7 Tokyo's happiness turns bittersweet. Ángel closes in on a quarreling Raquel and the Professor. Authorities offer a multimillion-dollar reward for tips.
Ep. 8 Tokyo attempts to drown her sorrows. Sierra uses personal tactics to target a vulnerable Nairobi, while Suárez continues to hunt down Raquel.
[/su_spoiler]
[su_spoiler title="Season 4" open="no" style="default" icon="plus" anchor="" class=""]
Ep. 1 Anger and grief heighten tensions between the group. The Professor, while in mourning, attempts to make a daring and dangerous escape.
Ep. 2 Palermo shocks the group with his actions. Sierra pressures her subject to take a deal. The Professor remembers his brother's wedding.
Ep. 3 The Professor's mole attempts to pass along his message to the person inside the tent. Denver's jealousy toward Mónica and Rio's friendship heightens.
Ep. 4 In the past, Berlin predicts that Gandía will cause problems for the operation. Sierra's interrogation of Lisboa leads to a personal revelation.
Ep. 5 Denver turns to an undercover source for help. Nairobi attempts to motivate her team as the danger around them intensifies.
Ep. 6 With Nairobi held hostage, Gandía negotiates with the crew. The Professor desperately seeks a new plan to save his team.
Ep. 7 The group reels following the attack on one of their own. The Professor puts his adjusted plan in motion with the help of new recruits and Palermo.
Ep. 8 The Professor, Benjamin, and the others attempt to free Lisbon. Tokyo's anger threatens her faith in the plan. Sierra takes matters into her own hands.
[/su_spoiler][/su_accordion]
Money Heist Season 5
The most popular Netflix series Money Heist is coming back with its 5th and the last season. It is assumed as the trailer says that it will be divided into two halves of five episodes each. The trailer of season 5 started in such a way where we could hear a voice stating "locked up for 100 hours, trapped, about to be killed and having lost a best friend", it is already heartbreaking to hear this in the trailer as it gives goosebumps to what exactly will happen by the end of this season.
The Bank of Spain heist initially started as a heist but it looks like it will end like a war as the professor has been captured and he does not have an escape plan to end this heist. Moreover, it looks like the team has to face their greatest enemy, the army, to get out of the Bank of Spain to end this heist.
It is still suspense until September 3, volume 1 is available to the viewers as it may include a lot of casualties from the team itself as it was stated they will come out victorious or come out dead. The second volume is also expected to be released by December 3rd.
The gang has been shut in the Bank of Spain for over 100 hours. They have managed to rescue Lisbon, but their darkest moment is upon them after losing one of their own. The Professor has been captured by Sierra and, for the first time, doesn't have an escape plan.
Just when it seems like nothing else could go wrong, an enemy comes on the scene that is much more powerful than any they've faced: the army. The end of the greatest heist in history is approaching, and what began as a robbery will turn into a war.
Latest Money Heist Season 6 / Last Season of Money all Money Heist
Money Heist Wallpaper and Images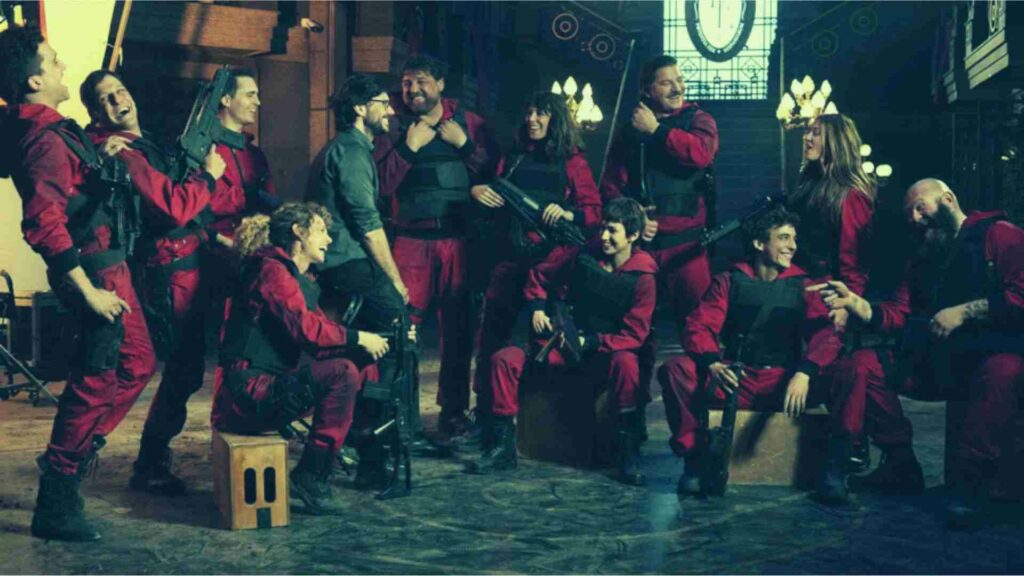 Money Heist Official Trailor 
Money Heist Runtime
TV Series Money Heist, with a total of 47 episodes from 4 seasons. Each episode takes 41-59 minutes.
Money Heist Cast
The TV Series casting includes Úrsula Corberó, Álvaro Morte, Itziar Ituño, Pedro Alonso, Paco Tous, Alba Flores, Miguel Herrán, and others.
In this Series, Úrsula Corberó plays the role of Silene Oliveira (Tokyo), While , Álvaro Morte, features as Sergio Marquina (The Professor) / Salvador "Salva" Martín. And Itziar Ituño comes as Raquel Murillo (Lisbon). Furthermore, Pedro Alonso stars as Andrés de Fonollosa (Berlin).
Money Heist Age Rating and​ Money Heist Parents Guide
Know about​ Money Heist age rating and parental Guidance here. Money Heist age rating in the UK, US, Canada, Ireland, Switzerland, and overseas is explained here.
Netflix series Money Heist 2020 rating 18 in the United Kingdom and TV-MA in the United States and overseas. In addition, it is rated TV-MA in Canada, MA15+ in Australia, and 16 in France.
Other ratings include 16 in Germany, 18 in South Korea, 16 in Spain, and 12 in the Netherlands. Also, 16 in Brazil. This includes the age rating of Money Heist in the US, UK, NZ, Ireland, Canada, Singapore, etc…
Stay tuned to get more updates on the age rating of all movies, tv shows, books, and games. Finally, any suggestions are always welcomed.
Also, please make use of the comment box for your reviews. We are always providing all age ratings for kids, We will make the easy and best way for your kids.
[/su_expand]