Squid Game
Director: Hwang Dong-hyuk
Date Created: 2021-09-17 10:33
Squid Game Parents Guide
Squid Game (Round Six) is a South Korean television series. The series was written and directed by Hwang Dong-hyuk. It tells the story of people who risk their lives in a mysterious survival game having a prize of $45.6 billion.
The series is distributed by Netflix. However, the production company is Siren Pictures.
TV-Series Squid Game Release date
TV-Series Squid Game was released on 17 September 2021 on Netflix.
On Breaking the Mystery Behind the Immense Success of the Squid Game
Official Poster and Details
| | |
| --- | --- |
| Series Name | Squid Game |
| Genre | Action, Drama, Mystery, Thriller |
| Age Rating | TV-MA |
| Season | 01 |
| Episodes | 10 |
| Release Date | 17 September 2021 |
| Directed by | Hwang Dong-hyuk |
| Official Website | Netflix |
Note! If you already watched the Series, please inform us about the parental guidance here with your support, we can bring out a better vision to everyone.
Squid Game Age Rating
The 2021 Netflix Series Squid Game Rated TV-MA for violence, sex nudity, and suicide. TV-MA rated means that the content of the series is not suitable for children under the age of 17.
Squid Game Parents Guide
This series is going to take you to a different level of gameplay. In the entire series, you will see people are playing a game and all the players who will lose the game get shot by a gun. Blood shattered everywhere. Gunshots and blood in every episode.
SEX AND NUDITY- There is a sex scene in episode 4 where two-player having sex in the toilet moaning and thrusting can be heard and they kissed, they were naked and one side of the female breast is shown. This is the only sex scene throughout the series. In episode 7 many males and females are nude but nothing has shown up clearly as their bodies was painted.
A woman hides cigarettes inside her vagina under the condom, she was seen pulling them out when she needs to smoke. Not shown briefly.
An old man gets naked and his bare buttocks are shown he asked another man to give him a b**wjob, nothing has been showing because the other guy was a cop and he killed that old man.
Violence- While playing a secret game to earn the money, many people are killed at the same place when they got to know that eliminating from the game means dying. You will see everyone get shots and massive blood is shown all over. This is shown in the first episode and was very disturbing because a bunch of people was killed there.
You will see the red army is taking the organs of the people who got killed during the game. A dead body is lying on the table with the opened abdomen, and they pulled out the eyes from the body and other organs, blood is shown, it was shown just for 8 seconds.
All players of the game killed each other brutally to win the game.
While playing a game a woman fell to the ground and she died later you will see her brain part is coming out from the skull and blood is on the ground.
A girl is pulling out a piece of glass from her abdomen from which she got injured during the game. blood is shown
In one scene a dead body is lying on the table and all its organs are taken out. Blood is shown everywhere and on the doctor's face, covered with blood.
Blood Content, a gunshot is heard, and blood splashes on a woman's face.
The story is based on a heist with a huge amount of reward.
Dead bodies are shown with blood sprays.
Occasional use of alcohol and smoking.
Language- Use of profanity, words were spoken such as a**hole, jerk, shit, bastard, di**head, bitch, fuck, etc…
TV-Series Squid Game

 Overview and Full Review
This series tells the story of people who fail at life for various reasons but suddenly receive a mysterious invitation to participate in a survival game to win ten million US dollars. The game takes place at an unknown location, and the participants are locked up until there is a final winner.
The story will incorporate popular children's games from the 1970s and 1980s of Korea, such as squid games.
Squid Game Wallpaper and Image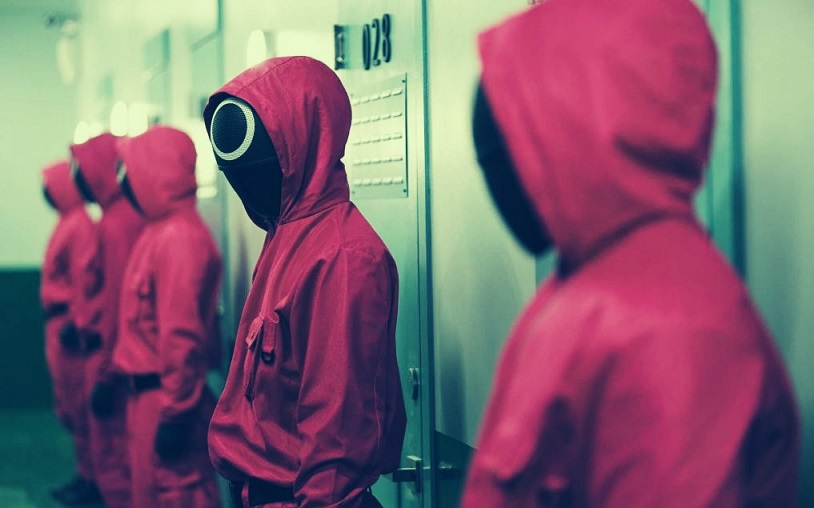 TV-Series Squid Game Cast
Lee Jung-jae as Ki-hoon

Park Hae-soo as Sang-woo

Oh Young-soo

Wi Ha-joon as Joon-ho

Jung Ho-yeon as Sae-byeok
Heo Sung-Tae

Kim Joo-ryung

Lee Ji-ha

Lee Yoo-mi

Gong Yoo
Squid Game Official trailer
Know about Squid Game Parents Guide. Why did Squid Game receive this age rating? Read the complete information here about Squid Game age rating in the UK, US, Australia, Canada, Ireland, Switzerland, Singapore, India, and overseas.
Squid Game Rated MA15+ in Australia and in India Squid Game rated 18+ also Squid Game rated M18 in Singapore and in South Korea, it is rated 18.  Moreover in the United States, Squid Game rated TV-MA. The original or real story of the Netflix series squid game.
In fact, the age rating, fixed by the MPAA( Motion Picture Association of America TV Series rating system),  BBFC (British Board of Film Classification), and Commons sense, TV Parental Guidelines (A television content rating system in the United States).
| | |
| --- | --- |
| is squid game appropriate for 13-year-olds | No |
| is squid game appropriate for 10-year olds | No |
| is squid game appropriate for 11-year-olds | No |
Stay tuned to get more updates on the age rating of all movies, tv shows, books, and games. Finally, any suggestions are always welcomed.
Also, please make use of the comment box for your reviews. We are always providing all age ratings for kids, We will make the easy and best way for your kids.