What is 13 Reasons Why Age Rating?
13 Reasons Why is an American drama streaming television series based on the 2007 novel Thirteen Reasons Why by Jay Asher. The TV Series is developed for Netflix by Brian Yorkey.
The series was produced by July Moon Productions, Kicked to the Curb Productions, That Kid Ed Productions, Anonymous Content, and Paramount Television.
13 Reason Why Rated TV-MA for strong language, sex, sexual violence, sex references, drug misuse.
This program is intended to be viewed by mature, adult audiences and may be unsuitable for children under 17. Contains content that is unsuitable for children.
"13 Reasons Why" deals with dark content, such as suicide, self-harm, and sexual assault. This content can be disturbing and is often portrayed graphically.
 13 Reasons Why Age Rating on Netflix
TV series 13 Reasons Why Rated 18+ by Netflix Officials for violence, sex, nudity, language, sexual abuse, use of substances, suicide.
Netflix Warning
13 Reasons Why is a fictional series that tackles tough, real-world issues, taking a look at sexual assault, substance abuse, suicide, and more. If you are struggling with these issues yourself this series may not be right for you, or you may want to watch it with a trusted adult.
And if you ever feel you need someone to talk with, reach out to a parent, a friend, a school counselor or an adult you trust, call a local helpline, or go to 13ReasonsWhy.info.
Because the minute you start talking about it, it gets easier.
13 Reasons Why Parents Guide
[su_box title="Why is 13 Reasons Why series Rated TV-MA?" style="noise" radius="9″]
[su_table responsive="yes"]
13 Reasons Why most disturbing scenes
Netflix added a warning card in March 2018 that plays at the start of each season warning viewers about the themes of each season because its graphic depiction of issues such as suicide, sexual assault, bullying, and rape prompted concerns from mental health professionals.
13 Reasons Why" wasn't based on a true story in a direct sense. Hannah Baker was never a real person, although many of the situations that happen to her are based on real events.
Netflix announced that it had edited the graphic scene depicting Hannah's suicide that is part of the show's Season 1 finale. The original scene was roughly three minutes long and featured Hannah's death in detail, and it was edited down after claims that the depiction was dangerous and may glorify suicide.
Season 2 featured a horrible scene that featured a sexual assault.
Hannah's suicide scene lasts for a few minutes. There is a lot of blood and is the most graphic, painful scene of the season.
More sexual content and sexual depictions are found. Shirtless females from behind. Several parts include kissing. Bare female buttocks right before implied sex
Reference to masturbation, sex act, and others. Nudity involves only a male butt. There are also scenes of both girls and boys in underwear throughout the episodes. There are pictures shown multiple times of a boy's naked buttocks.
Very graphical disturbing content involves rape scenes, The most extreme instance occurs later in the season where a girl is raped from behind, this scene is around 2 minutes long towards the end of the episode. The sex scene is very disturbing. Rape flashbacks throughout the whole season. Multiple sex scenes onscreen in season 3.
The most disturbing theme for me how an innocent teenage girl is repeatedly regarded as a "slut" or "easy" following rumors of her sexual conquests.
There are some occasions of depictions of sex acts, rape, and masturbation. Most of the only actual nudity involves male buttocks, but in season 2, there are a few instances of female nudity.
There are multiple scenes of rape and sexual assault. There is no nudity however the scenes are relatively long in length and disturbing and difficult to watch.
In the final episode of Season 2, school photographer Tyler Down was attacked by Montgomery the jock who bullied him throughout the series. Upset with Tyler for purposefully burning the school football field. Montgomery takes revenge to the extreme by getting some of his friends to help him beat and sodomize Tyler in a restroom. The graphic scene depicted everything from the assault to the aftermath, with Tyler bruised on the floor in obvious pain.
At the very end of season one, you see that Alex has shot himself.
At the very end of season one, you see that Alex has shot himself.
More profanity usage including cursing and derogatory terms.
Continuous drinking and drug usage throughout the series. Heavy drinking. Characters smoking weed. Taking injections. Scene of a heroin overdose of a young person. Steroid use. Drug dealing.
The show also released a documentary called "13 Reasons Why: Beyond the Reasons" that digs into many of the mental health issues that the show's characters frequently deal with.
[NETFLIX]
[/su_table][/su_box]
Official Poster and Details
[su_box title="13 Reasons Why series" style="noise" radius="9″]
[su_row][su_column size="1/2″ center="no" class=""]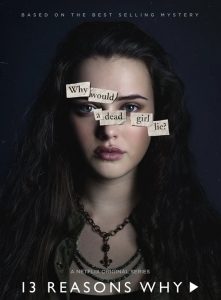 [/su_column] [su_column size="1/2″ center="no" class=""]
[su_table responsive="yes"]
| | |
| --- | --- |
| Series Name | 13 Reasons Why |
| Genre |  Drama, Mystery, Thriller |
| Age Rating  | TV-MA |
| Developed by | Brian Yorkey |
| Episodes | 49 |
| Season | 4 |
| Distributed by  | Netflix, ViacomCBS Domestic Media Networks |
| Official website | thirteenreasonswhy |
[/su_table] [/su_column] [/su_row] [/su_box]
Note! If you already watched the series, please inform us about the parental guidance here with your support, we can bring out a better vision to everyone.
[su_expand more_text="Continue Reading" less_text="Show less" height="90″ link_style="dotted" link_align="center" more_icon="icon: arrow-down" less_icon="icon: arrow-up"]
13 Reasons Why 

Overview
The Series plots the situation of a teenage girl who commits suicide and records her voice in cassettes mentioning the reason for her suicide. And the cassette passes through her 13 schoolmates, said to be the reason.
Season 1 
As the school mourns the death of Hannah Baker, her friend Clay receives a box of tapes with messages she recorded before committing suicide.
Hannah makes friends with Jessica and Alex, two other new students. Justin doesn't show up at school; Hannah's mother finds something troubling.
Jealousy and gossip take a toll on Hannah's relationships; Alex struggles with feelings of regret; Clay is pressured into getting drunk.
Hannah witnesses a traumatic event at a summertime party. Clay tries to reason with Justin, and Marcus warns him that the worst is yet to come.
A distraught Hannah gets a ride home from the party. Jessica's behavior grows increasingly erratic, and Clay learns the truth behind a tragedy.
Hannah seeks help from Mr. Porter, the school counselor. Clay plays the new tape for Tony and weighs what to do next.
Season 2
Five months after Hannah's death, the case against Liberty goes to trial, with Tyler as the first witness. Clay finds a troubling photo in his locker.
Worried about threats against them, Alex and Clay urge Jessica to testify about Bryce. Clay enlists Tony's help to find a potential witness.
Tony opens up about his past. Sheri devises a plan to get into the clubhouse. Mr. Porter tries to help Justin. Zach and Bryce butt heads.
One month later, Hannah's loved ones celebrate her life and find comfort in each other. Meanwhile, a brutal assault pushes one student over the edge.
Season 3
After learning about Chloe's pregnancy, Clay and Ani pay her a visit. Chloe recalls how she leaned on Zach for support – and that Bryce never knew.
As the police investigation sets the school on edge, Ani remembers that Jessica confronted Bryce. Growing suspicious of Jess, Ani and Clay follow her.
The pressure of Clay's arrest leads his friends to make risky decisions, and the full story of the brawl that erupted at homecoming emerges. Clay is released on bail, Ani puts a plan to exonerate him into action, and the truth about Bryce's murder finally comes to light.
Season 4
After an incident at school, Clay thinks someone's trying to set him up. Zach and Clay land in hot water during a college tour.
As the school gears up for the Love Is Love dance on Valentine's Day, disturbing phone calls keep Clay from getting in the spirit.
Clay's mental health continues to decline as the friends wrestle with difficult emotions during their college admissions interviews.
Strengthened by the struggles they've endured, the friends say goodbye to high school and look toward the future in an emotional series finale.
What is 13 Reasons Why Runtime
The series, 13 reasons why season 1 included 13 episodes with each episode taking an approximate 49–61 minutes. That's a nearly 1-hour episode.
13 Reasons Why Wallpapers and Images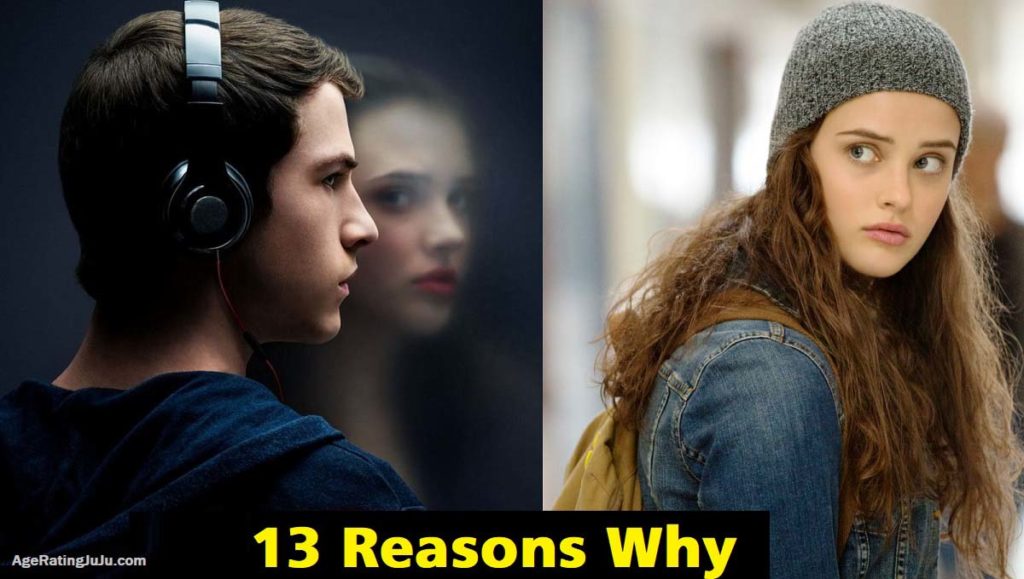 13 Reasons Why Official trailer
Summary of 13 Reasons Why Cast
Dylan Minnette as Clay Jensen
Katherine Langford as Hannah Baker
Christian Navarro as Tony Padilla
Alisha Boe as Jessica Davis
Brandon Flynn as Justin Foley
Justin Prentice as Bryce Walker
Ross Butler as Zach Dempsey
Devin Druid as Tyler Down
Amy Hargreaves as Lainie Jensen
Miles Heizer as Alex Standall
Timothy Granaderos as Montgomery
Michael Sadler as Jock
Josh Hamilton as Matt Jensen
Caleb Pilkenton as Jock
Derek Luke as Kevin Porter
Kate Walsh as Olivia Baker
Mark Pellegrino as Bill Standall
Steven Weber as Gary Bolan
We will update more details very sooner
13 Reasons Why Age Rating and​ 13 Reasons Why Parents guide
Know about​ 13 Reasons Why' age rating and parental Guidance here.
Furthermore, 13 reasons why TV-MA rated MA15+ in Australia. R in Canada. Further,  a 16age rating in Brazil, Netherlands, Malaysia, and Russia. Also in France, Singapore, Spain, and South Korea, it is rated 18. While in  Italy, 13 reasons why is given the age rating VM14.
Finally, 13 reasons why age rating United Kingdom: is 15 for a few episodes and 18 for the others. Furthermore, in the United States, the web series is rated TV-MA.
In fact, the age rating, fixed by MPAA( Motion Picture Association of America TV Series rating system),  BBFC (British Board of Film Classification), and Commons sense, TV Parental Guidelines (A television content rating system in the United States).
Stay tuned to get more updates on the age rating of all movies, tv shows, books, and games.
Also, please make use of the comment box for your reviews. We are always providing all age ratings for kids, We will make the easy and best way for your kids.
[/su_expand]