King of Scars Parents Guide
King of Scars Age Rating
king of Scars Book is suitable for the ages group of 14 and above. It may not be suitable for the age under 14, the content may contain things that will be not easy to figure out by kids under the age of 14.
[su_box title="" style="noise" radius="9″]
[su_row][su_column size="1/2″ center="no" class=""]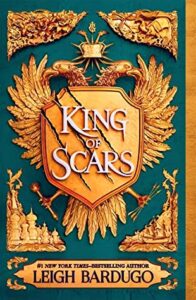 [/su_column] [su_column size="1/2″ center="no" class=""]
[su_table responsive="yes"]
| | |
| --- | --- |
| Book Name | King of Scars |
| Author | Leigh Bardugo |
| Genre | Fantasy |
| Followed By | Rule of Wolves |
| Age Rating | 14+ |
| Date of Publication | January 29, 2019 |
| No. of Page | 527 |
| Publisher | Imprint |
| Official site | leighbardugo.com |
[/su_table]
[/su_column] [/su_row][/su_box]
Note! If you already read the book, please inform us about the parental guidance here with your support, we can bring out a better vision to everyone.
[su_button url="https://amzn.to/3kYguZa" target="blank" style="3d" background="#25911b" size="5″ wide="yes" center="yes" icon="icon: book"]Read the book "King of Scars"[/su_button]
King of Scars Parents Guide 
[su_table responsive="yes"]
Mild violence is encountered in this book
It doesn't include any sexual content in it.
It includes fictional characters like monsters.
No drug, no smoke, no alcohol.
The book is based on fantasy and fiction in includes weapons and the use of magic.
[/su_table]
King of Scars Summary
In this Grishaverse novel, King Nikolai struggles to keep his kingdom stable in the undermining, frequently changing world.
Nevertheless, Ravka's civil war ended three years ago, Ravka still faces threats both domiciliary — hypocrite to the throne, anger nobility among commoners—and outsiders, old enemies like Fjerda, debts owed to Kerch Worse, for the past 6 months Nikolai has been handling an enemy inside himself: The monstrous curse that implanted by Darkling was reoccurring when he sleeps, he a hazardous to his people, his crown, and even his soul. Zoya Nazyalensky, his friend, a powerful Squaller, and general of Ravka's Second Army ars pleasured to help him.
They went to the Cult of the Starless Saint, who worship and claim loyalty to the Darkling. Yuri, the leader of this cult, travels with Zoya and Nikolai in search of a way to control the monster inside of Nikolai. They are captured in a remnant of the Shadow Fold that has some of Ravka's Saints, including Sankta Elisaveta, Sankt Juris, and Sankt Grigori. Sankta Elisaveta helps Nikolai prepare for a dangerous stereotype to uproot himself from the monster, while Sankt Juris works with Zoya to hone her Grisha powers. Elisaveta and yuri betrayed Zoya and Nikolai. Juris is murdered by Elisaveta and is joined with Zoya as an amplifier. In the end, Darkling's spirit has entered Yuri's body.
Meanwhile, Nina Zenik is camouflaged as a woman named Mila Jandersdat. Shortly after depositing her lover, Matthias, Nina meets Hanne, a Grisha living in secret in Fjerda. soon they found out that Hanne is the daughter of Jarl Brum and Ylva, a Hedjut woman. Together, Nina and her team manage to rescue young Grisha women and children who are being drugged with parem, a dangerous drug, and forced to assume children born already addicted to the Parem.
In the second half of the novel, Isaak, a member of Ravka's royal guard, is encountered. He was working for the Grisha at the palace to impersonate Nikolai, who went missing in between the procedure of turning him back to normal by a monster. Isaak helped Nikolai to find a politically advantageous bride, Nikolai chooses the real Princess Ehri to be his bride.
King of Scars Book Trailer
[youtube https://www.youtube.com/watch?v=3xAWZM8c6s8]
King of Scars Characters
Nikolai Lantsov: King of Ravka
Zoya Nazyalensky: General of the Second Army, a Squaller
Nina Zenik: Ravkan spy
Genya Safin: Member of the Triumvirate, a Grisha Tailor
Tamaar Kir-Bataar
Tolya Yul-Bataar
David Kostyk
Stay tuned to get more updates on the age rating of all movies, tv shows, books, and games. Finally, any suggestions are always welcomed.
Also, please make use of the comment box for your reviews. We are always providing all age ratings for kids, We will make the easy and best way for your kids.