The Guilty (2021)
Director: Antoine Fuqua
Date Created: 2021-09-24 00:02
The Guilty Parents Guide
The Guilty is an upcoming American crime thriller film directed and co-produced by Antoine Fuqua. It is a remake of the 2018 Danish film of the same name.
The film is distributed by Netflix. However, the production companies are Amet Entertainment, Nine Stories Productions, Fuqua Films.
The Guilty Age Rating
The movie The Guilty is rated R for Some Violence and Strong Language Throughout.
R – Some shown content in the film may be inappropriate for children under the age of 17.
Official Poster and Details
[su_box title="The Guilty" style="noise" radius="9″]
[su_row][su_column size="1/2″ center="no" class=""]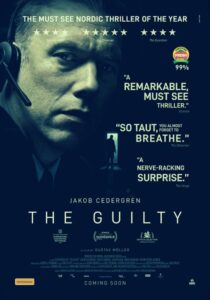 [/su_column] [su_column size="1/2″ center="no" class=""]
[su_table responsive="yes"]
| | |
| --- | --- |
| Movie Name | The Guilty |
| Genre | Crime, Drama, Thriller |
| Age Rating | R |
| Release date | 24 September 2021 |
| Runtime | 1h 30min |
| Directed by | Antoine Fuqua |
| Official Website | Netflix |
[/su_table][/su_column] [/su_row][/su_box]
Note! If you already watched the Movie, please inform us about the parental guidance here with your support, we can bring out a better vision to everyone.
The Guilty Parents Guide
[su_box title="Why film The Guilty is rated R ?" style="noise" radius="9″]
[su_table responsive="yes"]
Some Violence is shown in the film. In the very first scene, you will see California is as wildfires burn across the Los Angeles region.
Fires keep on raining down the state, He,s firing a gun, will you fu**ing get your a** out here now?, someone stole my truck with my three-month-old daughter in the back, I need my kids outta here, these are the complaints from the callers to emergency numbers during the time time of the fire.
Joe is seen getting frustrated from his job as an emergency call operator. Because he really wants to help people but he is not able to provide them a real help because of the limitations of his job designation. A lot of use of word fu**ing.
There are verbal references to a small child been harmed at home also references of threatening and assault on call. Nothing has been shown on camera, this is all a female victim is explaining on a phone call to Joe.
Strong Language, "Fu*k", "Wh*re", "Sh*t", a**, sh*t.
There are also references to drug misuse and suicide.
No Nudity and No Sexual References are present.
[/su_table][/su_box]
We will update more details very sooner
The Guilty Film critic review 
Joe Baylor is a street cop Played by Jake Gyllenhaal, IMDB rated it 6.3 /10, And this movie premiered on 24 Sept 2021.
Officially released in The United States… 911 call operators are doing their best to save an abducted woman… The lead actor is the real charm of this whole story plot, and Jake has done a fabulous job in this remake. His acting skills as Joe are mind-blowing. The rest of the cast members are also suitable for their respective roles… 
There are more phone conversation scenes in the film, and this is sometimes irritating, Direction is also good Antonie Fuqua has proved himself this time.
Despite so many good things, the movie can't be pulled off the success that it deserves. We can say that this movie is too demanding that even don't get its reward.
Emily calling Joe, this scene will be the troublesome scene for our protagonist, Because she has been abducted somewhere, And the whole movie is about finding her.
As it is like that, he takes this on himself and 'Joe.' I almost tried everything to save her, But when he can't be able to get her exact location, he is damn pissed off, and in the end, he will get to know that that Emily is not a victim.
And that's how this is love story started and ended over a phone call… If we go on the depth synopsis of the rating, then,
This movie is somehow between 3 to 3.5 out of 5, For Direction 3.5, for dialogues 3.5, for screenplay 3.0, for music 3.0, visual appeal is 3.0, for fear factor and aspect ratio rating shows this movie is 3.5 all in all. 
And I personally give rating 2.5 out 5 for this film, this started on the phone call and ends up on the phone call, nothing is there to watch for me it was just a waste of time.
[su_expand more_text="Continue Reading" less_text="Show less" height="90″ link_style="dotted" link_align="center" more_icon="icon: arrow-down" less_icon="icon: arrow-up"]
Film The Guilty Release date
The movie The Guilty is scheduled to be released on 24 September 2021.
Film The Guilty

 Overview
This movie takes place over the course of a single morning in a 911 dispatch call center. Call operator Joe Bayler tries to save a caller in danger but he soon discovers that nothing is as it seems, and facing the truth is the only way out.
A troubled police detective demoted to 911 operator duty scrambles to save a distressed caller during a harrowing day of revelations and reckonings.
The Guilty Wallpaper and Images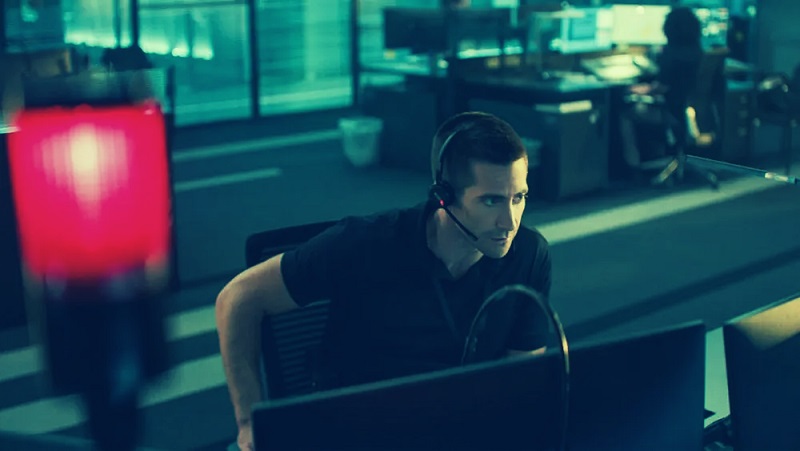 The Guilty Official Trailer
Film The Guilty Cast
Byron Bowers

Adrian Martinez

Bill Burr

Beau Knapp

Edi Patterson
The Guilty Age Rating and The Guilty Parents Guide
Know about The Guilty Parents Guide. Why film The Guilty received this age rating? Read the complete information here about The Guilty age ratings in the UK, US, Australia, Canada, Ireland, Switzerland, and overseas.
The film The Guilty is rated M18 in Singapore, R in the United States.
In fact, the age rating, fixed by MPAA( Motion Picture Association of America TV Series rating system),  BBFC (British Board of Film Classification), and Commons sense, TV Parental Guidelines (A television content rating system in the United States).
Stay tuned to get more updates on the age rating of all movies, tv shows, books, and games. Finally, any suggestions are always welcomed.
Also, please make use of the comment box for your reviews. We are always providing all age ratings for kids, We will make the easy and best way for your kids.
[/su_expand]