X Parents Guide
X is an American horror film that is directed, written, and edited by Ti West. The movie is produced by Mad Solar, Bron Studios, and Little Lamb.
The film is being distributed by A24. After a long time, we have a Drama, Horror, Mystery and Thriller type of film, so if you love to watch this kind of film you should watch the films. X movie 2022 full wiki and Explained.
In this article, you can find the 2022 film "X" Age Rating, parents' guide, and more details. It is better to see the X Age Rating and parents guide before letting your child watch the film. X film's reviews are good, also you can check our user rating box.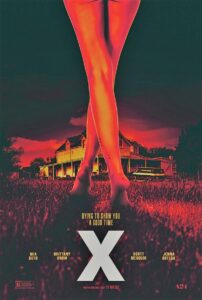 | | |
| --- | --- |
| Film Name | X |
| Genre | Drama, Horror, Mystery, Thriller |
| Directed by | Ti West |
| Release Date | March 18, 2022 |
| Runtime | 1 hour 45 minute |
| Age Rating | R |
| Distributor | A24 |
X Movie Parents Guide
2022 Movie X Age Rating | Why X is Rated R?
X movie is rated R for strong bloody violence and gore, strong sexual content, graphic nudity, drug use, and language.
Rating R means restricted for the viewers under 17 and they would require parents or adult guardians to accompany them as the movie may contain some adult material. Parents or guardians should also try to know more about the movie before taking young children with them.
X Movie Parents Guide
The movie is rated R for strong bloody violence and gore, strong sexual content, graphic nudity, drug use, and language.
Use of profanity.
Strong language and words like 'shit'
Sexual content is clearly visible with kissing scenes in abundance.
The scenes of violence and horror are prevalent.
Nudity
There are kissing and intimate scenes.
Women are wearing revealing clothes.
Disturbing images, scary screaming sounds.
There are some scary scenes in the movie.
There is a lot of bloodshed, feet are visible here and people seem to be very scared of fear of death.
A man was brutally stabbed and a woman was shot, she was seen covered in blood.
X Movie Parents Guide
X Story Line
A film crew ends up in a secluded home of an elderly couple. The crew intends to shoot an adult film. The shoot goes smoothly in the daytime. But only when night falls does it become clear that the couple has their own violent interests.
The image of the old naked woman roaming the grounds creates strangely haunting and sensual scenes. If you worry about the review of the film, you can check on google. The story of this film is too good, you'll also like the film. The work in this from the cast is very good. The full movie is a movie and its ending is explained here.
X Wallpaper and Images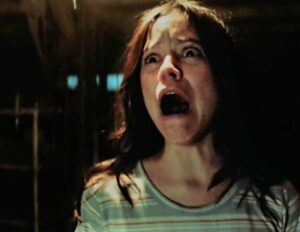 X Movie Soundtrack
The soundtrack will be released digitally on March 25 and is now available FOR PRE-ORDER ON AMAZON.
24 Music will release the official soundtrack album for Ti West's horror movie X. The album features the film's original score composed by Tyler Bates and singer/songwriter Chelsea Wolfe. Also included is Wolfe's cover version of Oui Oui Marie. Here are the complete soundtracks of the album.
Who is in the cast of X?
The cast include:
Jenna Ortega as Lorraine
Brittany Snow as Bobby-Lynne
Kid Cudi as Jackson
Martin Henderson as Wayne
Owen Campbell as RJ
Stephen Ure as Howard
James Gaylyn as Sheriff Dentler
Simon Prast as Televangelist
Geoff Dolan as Deputy
Matthew J. Saville as Officer Mitchell
X Film 2022 Trailer
X Age Rating and X Parents Guide
Know to X Parents Guide. Why does X receive this age rating? Read the complete information here about X ratings in the UK, US, Australia, Canada, Ireland, Switzerland, and overseas.
X is rated 18A in Canada, 18 in Ireland, 16 in the Netherlands, 18 in the united kingdom, and R in the united states.
FAQ
What X movie is Rated?
X movie is rated R by MPA.
Why X film is Rated R?
X movie is rated R for strong bloody violence and gore, strong sexual content, graphic nudity, drug use, and language.
Is X Film OK for 16 years old?
No, X Film is not OK for 16 years old.
Who Can Watch X Film?
The age rating to watch X Film is given in the above-written article.
Can 15 Years old Watch X Film?
No, 15 Years old Can't Watch X Film.
In fact, the age rating is fixed by MPAA( Motion Picture Association of America TV Series rating system), BBFC (British Board of Film Classification), and Commons sense, TV Parental Guidelines (A television content rating system in the United States).
Stay tuned to get more updates on the age rating of all movies, tv shows, Netflix, books, and games. Finally, any suggestions are always welcomed.
Also, please make use of the comment box for your reviews. We are always providing all age ratings for kids, We will make the easy and best way for your kids.
X
Director: Ti West
Date Created: 2022-03-18 00:32