Unravel Me parents Guide
Unravel Me is a young adult dystopian thriller written by Tahereh Mafi, published by Harper Collins Publishers on February 5, 2013.  The Unravel Me is the first of a series of six books and the books are:
1. Shatter Me,1.5. Destroy Me, 2. Unravel Me, 2.5. Fracture Me, 3. Ignite Me, 4. Restore Me, 4.5. Shadow Me, 5. Defy Me, 5.5. Reveal Me, and 6. Imagine Me
Juliette has escaped to Omega Point. Now she is free from The Reestablishment, to be used as a weapon, and free to love and live as she wants but not for a long time But Juliette because she can't take a rest from her special ability.
Unravel Me Age Rating
The Unravel Me by Tahereh Mafi is age-rated for the ages 14+. The content in this book may be inappropriate for the age group under 14 as it contains high Violence and sexual content.
[su_box title="Unravel Me" style="noise" radius="9″]
[su_row][su_column size="1/2″ center="no" class=""]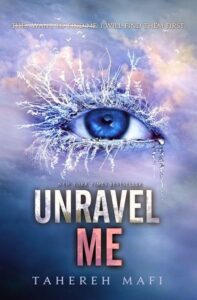 [/su_column] [su_column size="1/2″ center="no" class=""]
[su_table responsive="yes"]
[/su_table]
[/su_column] [/su_row]
[/su_box]
Note! If you already read the book, please inform us about the parental guidance here with your support, we can bring out a better vision to everyone.
[su_button url="https://amzn.to/2X79656″ target="blank" style="3d" background="#25911b" size="5″ wide="yes" center="yes" icon="icon: book"]Read the book "Unravel Me"[/su_button]
Unravel Me Parents Guide 
[su_table responsive="yes"]
It includes some sexual content that is not suitable for kids.
There are some frequent bloodshed scenes in the story, violence is included in it.
There might be strong language in it.
The content in this account is a perfect fit for the age group of 13 and up as the book is all about fantasy that mature will find interesting.
Alcohol is encountered in this book.
[/su_table]
Unravel Me Summary
Juliette Ferrars is now at the rebel underground headquarters, Omega Point, a place where people like Juliette with special powers can live freely and safely. At the start she was happy but later she found it difficult to adjust underground and being isolated. All Juliette knows is that her touch is deadly – that people die. So Castle assigns Kenji to help Juliette, Juliette has been given a specially designed suit that controls her powers to hurt someone. Soon she realized that Adam also carries some special powers that why he can touch her.
Although Juliette was trying so hard to explain to people that she is not dangerous, but it's a fact that she can't deny. Castle tells Juliette that Adam's ability involved using his energy to disable other people's abilities and by which he was suffering a lot. Juliette then makes the decision, to get separated from Adam because she doesn't want to hurt him more but Adam doesn't want to do this.
Juliette, Adam, Kenji, Winston, and Brendan are sent on patrol to collect supplies.  Anderson, Warner's father is a cruel ruler and supreme commander. He has suddenly appeared in Sector 45 and one of the patrols is comprised of Anderson, he has indicated that he wants to meet with Juliette. Juliette agreed so Castel sent Adam and Kenji with her. He orders Warner to kill Juliette, but Warner refuses, and Anderson burst out of anger and brutalizes his son, Juliette defends Warner and herself by her powers and almost killed Anderson. And escape back to the point with Warner where he kept as a prisoner Warner also carries some power and can touch Juliette.
Castle assigns Juliette a task to know more about Warner where she comes to know that his father is planning to attack Section 45 and destroy everyone in the area. while all this she started falling for him and she learns that he has been treated horribly by his father and many more secrets are revealed about Adam and Warner, and now Juliette is confused between the boy she loves but cannot touch or the boy who can touch her but is her enemy. Warner decided to leave the place and asked Juliette to be with him, but she denied it. On the other hand, warner's father was desperate to take his revenge on Juliette.
Unravel Me Characters
Juliette Ferrars: Juliette starts off like a scared, traumatized 17-year-old girl, having been abused, locked away, and made to feel like a monster her entire life.
Aaron Warner: 19-year-old leader of Sector 45 in the Reestablishment.
Adam Kent: A soldier in the army, 18 years old.
Kenji Kishimoto: A 20-year-old soldier in Warner's army, Adams friend too.
James Kent: Adam's 10-year-old younger brother.
Castle: Leader of the Omega Point.
Stay tuned to get more updates on the age rating of all movies, tv shows, books, and games. Finally, any suggestions are always welcomed.
Also, please make use of the comment box for your reviews. We are always providing all age ratings for kids, We will make the easy and best way for your kids.