Polly Pocket Parents Guide
Polly Pocket is an animated television series developed by Stephanie Betts, Shaleen Sangha and directed by Jon Izen, Brent Bouchard. It is produced by Ashley Koons, Lesley Crawford
The series is distributed by Netflix, WildBrain Distribution, HIT Entertainment, Universal Kids, Universal Pictures. However, the production companies are DHX Media, Mattel Television, Studio B, WildBrain Studios.
Polly Pocket Age Rating
TV-Series Polly Pocket is rated TV-Y7 for Cartoonish Violence and Language Throughout.
TV-Y7 – Some shown content in the series may be inappropriate for children under the age of 7.
Polly Pocket Release date
Season 3 of TV-Series Polly Pocket is scheduled to be released on 29 September 2021 on Netfilx.
Official Poster and Details
[su_box title="Polly Pocket" style="noise" radius="9″]
[su_row][su_column size="1/2″ center="no" class=""]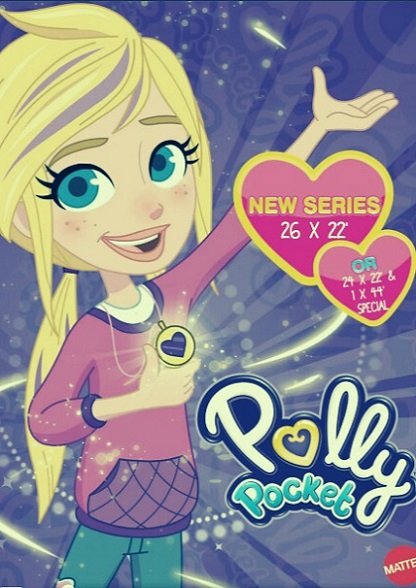 [/su_column] [su_column size="1/2″ center="no" class=""]
[su_table responsive="yes"]
[/su_table]
[/su_column] [/su_row][/su_box]
Note! If you already watched the Series, please inform us about the parental guidance here with your support, we can bring out a better vision to everyone.
[su_expand more_text="Continue Reading" less_text="Show less" height="90″ link_style="dotted" link_align="center" more_icon="icon: arrow-down" less_icon="icon: arrow-up"]
Polly Pocket Parents Guide
[su_box title="Why Polly Pocket is rated TV-Y7 ?" style="noise" radius="9″]
[su_table responsive="yes"]
This series contains moderate comedic cartoon violence.
No Nudity and No Sexual Content throughout the series.
Language Throughout, "Dumb", "Jerk", "Moron".
Some scenes may be too intense for younger children.
[/su_table][/su_box]
We will update more details very sooner
TV-Series Polly Pocket

 Overview
The series follows the story of Polly who is often told that she is "Too Little" to do the things she wants to do, but Polly proves what every kid knows that being little isn't a limitation. When Polly Pocket inherits a magic locket that allows her to shrink to 4″ tall, she embraces her pocket-sized powers and finds the upside of shrinking.
The story all begins in the town of Littleton when 11-year-old kid genius Polly Pocket volunteers to fix her grandma Penelope's locket during her visit, but in the process, Polly discovers it's a magical artifact that allows its user to shrink herself down to pocket or doll size and then grows back up, as well as any other person or object she touches.
After having a miniature pool party while wearing one-piece swimsuits used by dolls, Polly, Lila, and Shani get their hands on the last few tickets to Melody's concert cruise. After doing some experiments with Polly's gadgets, a secret lab, and a car, the girls plan to ride the Whopper Whirler a new roller coaster at Littleton's amusement park.
Polly Pocket Wallpaper and Images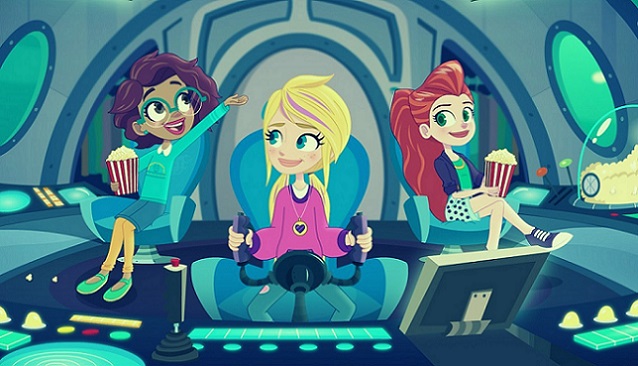 Polly Pocket Official Trailer
TV-Series Polly Pocket Voice Cast
Emily Tennant as Polly Pocket
Shannon Chan-Kent as Lila Draper
Kazumi Evans as Shani Smith
Ellen Kennedy as Geni
Vincent Tong as Nicholas Wells
Rhona Rees as Bella Bigowski
Ellen Kennedy as Penelope Pocket
Maryke Hendrikse as Mrs. Pocket
Rhona Rees as Gwen Grande
Ian Hanlin as Mr. Pocket
Maryke Hendrikse as Melody
Ian Hanlin as Peanut
Kathleen Barr as Tori
Tabitha St. Germain as Melissa Militant
Scott McNeil as Principal Mondo
Chiara Zanni as Blair Delaware
Tabitha St. Germaina as Paranormal Patty
Patricia Drake as Griselle Grande
Polly Pocket Age Rating and​ Polly Pocket Parents Guide
Know about Polly Pocket Parents Guide. Why Polly Pocket received this age rating? Read the complete information here about Polly Pocket age rating in the UK, US, Australia, Canada, Ireland, Switzerland, and overseas.
TV-Series Polly Pocket is rated G in Australia, U in the United Kingdom, TV-Y7 in the United States.
In fact, the age rating, fixed by MPAA( Motion Picture Association of America TV Series rating system),  BBFC (British Board of Film Classification), and Commons sense, TV Parental Guidelines (A television content rating system in the United States).
Stay tuned to get more updates on the age rating of all movies, tv shows, Netflix, books, and games. Finally, any suggestions are always welcomed.
Also, please make use of the comment box for your reviews. We are always providing all age ratings for kids, We will make the easy and best way for your kids.
[/su_expand]