Mass Age Rating | Mass Parents Guide
Mass is a 2021 American drama film written and directed by Fran Kranz, who has never made a movie before but is a veteran actor, and he has crafted the dialogue so that it builds and flows and surges, revealing and concealing at the same time, his directorial debut and starring Reed Birney, Ann Dowd, Jason Isaacs, and Martha Plimpton. The film had its world premiere at the 2021 Sundance Film Festival, by Bleecker Street. 
The Movie Mass is Rated PG-13 for thematic content and brief strong language.
children under 13 require accompanying parents or Adult guardians and may be unsuitable for children under 13.
Mass Release Date
Movie Mass is released on January 30, 2021, in Sundance and on October 8, 2021, in the United States.
Official Poster and Details
[su_box title="Mass 2021 film" style="noise" radius="9″]
[su_row][su_column size="1/2″ center="no" class=""]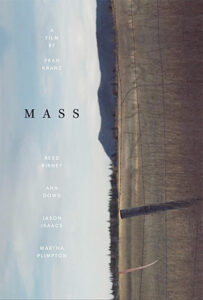 [/su_column] [su_column size="1/2″ center="no" class=""]
[su_table responsive="yes"]
Movie Name

Mass

Genre

Drama

Age Rating 

PG-13

Direct

ed by

Fran Kranz

Runntime

1h 50min

Porduction

Company

7 Eccles Street
Circa 1888
5B Productions

Country of Origin

United States

Distributed By

Bleecker Street
[/su_table][/su_column][/su_row] [/su_box]
Note! If you already watched the series, please inform us about the parental guidance here with your support, we can bring out a better vision to everyone.
[su_expand more_text="Continue Reading" less_text="Show less" height="90″ link_style="dotted" link_align="center" more_icon="icon: arrow-down" less_icon="icon: arrow-up"]
Mass Parents Guide
[su_box title="Mass is Rated 14+?" style="noise" radius="9″]
[su_table responsive="yes"]
No sexual references and no nudity is shown in the movie.
Mild Violence and Gore content in it.
Brief Smoking and drink content.
Mild Profanity.
Severe Frightening and Intense scenes are included in this movie.
[/su_table][/su_box]
Mass

OVERVIEW
"Mass," a drama with two couples seated across a table from each other in a placidly sterile church antechamber, discussing the unthinkable (two of them are the parents of a teenage boy who was killed in a school shooting; the other two are the parents of the shooter).
When a circumstance as tragic, and horrific, as a school shooting takes place, our primal instinct — as individuals, as a society — is to eagerly want to know who or what to blame. How, after all, do we keep it from happening again? In recent years, however, the question of who or what to blame has been increasingly sucked up into the culture wars. The culprit is guns and gun laws! The culprit is a mental illness! The culprit is first-person shooter video games! The culprit is irresponsible parenting! All these issues are alluded to in "Mass," but that doesn't mean it's a movie about definitive answers — or politics.
MASS WALLPAPER AND IMAGES
MASS OFFICIAL TRAILER 
Mass Cast and Characters
Reed Birney as Richard
Ann Dowd as Linda
Jason Isaacs as Jay Perry
Martha Plimpton as Gail Perry
Breeda Wool as Judy
Kagen Albright as Anthony
Michelle N. Carter as Kendra
Mass

Age Rating and Mass

 

Parents Guide
Know About Mass Parents Guide. Why did film Mass receive this age rating? Read the complete information here about Mass Age ratings in the UK, US, Australia, Canada, Ireland, Switzerland, and overseas.
In fact, the age rating, fixed by MPAA( Motion Picture Association of America TV Series rating system),  BBFC (British Board of Film Classification), and Commons sense, TV Parental Guidelines (A television content rating system in the United States).
Stay tuned to get more updates on the age rating of all Netflix TV Series, TV shows, books, and games. Finally, any suggestions are always welcomed.
Also, please make use of the comment box for your reviews. We are always providing the complete details on age rating for kids, We will make the easy and best way for your kids.
[/su_expand]