March 15 Jeopardy
Jeopardy! is an American television game show created by Merv Griffin. The show features a quiz competition in which contestants are presented with general knowledge clues in the form of answers, and must phrase their responses in the form of questions. Over time, the show has enjoyed a wide viewership and received many accolades from professional television critics.
Name of the show

Jeopardy

Genre

Game-Show

Creator

Merv Griffin

Seasons

38

Episodes

Over 8000

Runtime

22-26 minutes

Country of origin

United States

Executive producers

Robert Rubin, Merv Griffin, Harry Friedman, Mike Richards, Michael Davies

Production company

Jeopardy Productions, Inc., Merv Griffin Productions/Enterprises


, Columbia TriStar, Sony Pictures Television

Distributor

King World Productions, CBS Media Ventures
Who won Jeopardy! March 15, 2022?
Jeopardy! is won by Amy Bekkerman on Tuesday. Bekkerman is an academic copy editor from Durham, New Hampshire, who earned the right to play on Tuesday after defeating Matt Glassman on Monday night. Bekkerman entered tonight's game with cash winnings totaling $16,100.
Amy Bekkerman faced off against Simi Landau who is an elementary school teacher and Ariel San Jose who is a digital marketing manager from South San Francisco, California. Amy Bekkerman answered 11 out of 12 questions correctly and wins $6,000. Simi Landau finished the first round in second with $4,200. Ariel San Jose got to go first in the second round after finishing in third with $1,000.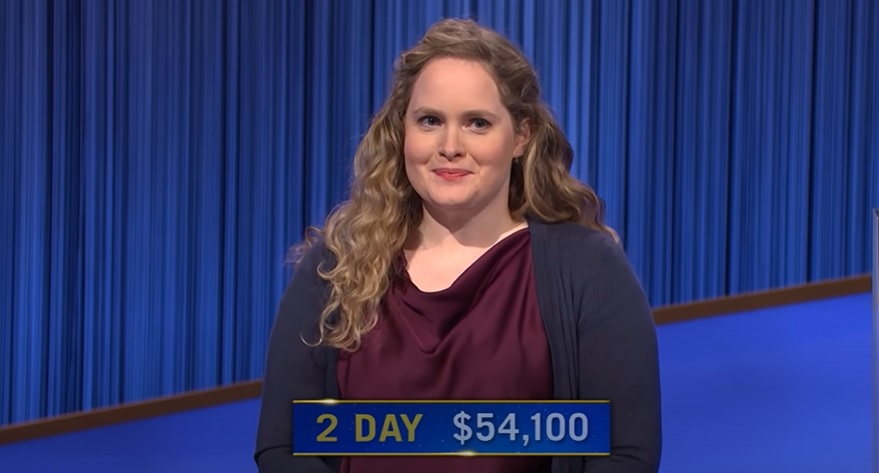 Going a perfect 15 for 15, Bekkerman totaled $28,000. Landau also played well, earning a respectable $17,000. San Jose struggled in "Double Jeopardy!," ending up with just $200 after only answering two clues correctly.
In "Final Jeopardy!," Bekkerman was the only contestant to answer the question correctly, and thus won tonight's game. Her two-day cash winnings total $52,100.
Amy Bekkerman –  $38,000
Simi Landau –  $12,000
Ariel San Jose –  $1
 Final Jeopardy! 15 March question
In "Final Jeopardy!" the last question caused problems for two out of three players. Here's tonight's clue in the category "Meteorology": It was feared this word caused panic, but in 1950 the USWB ended a ban on it in forecasts, saying prediction wasn't impossible. The answer to this question is What is tornado?
Amy Bekkerman answered correctly, Simi Landau guessed "What is a hurricane?" and Ariel San Jose could only come up with "What is a surprise?," giving Bekkerman the victory.