Find Me Parents Guide
Find Me is a young adult dystopian thriller written by Tahereh Mafi, published by Harper Collins Publishers on 17 October 2019. Tahereh Mafi's New York Times bestselling Shatter Me series! This gorgeous paperback bind-up includes Shadow Me and Reveal Me, the third and fourth novellas in the series, both in print for the first time ever.
Other books in this series are:- 1. Shatter Me, 2. Unravel Me, 3. Ignite Me, 4. Restore Me, 5. Defy Me, and 6. Imagine Me
Find Me Age Rating
Find Me by Tahereh Mafi is age-rated for the ages 14+. The content in this book may be inappropriate for the age group under 14 as it contains high Violence and sexual content.
[su_box title="Find Me" style="noise" radius="9″]
[su_row][su_column size="1/2″ center="no" class=""]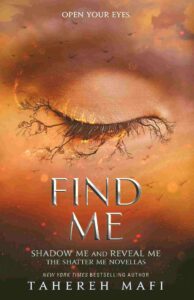 [/su_column] [su_column sisze="1/2″ center="no" class=""]
[su_table responsive="yes"]
[/su_table]
[/su_column] [/su_row]
[/su_box]
Note! If you already read the book, please inform us about the parental guidance here with your support, we can bring out a better vision to everyone.
[su_button url="https://amzn.to/3k7uqR2″ target="blank" style="3d" background="#25911b" size="5″ wide="yes" center="yes" icon="icon: book"] Read the book"Find Me"[/su_button]
Find Me Parents Guide 
[su_table responsive="yes"]
The book's content includes sexual content that is not suitable or good for kids.
There are some frequent bloodshed scenes in the story also quite violence is included in it.
There might be strong language in the book content.
The content in this account is a perfect fit for the age group of 14 and up as the book is all about fantasy that mature will find interesting and kids under 14 will find confusing.
Alcohol is encountered in this book.
[/su_table]
Summary of Find Me
Juliette is still reeling trying to come over from Warner's betrayal and Kenji was trying to make a good balance in his friendship with her by keeping in mind his responsibilities as a responsible leader, of the resistance against the Reestablishment. Things get even more interesting and exciting when an unexpected person unexpected charecter from Omega Point's comes in the past surfaces.
Reveal Me brings readers back to the Shatter Me world one last time before the final novel installment in the series hits shelves in 2020.
The Shatter Me series is perfect for fans who crave action-packed young adult novels with tantalizing romance like Divergent and The Hunger Games.
Characters of Find Me
Juilliet: a scared, traumatized 17-year-old girl, having been abused, locked away, and made to feel like a monster her entire life.

Aaron Warner: 19-year-old leader of Sector 45 in the Reestablishment; shown as a very cold and manipulative person.

Adam Kent: A soldier in the army, 18 years old, He is known as a handsome man with blue eyes, tattoos, and dark brown hair.

Kenji Kishimoto: A 20-year-old soldier in Warner's army who is friends with Adam

James Kent: Adam's 10-year-old younger brother. He is extremely mature for his age.

Castle: Leader of the Rebellion (Omega Point).

Eve Sommers: Supreme commander of Oceania.

Max: Eve's husband

Nazeera: another girl with special powers.
Stay tuned to get more updates on the age rating of all movies, tv shows, books, and games. Finally, any suggestions are always welcomed.
Also, please make use of the comment box for your reviews. We are always providing all age ratings for kids, We will make the easy and best way for your kids.