The Wheel of Time Parents Guide
The Wheel of Time is an upcoming American fantasy television series is based on Robert Jordan's novel series of the same name and is produced by Sony Pictures Television and Amazon Studios.
The series is produced by Rick Selvage, Larry Mondragon, Ted Field, Mike Weber, Darren Lemke and distributed by Prime Video.
The first season is scheduled to premiere on Prime Video on November 19, 2021. In May 2021, the series was renewed for a second season ahead of the series premiere.
The Wheel Of Time Age Rating
As per the Amazon Prime Video, The wheel of time is rated A (Adult) for foul language, violence, sexual content, alcohol use, and frightening scenes. Rated A means The Wheel Of Time is suitable for ages 18 and older.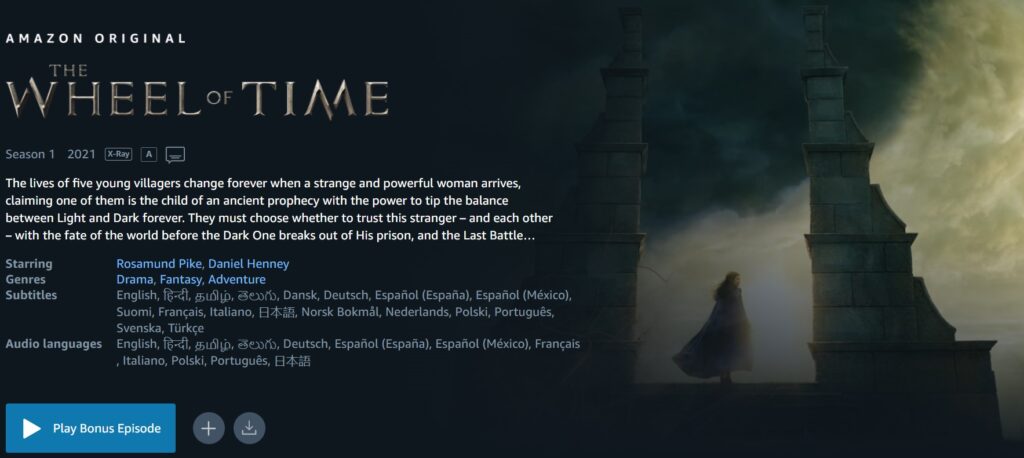 The Wheel Of Time Release Date
The first season is scheduled to premiere on Prime Video on November 19, 2021. The series consists of eight episodes airing until December 24, 2021.
Official Poster and Details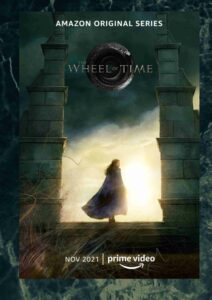 | | |
| --- | --- |
| Series Name | The Wheel Of Time |
| Genre | Fantasy |
| Age Rating | TV-MA |
| Creator | Rafe Judkins |
| Season | 2 |
| Episodes | 9 |
| Release Date | November 19, 2021 |
| Running time | 60min/episode |
| Language | English |
| Official website | primevideo.com |
Note! If you already watched the series, please inform us about the parental guidance here with your support, we can bring out a better vision to everyone.
The Wheel Of Time Parents Guide
There is a lot of violence, massive injuries blood content, and frightening scenes in the series.
Violence: At the start of episode 1, you will see a man is running from a few women behind him, Later she kills him with some of his magical powers however no wound seen onscreen, only his face can be seen when he is screaming.
There is a scene where the dead bodies of a lot of animals are shown in the jungle and those with blood are, and their intestines are coming out from the abdomen. However, this scene was focused and shown from a little far from the camera. This scene was a little disturbing can be disturbing.
There is a scene when the army of the dark ones (animal-like creatures) attacks the town and kills many people.  
You will see brutal violence in the above-mentioned scene. The army of the dark ones and the people of the town killed each other, and lots of blood content and gore, and massive injuries can be seen in this scene.
A boy killed an animal-like creature and a pool of blood is shown coming out from his mouth.
In the same above scene, a boy was fighting with a beast he was terrified and mistakenly attacked a girl with whom he was in love as he thought it was the beast and that girl died, A lot of blood was shown coming out from her mouth.
In a scene of episode 2, a woman is tied up with a pole on the fire you will see her hands were cut off and kept on the table with blood on them and a man is eating something which was supposed to be somebody part of that woman and then she was burned alive.
One beast is eating another beast pulling out his intestines from his mouth, blood is shown.
In another scene, a wolf is seen eating the dead body of a girl, and her intestines are shown in the mouth of the wolf, however, that was a dream of a boy, and the girl who in the dream died earlier in the dark one's attack (The same girl that has mentioned above). This scene was frightening.
A dead body is shown hanging in the cage and many arrows on that body.
A female is killed and you will see a knife on his throat from back to from and some blood is shown
Episode 4- A little girl dies on the ground and a mark of a knife wound on her back with blood.
In episode 4 there is a scene where many people got injured and some got died, there is a man whose throat got cut and a pool of blood coming out from his throat, massive blood is shown and the rest of the people with detailed injuries, but everyone got healed by magical power.
Sex/ Nudity: In episode one there is a scene when a girl comes out from the river and lays down on the ground, Her clothes were completely wet and transparent showing her body however no private part is shown.
A brief kissing scene between a girl and a boy they were about to make out but the scene ended there.
There is a scene where a woman can be seen in the bathtub her shoulders can be seen and then a man joins her, his bare buttocks are shown, male back body nudity.
In episode five in the name of ritual some males were giving baths to a female to make her pure character, Without her concern, no nudity is shown but the scene was quite disturbing.
In Upper body female nudity in episode six, their breast is shown.
You will see brutal violence in the above-mentioned scene. The army of the dark ones and the people of the town killed each other, and lots of blood content and gore, and massive injuries can be seen in this scene.
Two kissing scenes in episode 7.
Alcohol: Heavy drinking and smoking. Men and women have seen drinking.
Language: Piss, damn, bast*rd, a**
Frightening: There are many characters who look very scary and maybe frightened to younger audiences. A guy in a dream saw that a bat was coming out from his abdomen through his mouth.
The Wheel of Time Parents Guide
The Wheel Of Time Overview
Moiraine is a member of a powerful all-female organization of magic users called the Aes Sedai. She is on a journey around the world and takes a group of five young people on, she believes that one of the five might be the reincarnation of the Dragon, who will save the world or destroy it.
They will face many life-threatening challenges throughout the journey to reach their destination.
The Wheel Of Time Wallpaper and Images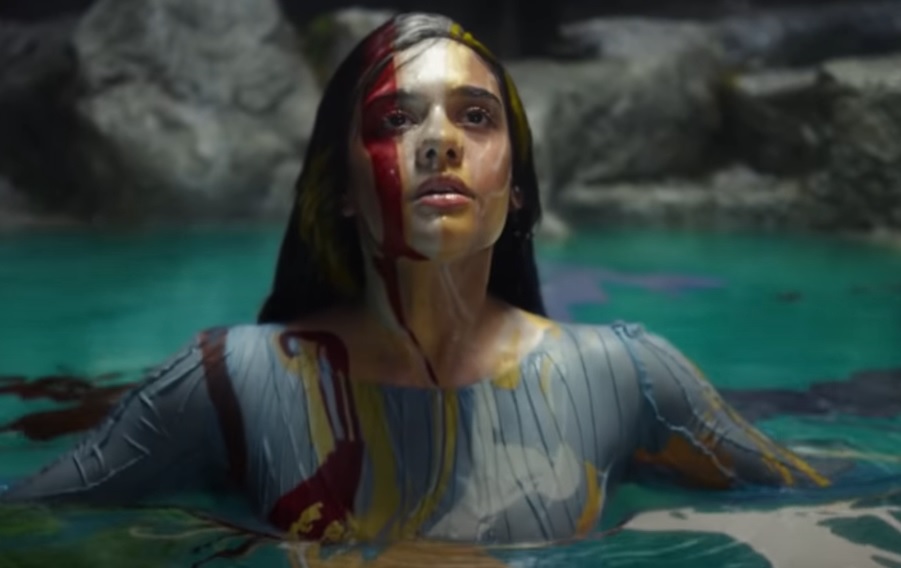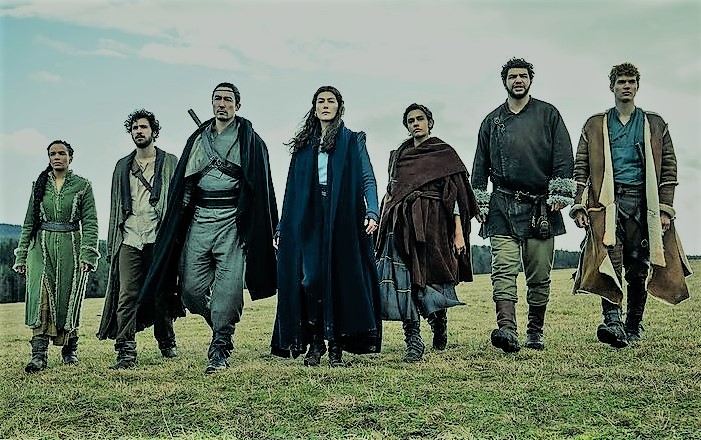 The Wheel Of Time Official trailer
The Wheel Of Time Cast
Rosamund Pike as Moiraine
Joshua Stradowski as Rand al'Thor
Marcus Rutherford as Perrin Aybara
Zoë Robins as Nynaeve
Sophie Okonedo as Siuan Sanche
Barney Harris as Mat Cauthon
Madeleine Madden as Egwene Al'Vere
Kae Alexander as Min Farshaw
Miguel Alvarez as King of Ghealdan
Pasha Bocarie as Master Grinwell
Priyanka Bose as Alanna Mosvani
Lolita Chakrabarti as Marin al'Vere
Darren Clarke as Basel Gill
Kate Fleetwood as Liandrin Guirale
Jennifer Cheon Garcia as Leane Sharif
Stuart Graham as Geofram Bornhald
Naana Agyei Ampadu as Danya
Hammed Animashaun as Local
The Wheel Of Time Age Rating and​ The Wheel Of Time Parents Guide
Know about​ Red Notice age rating and parental Guidance here.
In fact, the age rating is fixed by the MPAA( Motion Picture Association of America TV Series rating system),  BBFC (British Board of Film Classification), and Commons Sense, TV Parental Guidelines (A television content rating system in the United States).
Stay tuned to get more updates on the age rating of all Netflix TV Series, TV shows, books, and games. Finally, any suggestions are always welcomed.
Also, please make use of the comment box for your reviews. We are always providing the complete details on age rating for kids, We will make the easiest and best way for your kids.