The Sims 3 Age Rating | The Sims 3 Parents Guide
The Sims 3 is a life simulation video game developed by the Redwood Shores Studio of Maxis and published by Electronic Arts. It is directed by Will Wright and published by JoAnna Lio Amos, Lyndsay Pearson.
Production Company is Maxis.
However, The Sims 3 is rated T for Crude Humor, Sexual Themes, and Violence.
In fact, the age rating, fixed by PEGI for UK citizens and ESRB for the US Continent. PEGI rated The Sims 3 as 12 and ESRB rated the same as T.
Game The Sims 3 is rated M in Australia and New Zealand, 16 in Brazil, 12 in France, Netherlands and United Kingdom, C (CERO) in Japan, G in Singapore, R-18 in Taiwan, T in United States.
Moreover, the PEGI rating is based on the physical content of the game and not on the players' condition or their abuse usage online.
The Sims 3 Parents Guide
[su_box title="Why The Sims 3 is rated T ?" style="noise" radius="9″]
[su_table responsive="yes"]
Nudity in this game is covered by a blur spot over the Sim.
There is a graveyard in the game and Sims with dark personality traits may aspire to see ghosts of specific people.
You are able to purchase a bar in the game, but the drinks are never labeled as alcoholic.
References of drugs, also Sims are able to get drunk.
The Sims can watch horror movies or transform into fantastic creatures to terrorize the other Sims.
Brief Nudity, Sim characters can also walk around in their underwear.
House fires may be intense for young players.
[/su_table][/su_box]
We will update more details very sooner
Official Poster and Details
[su_box title="The Sims 3″ style="noise" radius="9″]
[su_row][su_column size="1/2″ center="no" class=""]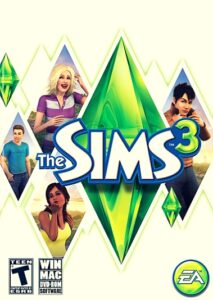 [/su_column] [su_column size="1/2″ center="no" class=""]
[su_table responsive="yes"]
Game Name

The Sims 3

Genre

Family

Age Rating 

ESRB- T

PEGI- 12

Developed by

Maxis

Platforms

Microsoft Windows, PlayStation 4, Xbox One

Official Website

EA
[/su_table]
[/su_column] [/su_row]
[/su_box]
Note! If you already played the Game, please inform us about the parental guidance here with your support, we can bring out a better vision to everyone.
[su_expand more_text="Continue Reading" less_text="Show less" height="90″ link_style="dotted" link_align="center" more_icon="icon: arrow-down" less_icon="icon: arrow-up"]
Game The Sims 3 Gameplay
The Sims 3 players control their own Sims' activities and relationships.
The gameplay is open-ended and does not have a defined goal.
The sims live in neighbourhoods, now being officially referred to as 'worlds', which can be customized, allowing the player to create their houses, community lots, and sims, although many of these come with the core game.
These worlds are now 'seamless', allowing all sims to move around freely without any loading screen in between lots, as happened in the previous games.
Official trailer of The Sims 3
 Summary of The Sims 3 Characters Voice Cast
Khary Payton
Elisa Gabrielli
William Salyers
Georgie Kidder
Becky Boxer
Will Blagrove
Alice Dinnean
Nikki Rapp
William Woff
Donna Le Tourneau
Chelsea Barker
John Currie
Deborah Ben-Eliezer
Nika Ralph
Eric M Bernstein
The Sims 3 Game Price
The cost of game The Sims 3 is $ 29.99 on Amazon.
The Sims 3 Age Rating and​ The Sims 3 Parents Guide
Know about​ The Sims 3 age rating and parental guidance here. In fact, the age rating is fixed by ESRB (Entertainment Software Rating Board) and PEGI (Pan European Game Information).
Stay tuned to get more updates on the age rating of all Netflix TV Series, TV shows, books, and games. Finally, any suggestions are always welcomed.
Also, please make use of the comment box for your reviews. We are always providing the complete details on age rating for kids, We will make the easy and best way for your kids.
[/su_expand]