St. Patrick's Way Route
Saint Patrick's Way is a Camino-style Pilgrim walk. Its map is a 132km trail connecting Armagh and Downpatrick as the two locations on the island of Ireland most closely related to Saint Patrick. Saint Patrick's Way is suitable for leisure walking and pilgrimages.
Special Pilgrim's Passport aims to enhance your walking experience as well as act as a recorded souvenir of your completed journey.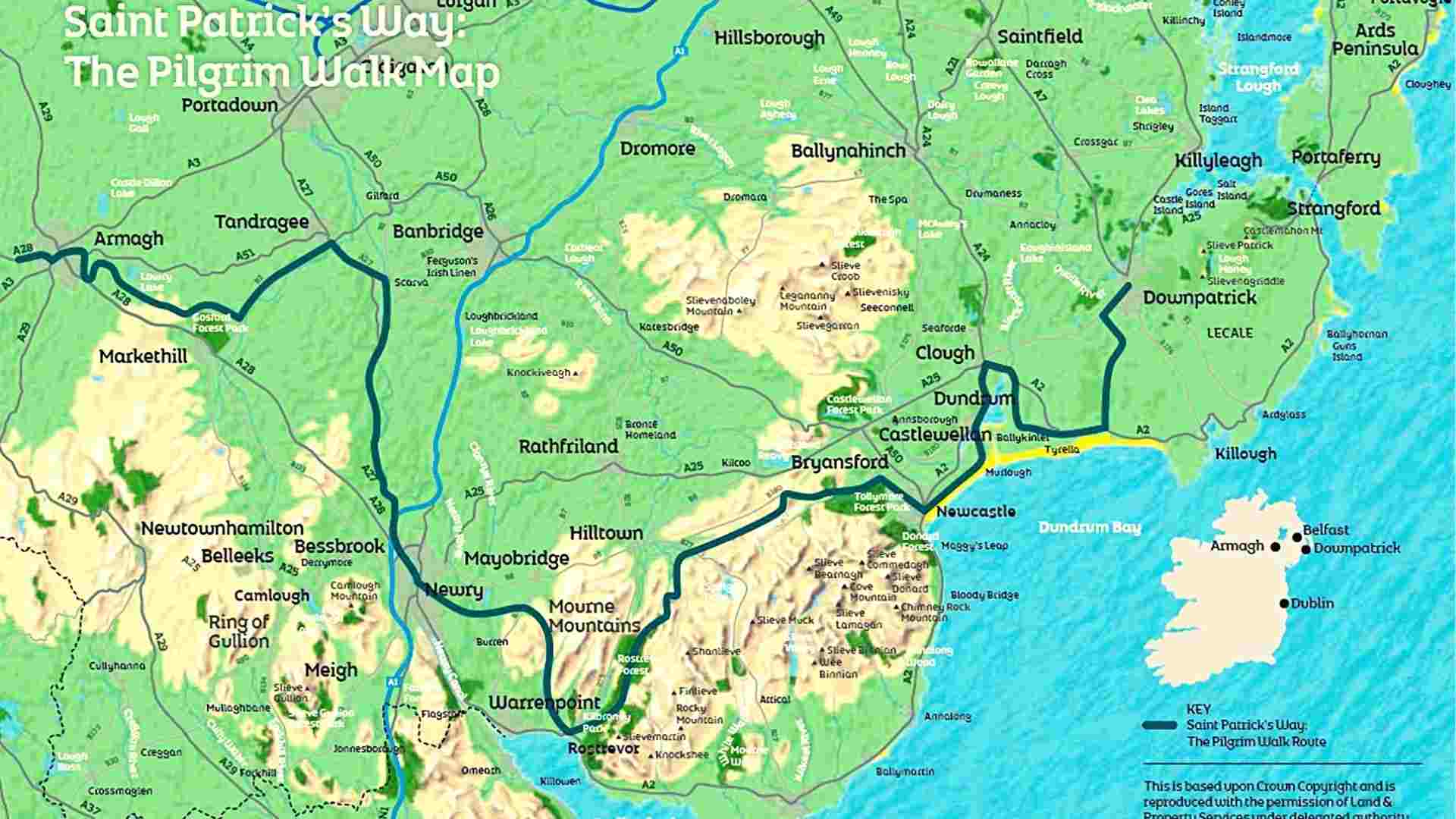 Navan Centre to Armagh – 5km
Navan Fort was the ancient seat of Kings and earliest capital of Ulster. Saint Patrick is thought to have healed a local chieftain, Daire, who then gave him the site on the hill in Armagh to build his church. In Ard Macha, or Armagh, Saint Patrick established the city as a great seat of Christianity, as it remains today, and the city grew around his church.
Armagh to Scarva – 30km approx
The area explores the charm and beauty of Moneypenny's Lockhouse and traces the history of the Newry Canal. Banbridge is only a short distance from Scarva, and worth the detour. Proximity to the River Bann helped develop the linen industry in the area, and Ferguson's Linen Factory still thrives as one of the last makers of quality damask Irish linen.
Scarva to Newry – 20 km
While traveling on his mission in Ireland, Saint Patrick spent time in a place called Glen Righe, or Clanrye. Patrick planted a yew tree here above the Clanrye River that flows through Newry, as a symbol of his faith. Today, Newry city's coat of arms shows Saint Patrick between yew trees.
Newry to Rostrevor – 15 km
Village of Rostrevor contains many fine eighteenth and nineteenth-century homes and has barely changed from its Edwardian heyday.  From the charming C.S Lewis-inspired Narnia Trail to its world-class mountain bike trails, Kilbroney Park in Rostrevor offers a host of attractions. Rostrevor is also home to the Holm Oak Tree, Northern Ireland.
Rostrevor to Newcastle – 38km
The summit of Slieve Donard, the highest peak in Northern Ireland, has a hermit's cell in the Great Cairn and oratory in the Lesser Cairn, both constructed by Saint Donard. He was the son of a local pagan chieftain and an important disciple of Saint Patrick. Donard's conversion to Christianity is said to have been prompted by Saint Patrick bringing Donard's bull back to life after it had been butchered.
Newcastle to Tyrella – 18km
Leaving Newcastle, you pass the elegant facade of the Slieve Donard Resort and Spa, then the world-famous Royal County Down Golf Club. The path then leads you to Murlough National Nature Reserve. After exploring the ancient sand dune ecosystem, the Walk follows the inner bay to the villages of Dundrum and Clough.
Tyrella to Downpatrick – 16 km
The story of Christianity in Ireland began in Downpatrick and the Lecale area, where Saint Patrick brought his boat ashore on Strangford Lough. Visitors can still walk in Saint Patrick's footsteps, from Saul Church, said to be the first ecclesiastical site in Ireland, to The Ruins of St. Tassach's Church famed as the place where Saint Patrick was given the last rites, or the holy Wells at Struell, where legend has it that Patrick sung psalms all night whilst naked!
Today, these wells are more commonly known for their reputed healing powers. The spiritual center of this section of The Pilgrim's Walk is Down Cathedral, a place of Christian worship since the 5th century.