Pepper Ann Parents Guide
Pepper Ann is an American animated television series created by Sue Rose and aired on Disney's One Saturday Morning on ABC. Pepper Ann was the very first Disney animated television series to be created by a woman.
Tom Warburton, who later created Cartoon Network's Codename: Kids Next Door, served as the lead character designer for the series.
Pepper Ann Age Rating
Pepper Ann is rated TV-Y.
Pepper Ann Release Date
It debuted on September 13, 1997, and ended on November 18, 2000. And now streaming on Disney+.
Official Poster and Details
[su_box title=" Pepper Ann" style="noise" radius="9″]
[su_row][su_column size="1/2″ center="no" class=""]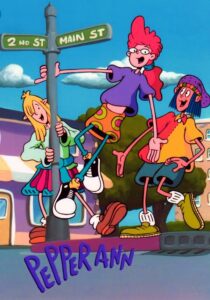 [/su_column] [su_column size="1/2″ center="no" class=""]
[su_table responsive="yes"]
[/su_table][/su_column][/su_row] [/su_box]
Note! If you already watched the series, please inform us about the parental guidance here with your support, we can bring out a better vision to everyone.
[su_expand more_text="Continue Reading" less_text="Show less" height="90″ link_style="dotted" link_align="center" more
_icon="icon: arrow-down" less_icon="icon: arrow-up"]
Pepper Ann Overview
Pepper Ann focuses on the efforts and grief that come during the so-called character's adolescence and charts her ups and downs at Hazelnut Middle School. It releases as part of Disney's One Saturday Morning block. The character originally comes from a comic strip published in YM magazine.
In the first four episodes of season 1, at the end of the opening sequence, Pepper Ann uncovers "five bucks" underneath her desk. From episode 5 onward, there's a change so that she found a different item at the end of every episode, same like The Simpsons' couch gag.
Pepper Ann Wallpaper and Image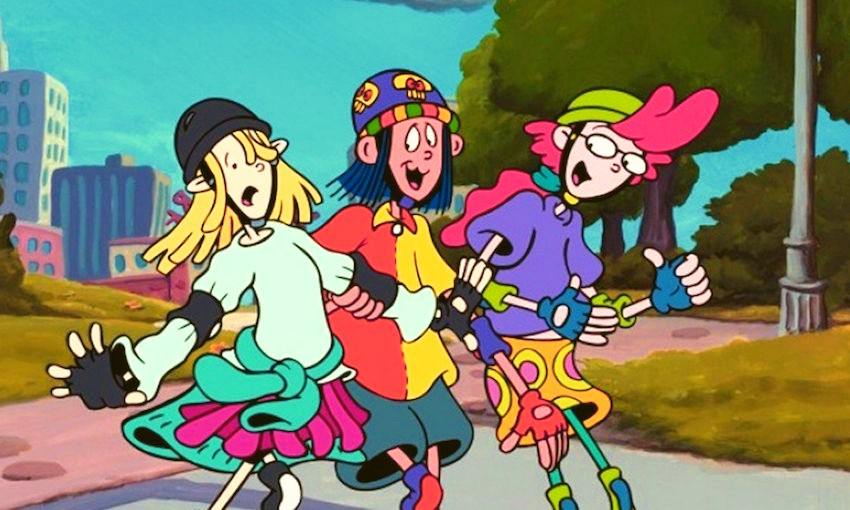 Pepper Ann Detective Cast, and Characters
Pepper Ann Pearson (voiced by Kathleen Wilhoite): The titular protagonist of the series.
Nicky Anais Little (voiced by Clea Lewis): Pepper Ann's best friend.
Milo Kamalani (voiced by Danny Cooksey): Other best friend of Pepper Ann, who he calls "P.A." for short.
Lydia Pearson (voiced by April Winchell): Overprotected lively mother of Pepper Ann and Moose.
Margaret Rose "Moose" Pearson (voiced by Pamela Adlon): Pepper Ann's tomboyish younger 6-year-old sister.
Janie Lilly Diggety (voiced by Susan Tolsky): Pepper Ann and Moose's aunt and Lydia's sister.
Jo Jo Diggety (voiced by Tino Insana): Pepper Ann and Moose's uncle and Janie's husband.
Trinket St. Blair (voiced by Jenna von Oÿ): A spoiled rich popular girl.
Dieter Lederhosen (voiced by Jeff Bennett): The German exchange student.
Cissy Rooney (voiced by Kath Soucie): An airheaded popular girl who is Trinket's best friend.
Tessa & Vanessa James (voiced by Cree Summer): The gossipy twin sisters who finish each other's sentences.
Peter "Pink-Eye Pete" Oglevee (voiced by Jeff Bennett): A nerdy kid who suffers from pink eye
Craig Bean (voiced by Jeff Bennett): The "cool" 8th grader, and Pepper Ann's love interest.
Alice Kane (voiced by Lauren Tom): Pepper Ann's nerdy rival.
Pepper Ann Parents Guide, and Pepper Ann Age Rating 
Know About Pepper Ann Parents Guide. Why did the film Pepper Ann receive this age rating? Read the complete information here about Pepper Ann Age ratings in the UK, US, Australia, Canada, Ireland, Switzerland, and overseas.
Pepper Ann is rated in Argentina: Atp Australia: G Brazil: Livre Singapore: PG United States: TV-Y
In fact, the age rating, fixed by MPAA( Motion Picture Association of America TV Series rating system),  BBFC (British Board of Film Classification), and Commons sense, TV Parental Guidelines (A television content rating system in the United States).
Stay tuned to get more updates on the age rating of all Netflix TV Series, TV shows, books, and games. Finally, any suggestions are always welcomed.
Also, please make use of the comment box for your reviews. We are always providing the complete details on age rating for kids, We will make the easy and best way for your kids.
[/su_expand]