Our Violent Ends Parents Guide and Age Rating
Our Violent Ends is a fantasy fiction bookit is a retelling of Shakespeare's Romeo and Juliet written by Chloe Gong. This is the second installment of the These Violent Delights duology.
Shanghai is under siege in this captivating and searingly romantic sequel to These Violent Delights, which New York Times bestselling author Natasha Ngan calls "deliciously dark."
| | |
| --- | --- |
| Book Name | Our Violent Ends |
| Author | Chloe Gong |
| Series | These Violent Delights #2 |
| Genre | Fantasy, Fiction, Romance |
| Age Rating | 14+ |
| Language | English |
| Date of Publication | November 16th, 2021 |
| No. of Page | 494 |
| Publisher | Margaret K. McElderry Books |
Our Violent Ends Age Rating
These Violent Delights rated 14 and up as it contains severe graphic violence throughout.
Our Violent Ends Parents Guide
This book consists of magic and fantasy, history, monsters, ghosts, and vampires.
Some kissing scenes, characters undressing, and having sex but not described in detail.
Nudity was not mentioned.
Real-world violence is mostly gangster activity and includes shootings, stabbings, fistfights, and threats.
House burned down with children and elders inside the house, described screaming while burning.
There is a pandemic illness that was spread by large insects that results in people tearing their own throats out.
Gory descriptions of victims mention gouging arteries, tendons, and muscles as well as blood spurting, seeping, pooling, etc.
Violence with pistols, and machine guns.
Use of strong language and profanity, S–t, goddammit, damn.
Use of alcohol, smoking cigars were mentioned.
Older teens drink alcohol.
Mention that a gang trades in opium.
Our Violent Ends Official Storyline
The year is 1927, and Shanghai teeters on the edge of revolution.
After sacrificing her relationship with Roma to protect him from the blood feud, Juliette has been a girl on the warpath. One wrong move and her cousin will step in to usurp her place as the Scarlet Gang's heir. The only way to save the boy she loves from the wrath of the Scarlets is to have him want her dead for murdering his best friend in cold blood. If Juliette were actually guilty of the crime Roma believes she committed, his rejection might stingless.
Roma is still reeling from Marshall's death, and his cousin Benedikt will barely speak to him. Roma knows it's his fault for letting the ruthless Juliette back into his life, and he's determined to set things right—even if that means killing the girl he hates and loves with equal measure.
Then a new monstrous danger emerges in the city, and though secrets keep them apart, Juliette must secure Roma's cooperation if they are to end this threat once and for all. Shanghai is already at a boiling point: The Nationalists are marching in, whispers of civil war brew louder every day, and gangster rule faces complete annihilation. Roma and Juliette must put aside their differences to combat monsters and politics, but they aren't prepared for the biggest threat of all: protecting their hearts from each other. (Publishers)
"There will be hatred. There will be war. The country will fight itself to pieces. It will starve its people, ravage its land, poison its breath. Shanghai will fall and break and cry. But alongside everything, there has to be love – eternal, undying, enduring. Burn through vengeance and terror and warfare. Burn through everything that fuels the human heart and Sears it red, burn through everything that covers the outside with hard muscle and tough sinew. Cut down deep and grab what beats beneath, and it is love that will survive after everything else has perished."
― Chloe Gong, Our Violent Ends
---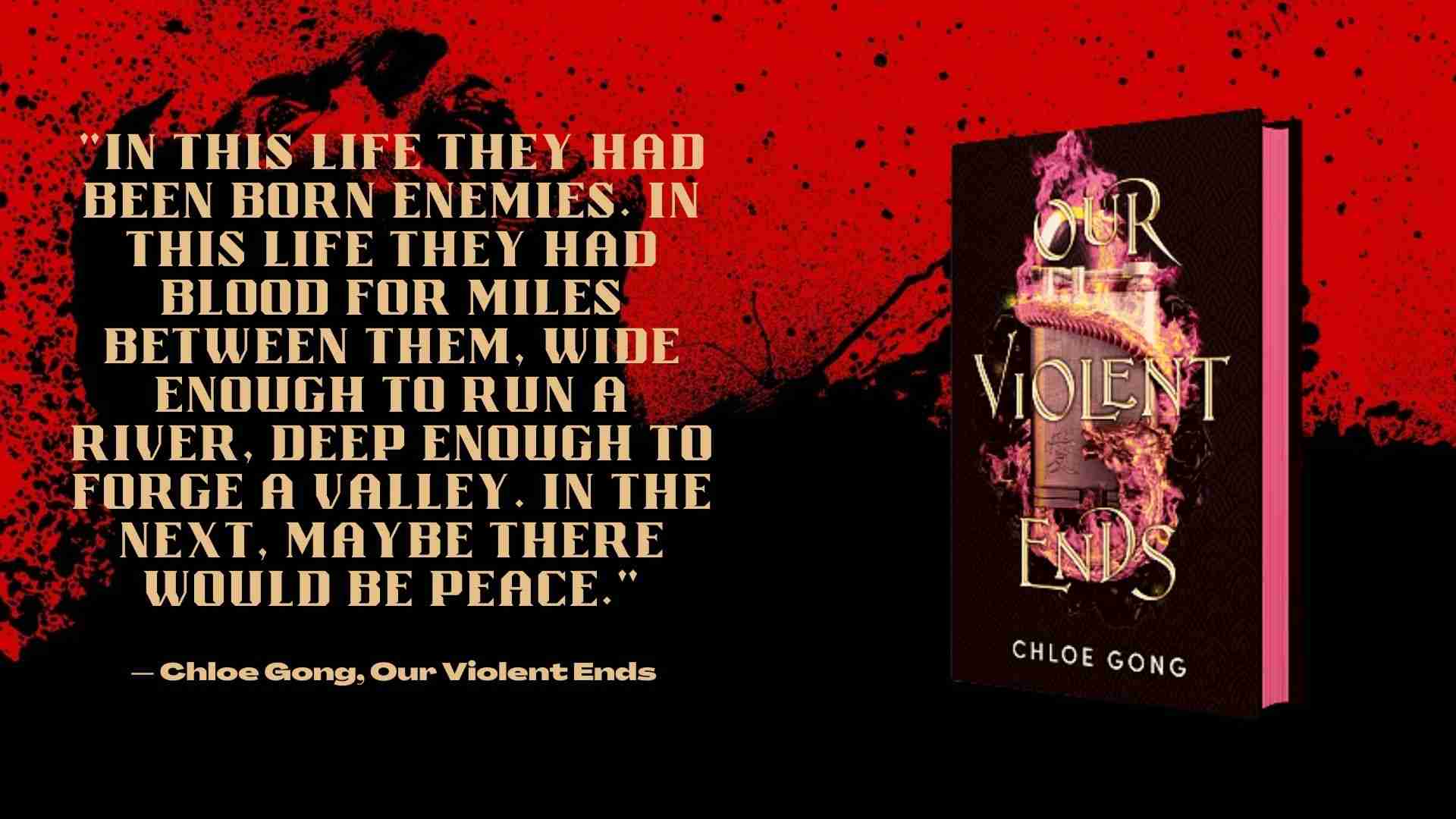 "In this life and the next, for however long our souls remain, mine will always find yours."
― Chloe Gong, Our Violent Ends
Official Website: thechloegong.com
Stay tuned to get more updates on the age rating of all movies, tv shows, books, and games. Finally, any suggestions are always welcomed. Blade of Secrets Parents Guide and Age Rating.
Also, please make use of the comment box for your reviews. We are always providing all age ratings for kids, We will make the easy and best way for your kids.