Metal Lords Parents guide and Age Rating
Metal Lords is a 2022 upcoming drama-comedy film, that is directed by Peter Sollett and written by D.B. Weiss, and here in this article below, you will get to know the Metal Lords Age rating and to know more about Metal Lords parents guide, release date, and cast.
Before letting your kids watch the film it is important for the parents to read about Metal Lords age rating and Metal Lords Parents Guide to know more about the shown content in the film, keep reading the article.
Official Poster and Details
It is scheduled to be released on April 8, 2022, by Netflix.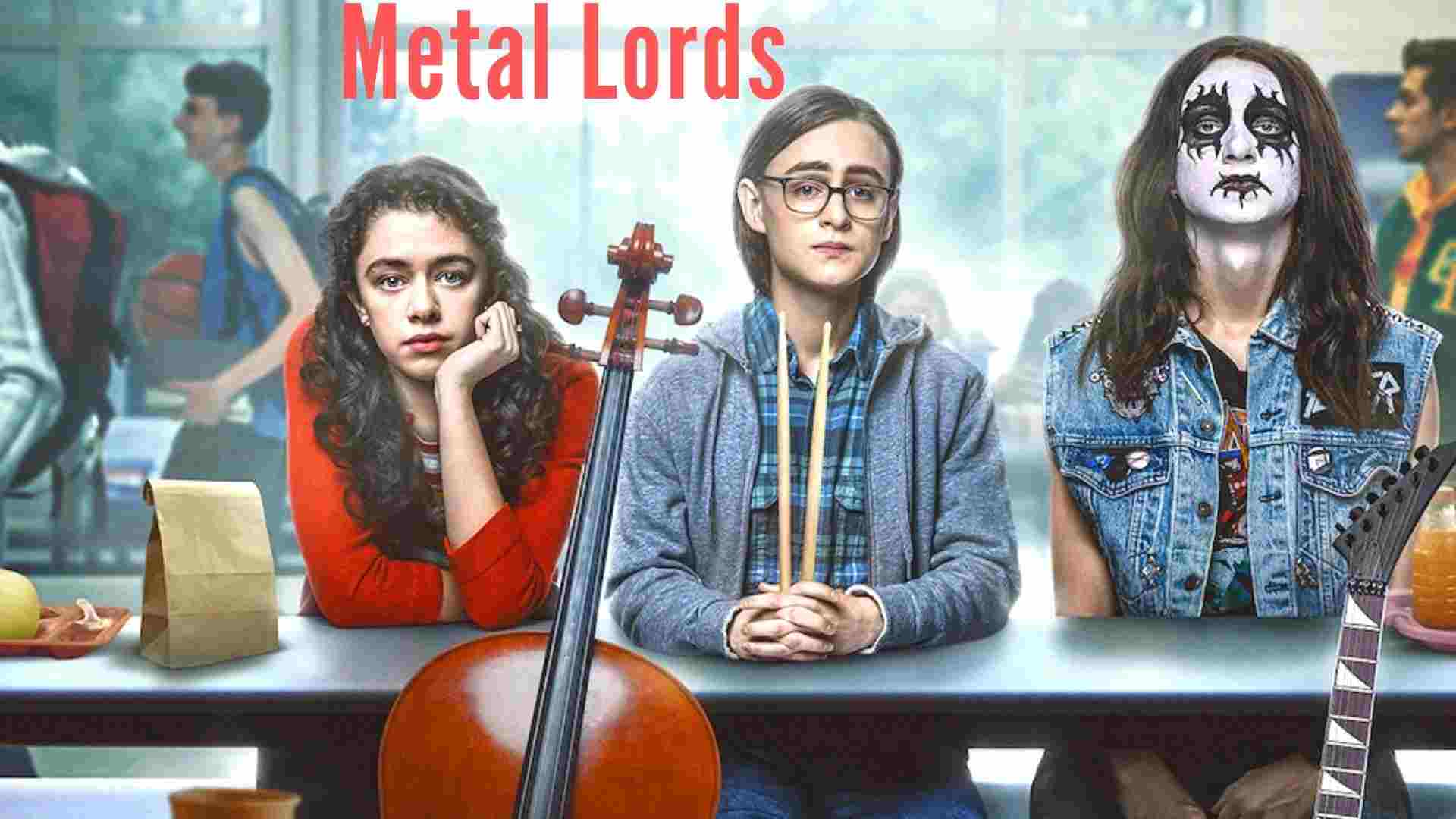 Movie Name

Metal

Lords

Genre

Comedy, Drama, Music

Director

Peter Sollett

Written by

D.B. Weiss

Produced by

Bighead Littlehead

Production companies

Bighead Littlehead

Distributors

Netflix

Release Date

 April 8, 2022

Country

United States

Language

English

Runtime

1 hour 37 minutes

Official website

Netflix
Note! If you have already watched the show, please inform us about the parental guidance here. With your support, we can bring out a better vision to everyone.
Metal Lords Official Synopsis
Two kids want to start a heavy metal band in a high school where exactly two kids care about heavy metal. They try to find a bass player and fail but they do find a girl who is very good at cello. If the three of them can't settle their differences and work together, they're never going to win the Battle of the Bands.
Metal Lords Age Rating
MPAA( Motion Picture Association of America): Metal Lords is rated R for language throughout, sexual references, nudity, and drug/alcohol use – all involving teens.
R Rated means Restricted. Program-rated R is intended to be viewed by mature, adult audiences and may be unsuitable for children under 17. Contains content that is unsuitable for children.
Metal Lords Parents Guide | Why Metal Lords is Rated R?
Metal Lords is rated R for language throughout, sexual references, nudity, and drug/alcohol use – all involving teens.
Violence:

There are multiple scenes of violence between students throughout the film.

Images of the devil.

An angry teen throws a musical instrument.

Some guys push a teenage guy into walls.

Some person uses violent language during the game.

There are some songs that contain violent lyrics.

Students bullying: A group of boys

duct-taped the mouth of a teen and cut off some hair of his and punched him.

A girl is bullied by her classmates and she

throws books and furniture at them later seen with a bruise on his face.

Blood is briefly seen in a scene in which a person's leg is broken in an accident.

Sexual Content:

Multiple scenes of teenage boys and girls kissing.

Mant verbal sexual references.

Brief mention of r@pe.

An image of a penis on a poster is briefly seen.

Teen characters discuss their virginity and having sex.

The teenage girls' buttocks are seen and a part of her breasts from the side. 

Profanity:

A lot of profanity is used throughout the film,

including sexual expletives, and scatological curses.

Using bad terms for female genitals and breasts as well as all parts of male sexual parts.

Alcohol / Drug Use: Use of alcohol, smoking, and other drugs by the teens.
Teen characters are seen drinking alcohol and getting drunk at a party.

The main character gets drunk and vomits later.

Teens smoke m@rijuana.
Metal Lords Wallpaper and Images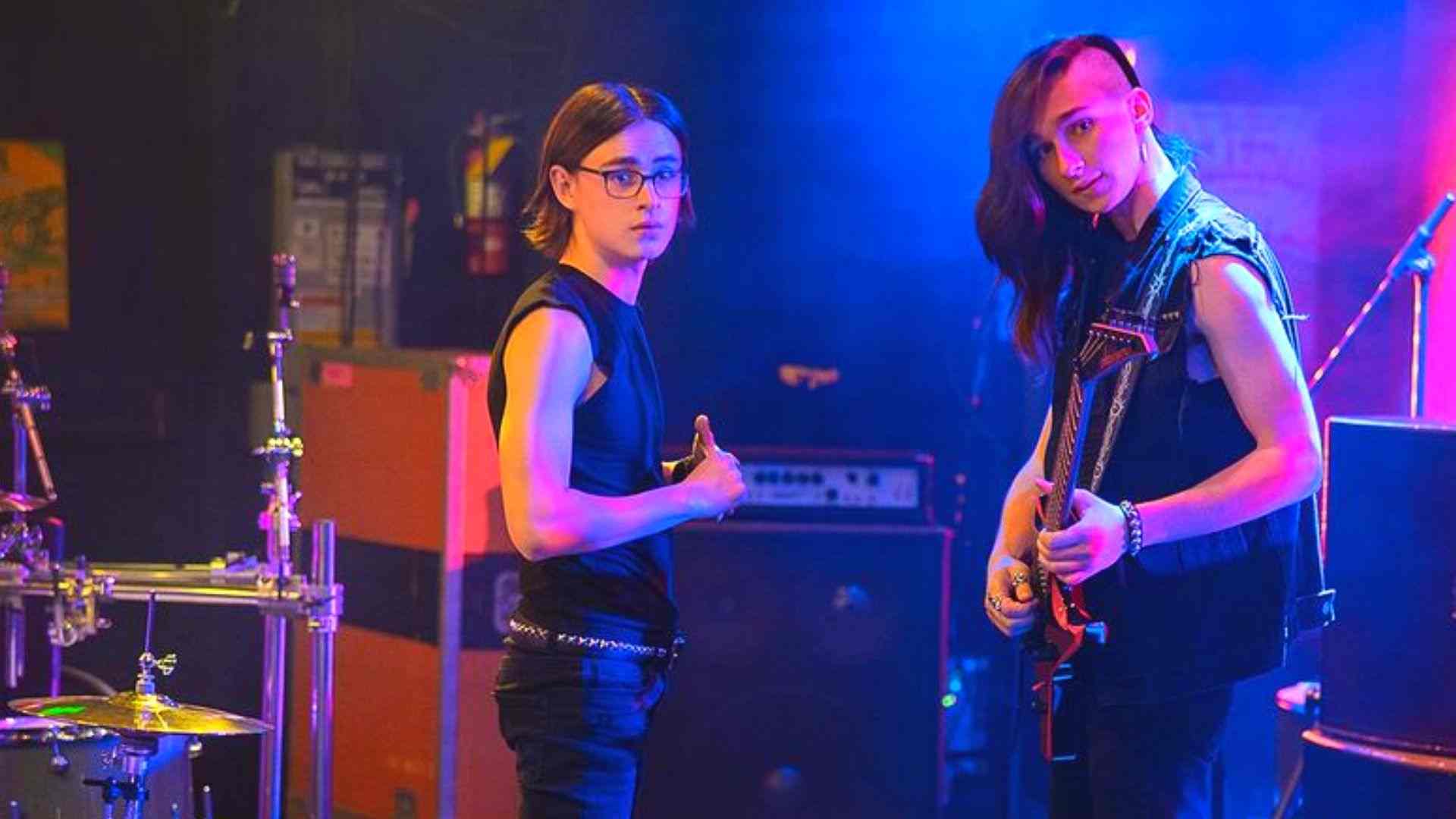 Who is in the cast of Metal Lords?
Joe Manganiello

Jaeden Martell as Kevin Schlieb

Brett Gelman as Dr. Sylvester

Sufe Bradshaw as Dean Swanson

Katie O'Grady as Laurie Schlieb

Michelle Mao as Lisa Randall

Isis Hainsworth as Emily Spector

Noah Urrea as Clay Moss

Analesa Fisher as Kendall Sarn

Katie McCabe as Model

Teddy Van Ee as Ray

Troy Oelke as Perpetrator

A. Brian Daniels as Teacher

Parker Hall as Hesher in Training

Mike D Harris as Faculty…

Adrian Greensmith as Hunter Sylvester

Ella DeVito as Party Girl

Jovani Ridler as Background
Metal Lords Official Trailer
Know about Metal Lords Parents guide. Why does Metal Lords receive this age rating? Read the complete information here about Metal Lords ratings in the UK, US, Australia, Canada, Ireland, Switzerland, and overseas.
Metal Lords is rated M18 in Singapore and R in the United States.
In fact, the age rating is fixed by MPAA( Motion Picture Association of America film rating system),  BBFC (British Board of Film Classification), and Commons sense, TV Parental Guidelines (A television content rating system in the United States).
Metal Lords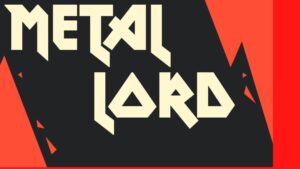 Director: Peter Sollett
Date Created: 2022-04-08 08:10