Windjammers 2 Parents Guide and Age Rating
Windjammers 2 is a sports video game developed and published by Dotemu. It is the sequel of the 1994 Neo Geo game Windjammers, developed and published by Data East. In this game, players must try to throw a frisbee into their opponent's goal while protecting their own.
In this game, both single-player and local multiplayer modes are featured. The game also includes an "Arcade Mode", where multiple matches are played through championships.
[su_table responsive="yes"]
Developer

Dotemu

Publisher

Dotemu

Mode

Single-player, multiplayer

Genre

Sports

Release Date

January 20, 2022

Platforms

Microsoft Windows
Nintendo Switch
PlayStation 4
Stadia
Xbox One
[/su_table]
Windjammers 2 Price
Windjammers 2 game price is $19.99
Windjammers 2 Age Rating
ESRB- Windjammers 2 rating is E ( EVERYONE) by ESRB. This means this for everyone, anyone can play this game there is no interactive element.
PEGI– This game has received a PEGI 7 because it features violence against humans that is not shown but is implied. Not suitable for persons under 7 years of age.
Windjammers 2 Parents Guide
This game is all about throwing flying discs at your opponents which is still as cool as back in the days. Sequel to the NEOGEO cult classic Windjammers, Windjammers 2 is the perfect mix between what you loved about the classic title and brand-new mechanics.
This game doesn't contain complex emotions, difficult themes, and rare but shocking acts of violence.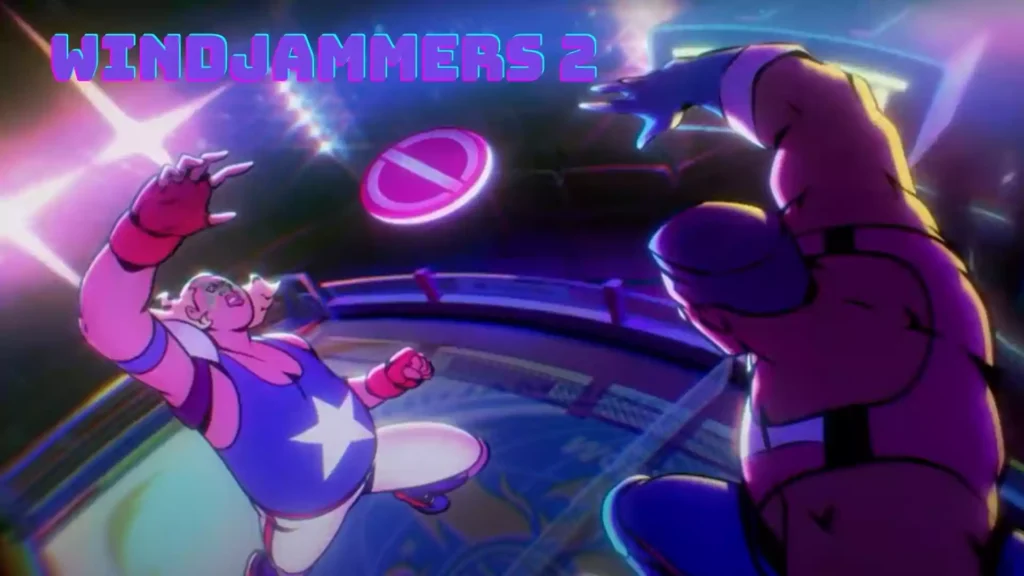 Windjammers 2 Gameplay
This is a sports game played from a top-down perspective, in which players throw a frisbee.
Players can earn 3 or 5 points by landing the frisbee into their opponent's goal in the yellow or red zones respectively or can land the frisbee on the floor of their opponent's side to earn 2 points.
In the game, players select from 11 playable characters, including all six returning characters from the original Windjammers.
Each character has its own attributes and some characters have more steady control than others at the cost of speed.
Windjammers 2 System Requirements
MINIMUM
Requires a 64-bit processor and operating system
OS: Windows 7+
Processor: Intel i5+
Memory: 4 GB RAM
Graphics: NVIDIA GTX 960 / Radeon HD 5750 or better
Windjammers 2 Official Trailer
Official website: Windjammer 2
Read about Windjammers 2 parents guide and age rating. The game is rated E (EVERYONE) by ESRB and also has received PEGI 7for it's content.
The age rating, fixed by PEGI (Pan European Game Information) for UK citizens and ESRB (Entertainment Software Rating Board) for the US Continent.
Moreover, the PEGI rating is based on the physical content of the game and not on the players' condition or their abuse usage online. Stay tuned to get more updates on the age rating of all Netflix TV Series, TV shows, books, and games.
Finally, any suggestions are always welcomed. Also, please make use of the comment box for your reviews. We are always providing the complete details on age rating for kids, We will make the easy and best way for your kids.