Trek to Yomi Parents Guide and Age Rating
Trek To Yomi is an upcoming action-adventure samurai game from Revolver Digital, the game is developed by Leonard Menchiari, Flying Wild Hog.
Trek To Yomi is a side-scroller that follows Hiroki, a lone swordsman who takes a vow to his dying master to protect his town and loved ones from a variety of impending threats, ranging between fellow swordsmen, and more supernatural beings.
[su_table responsive="yes"]
| | |
| --- | --- |
| Developer | Leonard Menchiari, Flying Wild Hog  |
| Publisher | Devolver Digital |
| Mode | Single Player |
| Genre | Action, Adventure |
| Release Date | 2022 |
| Platforms | PlayStation 4, Xbox Series X and Series S, Microsoft Windows, Xbox One, PlayStation 5 |
[/su_table]
Trek to Yomi Release Date
Trek to Yomi arrives in spring 2022 to PC, PlayStation 5, PlayStation 4, Xbox Series X/S, and Xbox One platforms, including Game Pass.
Trek To Yomi's theme and narrative is built upon two essential pillars: historical Japan and Shinto mythology. Shinto belief is that gods are present everywhere, they live in every rock, tree or flower, so part of our narrative dives deeper into this belief, telling short tales of our hero Hiroki's kami ancestor spirits, the various eras of Japan they lived in, and the tragic, violent or otherwise undeserved deaths that mean they now endure a torturous half-life in Yomi.
Often, these stories reflect Hiroki's journey and his dilemmas – vignettes to aid him in his final decision about the path he will tread.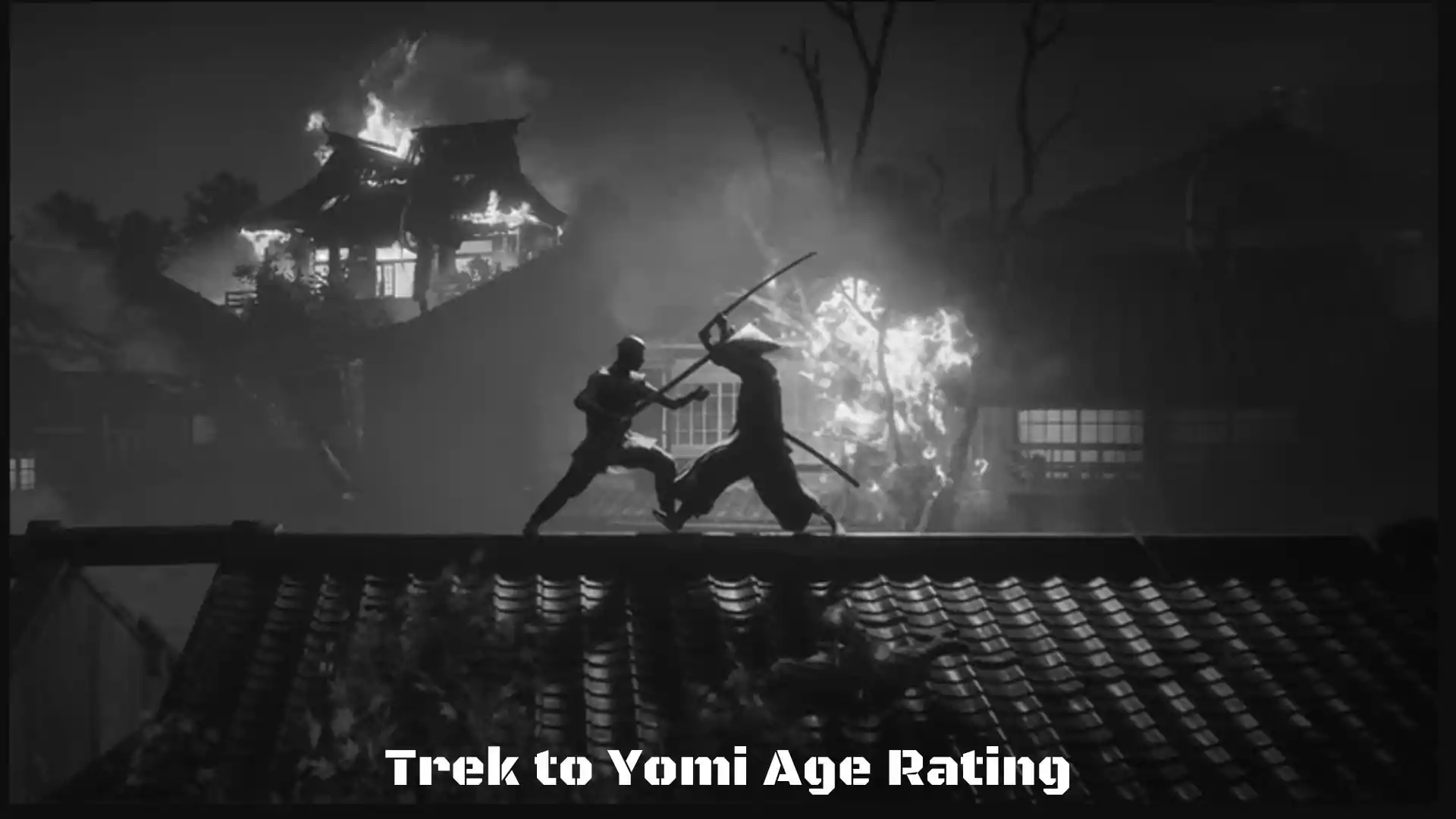 Trek to Yomi Age Rating
ESRB– Trek to Yomi age rating is M (MATURE17+) by ESRB for Blood and Gore, Violence. ESRB M (MATURE 17+) means that the content of the game is generally suitable for ages 17 and up.
Trek to Yomi Parents Guide
In this game, players assume the role of a young samurai (Hiroki) protecting his village from bandit attacks in Feudal Japan.

Trek to Yomi contains violent combat with blood and beheading.

Hiroki uses a sword and bow to battle bandits.

Players must block, parry, and dodge to land killing blows on enemies.

Battles are accompanied by sword-slashing, flesh-rending sounds, and intense cries of pain.

Large blood-splatter effects are depicted as bandits are killed.

Some scene contains dead villagers lying in pools of blood.

Decapitation or impalement is shown.
Trek to Yomi Gameplay
As a vow to his dying Master, the young swordsman Hiroki is sworn to protect his town and the people he loves against all threats. Faced with tragedy and bound to duty, the lone samurai must voyage beyond life and death to confront himself and decide his path forward.
Cinematic Presentation
Breathtaking camera angles and striking visuals in the spirit of classic samurai film create a true cinematic experience in Trek to Yomi.
Stylish Combat
Engage vicious swordsmen and supernatural beings with a streamlined combat system based around the traditional weapons of the samurai.
Mythic Storytelling
Experience an enthralling story of Hiroki during his fall against the forces of evil and heroic return to make good on his failed promise to save the people he swore to protect.
Thrilling Soundtrack
The thrilling action and somber moments are set against a memorable score designed to feel authentic to the time and place of feudal Japan.
Trek to Yomi System Requirements
MINIMUM
Requires a 64-bit processor and operating system

OS: Windows 7, 8, 8.1, 10 x64
Processor: Intel Core i3-4160 (2 * 3600) or equivalent
Memory: 4 GB RAM
Graphics: GeForce 9600 GT (512 MB)
Storage: 3 GB available space
Trek to Yomi Official Trailer
Official website: Trek to Yomi 
Read about Trek to Yomi parents guide and age rating. The game is rated Mature 17+ by ESRB.
The age rating, fixed by PEGI (Pan European Game Information) for UK citizens and ESRB (Entertainment Software Rating Board) for the US Continent.
Moreover, the PEGI rating is based on the physical content of the game and not on the players' condition or their abuse usage online. Stay tuned to get more updates on the age rating of all Netflix TV Series, TV shows, books, and games.
Finally, any suggestions are always welcomed. Also, please make use of the comment box for your reviews. We are always providing the complete details on age rating for kids, We will make the easy and best way for your kids.