Best Black Widow Quotes From the film
Marvel's much-awaited film, Black Widow, is all set to release in theatres and on Disney+Hotstar in North America and several other countries today, July 9.  BlackWidow is meant to kick off phase four.
Black Widow, whose real name is Natasha Romanoff, was a Russian spy who defected to the US side by joining S.H.I.E.L.D and later, the Avengers. The movie explores her dark past and her first family.
The film BlackWidow is directed by Cate Shortland.
Runtime: 2h 13min
Genre: Action, Adventure, Science-Fiction.
Age Rating: The film age rating is PG-13 (Read full parents guide)
Black Widow Release Date:
Wednesday, July 7 in Belgium, France, Hong Kong, Iceland, Indonesia, Ireland, Israel, Italy, Netherlands, South Korea, Sweden, and the UK.
July 8 in Argentina, Australia, Brazil, Czech Republic, Germany, Greece, Hungary, Japan, Malaysia, Mexico, New Zealand, the Philippines, Portugal, Russia, Saudia Arabia, Slovakia, Ukraine, and UAE.
Friday, July 9 on Disney+ with Premier Access in most Disney+ markets.
July 9, it will be available in Bulgaria, Canada, Denmark, Finland, Lithuania, Poland, Singapore, Spain, Turkey, and the USA.
In India, it is supposed to be released in October maybe as cinemas are closed nationwide due to COVID-19.
Top 10 Best Black Widow Quotes From the film
I'm done running from my past.
There's a new world of Widows.
Yelena: I'm not the killer that little girls call their hero.

"

I blew all my covers. I gotta go figure out a new one.

"

-Natasha Romanoff (Black Widow)

"

He

'

s also a huge dork. Chicks dig that!

"

-Natasha Romanoff (Black Widow)
Black Widow: I'm always picking up after you boys.

Scott Lang

: It's crazy.

Natasha Romanoff

: Scott, I get emails from a raccoon. So, nothing sounds crazy anymore.
"It's a fighting pose, you're a total poser."

"You should have thought of that before you blew her face off."

"It's easier to be tough in front of defenseless little girls."

"You seem desperate to impress me."

"Even if there's a small chance that we can undo this, I mean, we owe it to everyone who is not in this room, to try." from Avengers: Endgame
Summary: At birth, the Black Widow is given to the KGB, which grooms her to become its ultimate operative.
When the U.S.S.R. breaks up, the government tries to kill her as the action moves to present-day New York, where she is a freelance operative.
Natasha Romanoff finds herself alone and forced to confront a dangerous conspiracy with ties to her past.
Pursued by a force that will stop at nothing to bring her down, Romanoff must deal with her history as a spy and the broken relationships left in her wake long before she became an Avenger.
Marvel's film Black Widow Quotes is here. Check the list of Top 10 Black Widow Film Quotes 2021.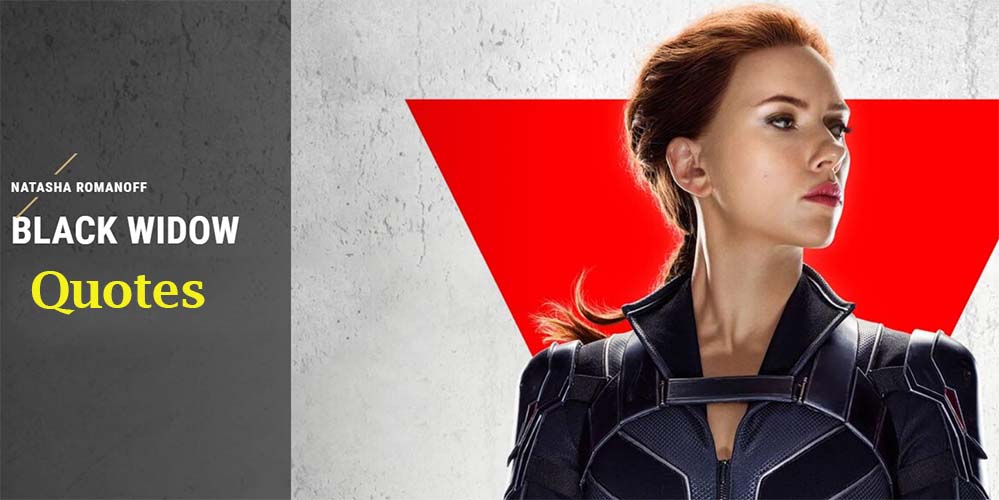 Black Widow Cast:
Johansson is in the lead for the movie after Natasha Romanoff. Ever Anderson plays a young Natasha. Violet McGraw plays a young Yelena.
Rachel Weisz playing Natasha and Yelena's mother role. Melina Vostokoff having returned from her spy work in the US, she's now one of Red Room's lead scientists.
Alexei Shostakov played by David Harbour. The film is fully kids friendly and the all quotes are best for your kids also.