The Movie American  Horror film The Seventh Day created by Justin P. Lange. In fact, the Movie The Seventh Day is an American  Horror genre Movie produced by Vertical Entertainment, Redbox Entertainment Moreover, distributed by Vertical Entertainment, Redbox Entertainment  Read more about Movies, The Seventh Day age Rating, and parental guides for kids.
The Movie, The Seventh Day Official Poster, and Details
[su_table responsive="yes"]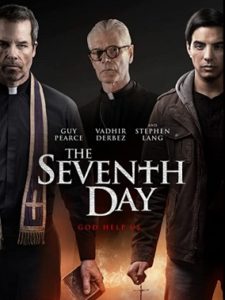 Note! If you already watched the show, So please inform us about the parental guidance here. Eventually, from your support, we can bring out a better vision for everyone.
Movie Name –The Seventh Day
Genre –  Horror
Creator –Justin P. Lange
Runtime – 1h 27min
Age Rating – R
 Release Date – March 26, 2021 
age rating 20[/su_table]
The Seventh Day Movie Overview
A renowned exorcist teams up with a rookie priest for his first day of training. As they plunge deeper into hell on earth, the lines between good and evil blur, and their own demons emerge.
Details of Parental Guidance for The Seventh Day
The Movie, The Seventh Day, Rated R for violent content, disturbing images, and some language.
In fact, the age rating, fixed by MPAA( Motion Picture Association of America TV Movie rating system), CSM(common sense media), BBFC(British Board Of Film Classification). The board can decide who can watch the Movie and TV shows The Seventh Day is rated R for the contents shown in the Movie. Notably, the R rating suggests that children under the age of 17  are restricted to watch the movie. If you have watched the Movie, please provide the comments and thus help other kids/parents with the age rating and its contents.
Explained Why The Seventh Day Received R Age Rating
Horror
supernatural power
Man undressing
Blood contents
stabbings on neck
Severe curse words
We will update more details very sooner
Eventually, these are the reasons for the R rating for the Movie, The Seventh Day.
The Seventh Day Release date
The Movie The Seventh Day release date is March 26, 2021.
What is The Seventh Day Runtime
Movie ,The Seventh Day ,takes 1h 27min .
The Seventh Day-Age Rating – Wallpapers and Images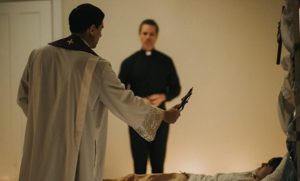 Official Trailer of The Seventh Day Movie

[youtube https://www.youtube.com/watch?v=LKW1TYC8_y0]
Summary Of The Seventh Day Cast
The Movie casting includes Guy Pearce, Vadhir Derbez,  Keith David, Robin Bartlett, Brady Jenness others Guy Pearce as Father Peter Costello, Vadhir Derbez as Father Daniel Garcia, Keith David as Father Louis, Robin Bartlett as Helen, Brady Jenness as Charlie Giroux
.Stay tuned to get more updates on the age rating of all TV Movies, TV shows, books, and games. Finally, any suggestions always welcomed. Also, please make use of the comment box for your reviews. We are always providing the complete details on age rating for kids, We will make the easy and best way for your kid.