Persona 5 Age Rating | Persona 5 Parents Guide
The game Persona 5 is a role-playing video game developed by P-Studio, an internal development studio within Atlus led by game director and producer Katsura Hashino.
The Production Company is Atlus.
However, Persona 5 is rated M for Blood, Drug Reference, Partial Nudity, Sexual Themes, Strong Language, Violence.
In fact, the age rating, fixed by PEGI for UK citizens and ESRB for the US Continent. PEGI rated Persona 5 as 16 and ESRB rated the same as M17+.
The game Persona 5 is rated MA15+ in Australia, 14 in Brazil, C (CERO) in Japan, 16 in Germany and the United Kingdom, ADV in Singapore, R13 in New Zealand R-15 in Taiwan, M in the United States and Argentina.
Moreover, the PEGI rating is based on the physical content of the game and not on the players' condition or their abuse usage online.
Persona 5 Parents Guide
[su_box title="Why Persona 5 is rated M ?" style="noise" radius="9″]
[su_table responsive="yes"]
Mild Nudity, It's heavily implied that a teacher sexually abuses his female students.
Human trafficking is a tense subject in the game.
The words "dammit", "h*ll", "goddammit", "bit*h", and "as*hole" appear in the dialogue regularly.
The player can enter several bars where they serve alcoholic drinks.
Several instances of characters committing or attempting suicide are discussed.
There are some instances that always lead to a gruesome and bloody scene.
Strong Violence, A man is shot in the head. His face slams onto the table as blood leaks out.
[/su_table][/su_box]
We will update more details very sooner
Official Poster and Details
[su_box title="Persona 5″ style="noise" radius="9″]
[su_row][su_column size="1/2″ center="no" class=""]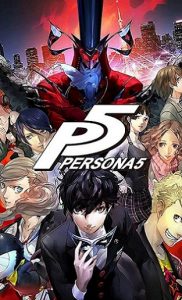 [/su_column] [su_column size="1/2″ center="no" class=""]
[su_table responsive="yes"]
Game Name

Persona 5

Genre

Adventure, Fantasy

Age Rating 

ESRB- M

PEGI- 16

Developed by

Atlus

Directed by

Katsura Hashino

Platforms

PlayStation 4,  PlayStation 3

Official Website

Atlus
[/su_table]
[/su_column] [/su_row]
[/su_box]
Note! If you already played the Game, please inform us about the parental guidance here with your support, we can bring out a better vision to everyone.
[su_expand more_text="Continue Reading" less_text="Show less" height="90″ link_style="dotted" link_align="center" more_icon="icon: arrow-down" less_icon="icon: arrow-up"]
Game Persona 5 Overview
It is a role-playing video game where the player takes on the role of a male high school student, codenamed Joker, who lives out a single year while attending school in modern-day Tokyo.
The game is governed by a day-night cycle and weather systems that determine general behavior similar to a social simulation game.
A boy robbed of his future must fight to clear his name. With help from a mysterious cat and like-minded outcast teenagers and the cerebral world of Mementos connecting everyone's subconscious, this boy will take on the mantle of Joker and start the vigilante movement of a lifetime.
New Personas can be gained from battle through successful negotiation.
Minor multiplayer elements are incorporated through the "Thieves Guild" feature.
After the protagonist defends a woman from being abused by a drunken man on the street, he is falsely charged with assault and put on probation, resulting in expulsion from his school.
Official trailer of Persona 5
 Summary of Persona 5 Characters Voice Cast
Jun Fukuyama as Protagonist – Joker
Mamoru Miyano as Ryuji Sakamoto – Skull
Nana Mizuki as Anne Takamaki – Panther
Ikue Ôtani as Morgana – Mona
Tomokazu Sugita as Yusuke Kitagawa – Fox
Rina Satô as Makoto Niijima – Queen
Aoi Yûki as Futaba Sakura – Navi
Haruka Tomatsu as Haru Okumura – Noir
Sôichirô Hoshi as Goro Akechi – Crow
Yûko Kaida as Sae Niijima
Jôji Nakata as Sojiro Sakura
Daisuke Sakaguchi as Yuki Mishima
Hisao Egawa as Munehisa Iwai
Yuka Saitô as Tae Takemi
Tomohisa Asô as SIU Director / Inui
Akemi Satô as Shiho Suzui
Mai Fuchigami as Sadayo Kawakami
Miyu Matsuki as Chihaya Mifune
Aki Kanada as Shinya Oda
Tomomi Isomura as Hifumi Togo
Kei'ichi Noda as Toranosuke Yoshida
Yumi Uchiyama as Ichiko Oya
Aki Toyosaki as Caroline and Justine / Lavenza
Yûji Mitsuya as Suguru Kamoshida
Yukitoshi Hori as Ichiryusai Madarame
Kazunari Tanaka as Junya Kaneshiro
Hirohiko Kakegawa as Kunikazu Okumura
Minako Arakawa as Wakaba Isshiki
Shûichi Ikeda as Masayoshi Shido
Masane Tsukayama as Warden – Yaldabaoth
Persona 5 Game Price
The cost of game Persona 5 is $ 18.28 on Amazon.
Persona 5 Age Rating and​ Persona 5 Parents Guide
Know about​  Persona 5 age rating and parental guidance here. In fact, the age rating is fixed by ESRB (Entertainment Software Rating Board) and PEGI (Pan European Game Information).
Stay tuned to get more updates on the age rating of all Netflix TV Series, TV shows, books, and games. Finally, any suggestions are always welcomed.
Also, please make use of the comment box for your reviews. We are always providing the complete details on age rating for kids, We will make the easy and best way for your kids.
[/su_expand]