Pain Hustlers Parents Guide
Netflix announces the upcoming movie of 2023 titled Pain Hustlers. Pain Hustlers is a Crime Drama film. This film is directed by David Yates. Pain Hustlers is based on "The Pain Hustlers" article. This article is a 2018 New York Times Magazine article which is written by Evan Hughes. It is produced by Grey Matter Productions and distributed by Netflix.
The Cast of Pain Hustlers is Chris Evans, Emily Blunt, Catherine O'Hara, Andy García, Chloe Coleman, Jay Duplass, Brian d'Arcy James, and others.
Age ratings tell us which age group of films and series written for children are suitable for which age audience and for which they are unsuitable. Through the age rating, it is easily known whether you can watch it at the age that is needed as a way for parents to show the way.
Here's a look at Pain Hustlers age ratings, Pain Hustlers Parents Guide, Release Date, Cast, Official Trailer, and more.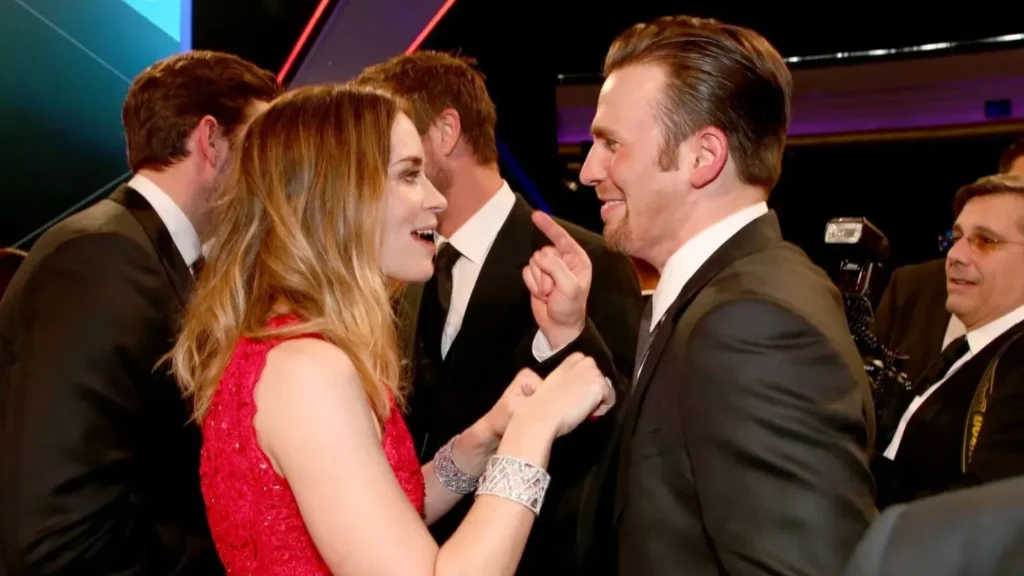 | | |
| --- | --- |
| Name | Pain Hustlers |
| Genre | Crime Drama |
| Release Date | October 27, 2023 |
| Country | United States |
| Language | English |
| Distributor | Netflix |
Pain Hustlers Parents Guide
Pain Hustlers Age Rating
Pain Hustlers is rated R for language throughout, some sexual content, nudity, and drug use.
It is crucial to note that R-rated movies are strictly forbidden for children under the age of 17 as they contain mature content. Such movies are only intended for adult audiences and should not be viewed by minors.
Age ratings are recommendations for parents and carers of kids to help them decide what is appropriate for their child depending on what stage of development they are at.
Pain Hustlers Parents Guide
First of all, parents should read any film, series, book, or game about their parent's guide, then they can find out whether it is suitable for their kids.
Sexual content and nudity
Sexual content and nudity are present in the film. There are some kissing scenes and a man moves towards a woman in his office in a threatening manner which is not suitable for kids to watch.
Violence & Gore
The film contains a lot of violence and gore, the characters are seen fighting one of the men hits another man while fighting. These scenes in the film can have a negative impact on your kids, so it is important to read the parents' guide before watching the film.
Drug use
There are several scenes where the characters are seen drinking and smoking. Movies or series that contain drinking and smoking scenes are not suitable for kids and are recommended to don't allow kids to watch these types of content.
Language
Characters were seen using strong language throughout the film. The characters were seen using 'motherfker' and 'fk' several times which can affect the language of your kids too.
Plot: What's the story about?
The Story of Pain Hustlers is Losing her job, a blue-collar woman struggling to raise her daughter takes a job at a failing pharmaceutical start-up, only to become embroiled in a dangerous racketeering scheme.
Release Date: When and Where Can I Watch Pain Hustlers?
Pain Hustlers was released on  October 27, 2023, on Netflix.
Wallpaper and Images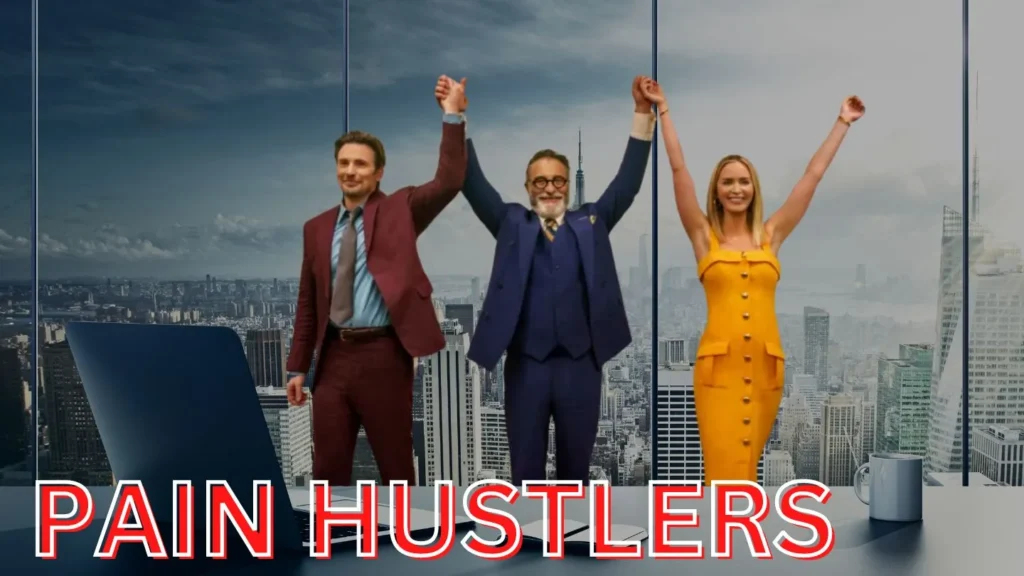 Who is in the Cast of Pain Hustlers
Here, is the complete list of Pain Hustlers cast and characters
Emily Blunt as Liza Drake
Chris Evans
Chris Evans
Catherine O'Hara
Catherine O'Hara
Amit Shah
Amit Shah
Andy Garcia
Andy Garcia
Chloe Coleman
Chloe Coleman
Jay Duplass
Jay Duplass
Brian d'Arcy James
Brian d'Arcy James
Britt Rentschler as Camille Trask
Brandon Stanley as Drama Teacher
Andrea Laing as Ellen
Sharon Conley as Judge Susan Holman
Alexis Baca as Pharmaceutical model
Selena Anduze as Kate Elliston
Mandi Christine Kerr
Adrian Eppley as Heather
Hillary Harley as Tina
Michael Lowry as Dan Watt
Pain Hustlers FAQ
Who is the director of Pain Hustlers?
David Yates is the director of Pain Hustlers.
When will Pain Hustlers be released?
Pain Hustlers was released on  October 27, 2023
Who is the distributor of Pain Hustlers?
Netflix is the distributor of Pain Hustlers.
Age Rating is something that rates the suitability of a movie, TV show, book, video game, or series to its audience. Knowing the Age Rating of a movie, TV show, book, video game, or series will enable the audience to place the content into a category, that will enlighten us about which age group can watch that particular content.
The age rating is fixed by the MPAA ( Motion Picture Association of America Film Rating System),  BBFC (British Board of FilmClassification), and Commons Sense, TV Parental Guidelines (A television content rating system in the United States).
Pain Hustlers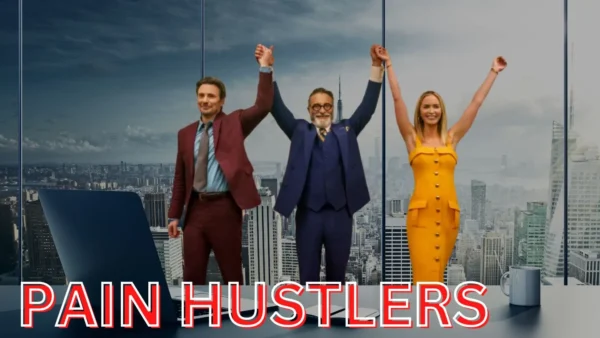 Director: David Yates
Date Created: 2023-10-27 10:59