Only Murders in the Building Parents Guide | 2021 TV Series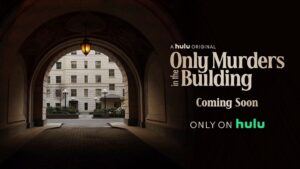 Director: John Robert Hoffman
Date Created: 2021-08-31 09:57
Only Murders in the Building Parents Guide
Only Murders in the Building is an upcoming American comedy television series, director John Robert Hoffman (Creator), Steve Martin (Creator), Jamie Babbit, Cherien Dabis, Gillian Robespierre, Don Scardino.
Production companies are 20th Century Fox Television, Twentieth Television, Rhode Island Ave. Productions. Moreover, the film is distributed by Hulu.
Only Murders in the Building Age Rating
Only Murders in the Building rated TV-MA
Only Murders in the Building Release Date
Only Murders in the Building TV Series consists of ten episodes and is scheduled to release on Hulu on August 31, 2021. The series will premiere on the same day on Disney+
Only Murders in the Building Parents Guide
There is no sexual content or nudity throughout the series.
In one scene Mabel is seen repeatedly stabbing a man and blood is all around in her dream.
Suspence
Kissing scene
Criminal activities
Comedy
Drinking alcohol
Official Poster and Details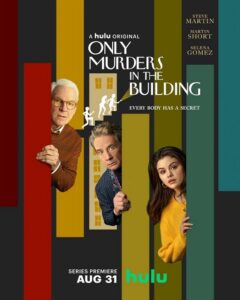 | | |
| --- | --- |
| Series Name | Only Murders in the Building |
| Genre | Comedy, Drama, Crime, Thriller |
| Age Rating | TV-14 |
| Season | 1 |
| Episodes | 10 |
| Distributed by | Hulu |
| Official website | twitter.com |
Only Murders in the Building Parents Guide
Note! If you already watched the series, please inform us about the parental guidance here with your support, we can bring out a better vision to everyone.
Only Murders in the Building Overview
Only Murders in the Building follows three strangers (Steve Martin, Martin Short, and Selena Gomez) who share an obsession with true crime and suddenly find themselves wrapped up in one.
When a grisly death occurs inside their exclusive Upper West Side apartment building, the trio suspects murder and employs their precise knowledge of true crime to investigate the truth.
As they record a podcast of their own to document the case, the three unravel the complex secrets of the building which stretch back years. Perhaps even more explosive are the lies they tell one another.
Soon, the endangered trio comes to realize a killer might be living amongst them as they race to decipher the mounting clues before it's too late. (source: Hulu)
Only Murders in the Building Episode 1 Explained
The scene starts when two men running down the stairs when they come across Mabel covering a body and she shouts, it's not what it looks like. The episode then jumps back to two months back when we are introduced to the show's three main protagonists watching them individually stroll down the streets of New York City.
Charles is a struggling actor, Mabel is very very lonely but creative who also speaks about having frequent nightmares of a man stabbing at the bottom of her bed with a knitted needle and Oliver is an eccentric director. The tree meets in the apartment building elevator and barely says a word to each other even a tall young man in a business suit steps is named Tim.
Tim on the phone having what appears to be a stressful conversation later suspected to be about the collection of a package from a neighbor by the name of Bunny. The three go about their ordinary lives that evening but are connected by one thing a true-crime podcast called all is not okay in Oklahoma.
As they listen the building's fire alarm goes off at the moment when the podcast is about to reveal what the suspicious item in the dog's named bow mouth is as everyone is rushing down the stairs a figure in a white hood with their head down is running up the stairs and away from the exit, the trio is reunited at the restaurant as they wait to re-enter the building and discuss their law for the true-crime podcast.
Only Murders in the Building Wallpapers and Images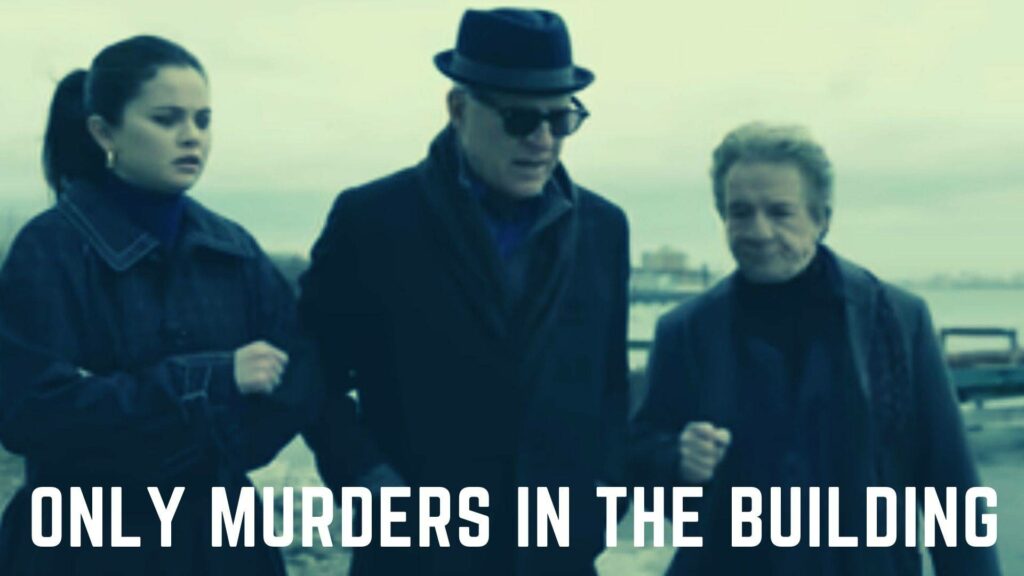 And the mystery of what is in beau's mouths they return to try and re-enter their apartment building a body has been found on the ninth floor instead of the sane outside they decide to take the freight elevator to the eighth floor to floor the cops posted on the 9th floor Mabel speaks fondly of her childhood with Charles and being a part of a group of friends known as the Harley boys where they would solve imaginary mysteries Mabel and Charles break into Bunny's apartment.
Tim was trying to retrieve a package from her earlier and Mabel took the package opening it to reveal a huge diamond ring nothing is given away why the diamond ring is in an oversized cardboard box inspired by all is not okay in Oklahoma the tree trio decide to take the police detective work into their own hands and head for the garbage room to search the bags where they came across several suicide notes in the bin they set up their own true-crime podcast to investigate.
Tim's murder the name it only murders in the building Mabel is staying in the empty apartment and has sketches of people's faces on the walls at the end of the episode a photograph in her apartment her the murder victim Tim standing next to each other at what looks like a graduation ceremony the picture reads my heart boys suggesting the pair were more than just classmates.
Only Murders in the Building Episode 2 Explained
Mabel watches an old clip from Charles show Brazos while sketching a portrait of Tim and she realizes that Charles had been quoting old lines from the television script when sharing his feeling for his father. For the next episode of their podcast, Charles narrates and Oliver directs when Mabel joins them Charles reveals Lester the doorman told him that no one went in or out on the night of the murder Charles insists they find someone in the building who knew Tim.
Mabel suggests they attend Tim's memorial in the lobby. A flashback shows Mabel accusing Tim of withholding the information that could exonerate their mutual friend Oscar, Tim refuses to help disappointing Mabel they agree to act like they don't know each other at Tim's memorial it becomes clear that no one in the building liked him, Oliver notices a distraught man Howard and asks him to share his feelings for the podcast Howard reveals that his card Evelyn has passed away Mabel is migraine in and retreats to her apartment telling Charles and Oliver to meet with Ursula the building manager without her.
Mabel records a personal video about him detailing their history a flashback shows Tim and Mabel at the Laconia when they were ten he was a plum a blunt privileged kid and she was a poor girl from long island visiting her auntTim and Mabel spent a few weeks together each year playing hardy boys and solving mysteries they were soon joined by Oscar the super kid and Zoe whose family owned the 11th floor their hardy boy's team was a tight-knit group of sneak thieves with keys to every apartment in the building thanks to Oscar.
Official trailer of Only Murders in the Building
Olivia and Charles visit Ursula she agrees to give them the file of complaints against Tim for a prize they must buy cases of gut milk her side hustle after a trip from Ursula. The trio searches Tim's apartment before it gets cleaned out Mabel finds a collection of hardy boys' books and Oliver finds many aptitude bills there are no pictures of girlfriends but plenty of sex toys. A flashback shows Mabel and Zoe getting ready for a New Year's eve at the party Zoe and Oscar fight, Zoe screams and Tim tells Mabel that she was arguing with someone else.
The trio finds a bloody cat prince in Tim's apartment. The Jew said that they belong to Evelyn Haward's deceased cat Tim and Evelyn died the same night but Tim must have died first. Mabel confronts Charles about the lie regarding his father, Charles insisted that he wrote the lines in the show based on his personal experience.
Mabel has a conversation in her mind with Tim asking if his death had nothing to do with what happened on New Year's eve she finds rings and jewelry hidden in his hardy boy's books in one of the books she finds the picture of herself drawn on the day they met. A flashback shows Zoe who fell to her death at the New Year's eve party. Mabel concludes her video entitled in case I'm next saying who was Tim, I'm gonna find out. I'm gonna find out.
Only Murders in the Building Episode 3 Explained
A flashback to 2005 shows Oliver pitched splash the musical to teddy an investor who lives at the Arconia Oliver tells the story of how he met his wife Roberta after some convincing teddy agrees to fund Oliver's show. Charles and Oliver work on the next episode of the podcast titled how well do you know your neighbors.
Ursula arrives with more gut mile more information about Tim Cono and final notice from bunny for Oliver telling him he has 24 hours to pay up for his power and water will be turned off Charles taken selfies with all the neighbors who've made complaints against Tim Cono they need to find the man in the tie-dyed hoodie and Tim's fiancee Howard becomes the lead suspect when it's revealed that Tim threatened to kill Evelyn Howard's cat.
Oliver insists that Mabel and Charles interview Howard giving them wire microphones to record for the podcast a woman Bassoonist John shows up in the Elevator John and Charles flirt which Mabel encourages. Oliver visits Teddy pitching the podcast and asking for sponsorship, Teddy refuses to cite how many investments Oliver's cost him over the years.
Mabel and Charles visit Howard consoling him about Evely, Howard diverges that Tim was fired from his investment job for losing a large sum of money, Charles gets a nosebleed and Howard faints gets ice from the freezer, and finds Evelyn inside Howard regains consciousness and reveal that he faints at the sight of blood which suggests to Mabel that he couldn't be Tim's killer, Howard believes that Tim poisoned Evelyn and then killed himself.
Charles runs into Oliver on the elevator, Oliver is about to sell him plush show poster to make some quick cash splash was the biggest Drop of the time and it turns out Oliver had invested his son's college fund in the show Mabel visits Mr. Suarez the building superintendent Oscar's father, he gently but firmly rebukes her telling to leave Oscar alone from now on. Oliver visits Teddy again, finally convincing him to invest in the podcast.
Mabel goes through the jewelry hidden in Tim's hardy boy's book, she finds a mysterious note that reads, GM January 31 at 0430 pm Shaw road the current date is January the 24th. Oliver runs into Sting on the elevator, he asks sting about Tim but Winnie the bulldog keeps sniffing him, he doesn't like Winnie. Oliver reveals to Mabel and Charles that he dropped the first episode of the podcast, Oliver finds a note taped to the door of his apartment saying "end the podcast of I end you", Winnie appears to have been poisoned so Oliver suspects this Sting
Summary of Only Murders in the Building Cast
Selena Gomez as Mabel
Steve Martin as Charles
Martin Short as Oliver
Aaron Dominguez as Oscar
Vanessa Aspillaga as Ursula
Ryan Broussard as Will
Michael Cyril Creighton as Howard Morris
Jeena Yi as Amy Huang
Dylan Carson as Margo
Olivia Reis as Zoe Cassidy
Esteban Benito as Tavo Mora
Russell G. Jones as Dr. Grover Stanley
Dana Kreitz as Manda
Adina Verson as Poppy White
Jonathan Burke as Waiter
Teddy Coluca Teddy Coluca as Lester
Adam DeCarlo as Guy on the Street
Quincy Dunn-Baker as Kev
Only Murders in the Building Age Rating and​ Only Murders in the Building Parents Guide
Know about​ Only Murders in the Building age rating and parental Guidance here.
In fact, the age rating, fixed by MPAA( Motion Picture Association of America TV Series rating system), BBFC (British Board of Film Classification), and Commons sense, TV Parental Guidelines (A television content rating system in the United States).
Stay tuned to get more updates on the age rating of all Netflix TV Series, TV shows, books, and games. Finally, any suggestions are always welcomed.
Also, please make use of the comment box for your reviews. We are always providing the complete details on age rating for kids, We will make the easy and best way for your kids.