Ms. Marvel Powers and Strengths
Ms. Marvel is one of the highly anticipated MCU projects on Disney+. check out about Ms. Marvel Powers. Now MCU is ready with its new superhero. Marvel released the trailer, Ms. Marvel, on Tuesday that starring Iman Vellani.
The series is the story of a Muslim American teenager Kamala Khan. She wants to be like Captain Marvel. Marvel's new trailer of the series introduces us to Kamala and her world. We also see Kamala becoming a superhero.
Who is Ms. Marvel?
Ms. Marvel is the name of several fictional superheroes appearing in comic books published by Marvel Comics. The character was originally conceived as a female counterpart to Captain Marvel. Like Captain Marvel, most of the bearers of the Ms. Marvel title gain their powers through Kree technology or genetics.
Marvel has published four ongoing comic series titled Ms. Marvel, with the first two starring Carol Danvers and the third and fourth starring Kamala Khan.
Ms. Marvel Powers
In the series, Unlike the comics Kamala was revealed to be an Inhuman, it looks like Ms.Marvel's live-action version will not be the same as the group as in the trailer it is shown in the trailer that her newfound bangle gives her powers.
Kamala is wearing her Captain Marvel costume and looks shocked by her new abilities. 
Ms. Marvel Powers: As Kamla is a new superhero she believes that her powers don't involve saving lives and fighting crime rather than her powers have other uses.
Kamala's new Embiggen powers are different in the MCU, which shows as purple constructs rather than the usual stretching abilities from the comics.
Ms. Marvel Powers | Watch Ms. Marvel trailer here:
In the clip, Kamala can be seen trying to balance her high school life as a teenager and the unique responsibilities of being a superhero with new superpowers. To make the trailer more appealing, the makers added Weeknd's Blinding Lights song to the background.
[bs-quote quote="The marvel's upcoming film Ms. Marvel age appropriate For Your kids." style="style-7″ align="center" color="" author_name="Know more about Ms. Marvel Age Rating" author_job="" author_avatar="" author_link="https://www.ageratingjuju.com/ms-marvel-age-rating/"][/bs-quote]
You can see Ms. Marvel Powers in the above trailer. Stay tuned to get more updates on the age rating of all movies, tv shows, books, and games. Finally, any suggestions are always welcomed.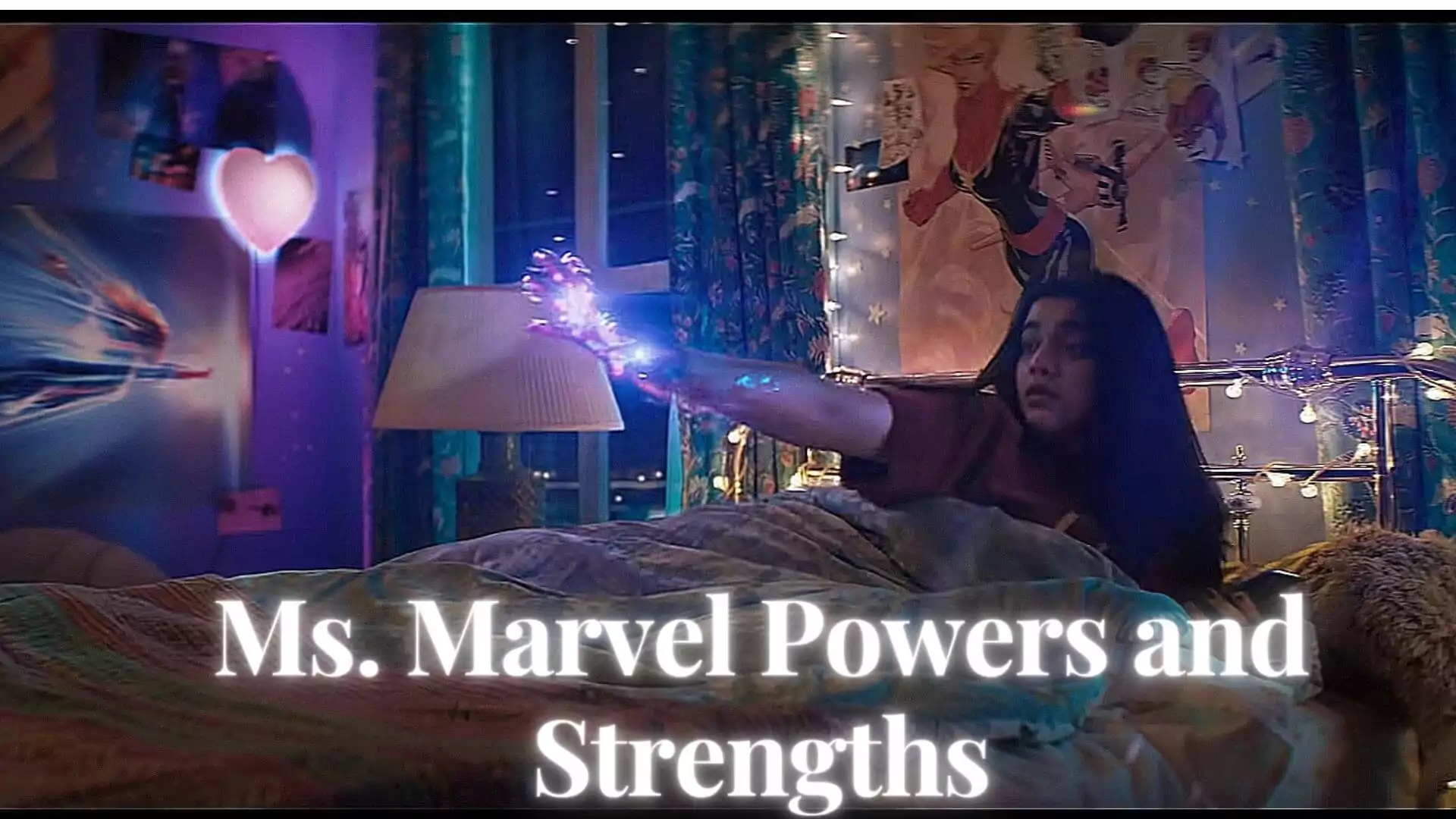 Official website: Marvel Studios
Also, please make use of the comment box for your reviews. We are always providing all age ratings for kids, We will make the easy and best way for your kids. Ms. Marvel powers are very unique than all other marvel superheroes.