JoJo's Bizarre Adventure Parents Guide
JoJo's Bizarre Adventure is also known as JoJo's Bizarre Adventure: The Animation is a Japanese anime television series. This series is based on the Japanese manga (comic) series of the same name which was written by Hirohiko Araki. This is a mysterious and adventurous series.
The series is directed by Naokatsu Tsuda and Kenichi Suzuki, and the series is produced by David Production, also the anime television series is created by Hirohiko Araki and distributed by Netflix.
JoJo's Bizarre Adventure Age Rating
Japanese television anime television series JoJo's Bizarre Adventure rated TV-MA for strong, bloody violence, sexual content, language, and substance use.
But the age rating of a censored version is TV 14. TV-14- If a program gets a TV-14 rating then it is very important that now parents need to be very careful, Because you may find content in these programs that is inappropriate for children under the age of 14 or that parents may find inappropriate.
 Program Rated TV-MA should be viewed by mature and adult audiences only and it may be not suitable for children under 17. 
JoJo's Bizarre Adventure Season 5 Release Date
Stone Oceanis scheduled to be released as an original net animation season on Netflix in December 2021. Season 5 of this series from 2021 to 1 Dec. Expires 2022 with 38 episodes.
JoJo's Bizarre Adventure Parents Guide
There is a lot of adult content present throughout the series.
You will also see some sexual content and nudity in the series as it is an animated series you can not think that it could be good for kids under the age of 17.
In some episodes, you will see female characters butt and breast nudity, and naked female characters are also shown in some episodes.
In one episode genital parts of a male character are also shown again and again.
Female upper part nudity is shown multiple times throughout the series.
Violence, blood content, and criminal activities are shown in the series.
In one scene you will see a character throws up razor blades and then some pin needles have stuck in his face. This was so disturbing scene.
Blood is shown in a scene when a character's hand was chopped off. Bloody violence.
Jotaro's shoulder is cut off in slices by a ceiling fan, some blood oozes out.
Graphic, disturbing, and bloody violence throughout the series.
Hard combat fights. You will see characters are burned alive.
Characters are using supernatural powers in the series. Humans transform into vampires by the stone mask he impaling their brains by several tentacle-like spikes, some little blood is shown.
Dio slice a policeman's head in two by the use of his improved, superhuman strength.
All the parts of Vampires melt by spiritual energy which they called Hamon all the times when the energy touch to Vampire. By stabbing on the necks using their fingers vampires absorb human blood. Also, zombies eat humans.
Strong language is used throughout the series. Use of profanity and abusive language is used.
Cigarette smoking, drinking alcohol, and illegal drug dealing.
The series is full of mature content such as death, abuse, rape, although it is never shown, and only mentioned in few episodes.
Official Poster and Details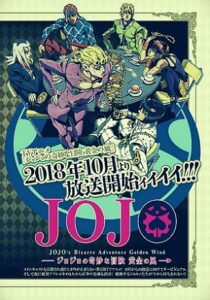 Series Name

JoJo's Bizarre Adventure

Genre

Action, Adventure

Original Title

ジョジョの奇妙な冒険 , ( JoJo no Kimyō na Bōken)

Age Rating

TV-MA

Seasons

5

Episodes

1

94

Official website

Netflix
JoJo's Bizarre Adventure Parents Guide
JoJo's Bizarre Adventure: Stone Ocean Overview
JoJo's Bizarre Adventure is a story of the Joestar family, various members of this family discover they are meant to take down supernatural enemies by using powers that they have. The story is divided into different pasts and each story tells a story of a member of the Joestar family, who typically have names that can be abbreviated to the titular JoJo.
Season 1 (2012-2013)
JoJo's Bizarre Adventure: Phantom Blood
JoJo's Bizarre Adventure: Battle Tendency
Dio Brando was born into poverty In 19th-century England, and he was adopted by George Joestar to repay a family debt to Dio's father Dario. His father died in 1880. Dio made a plan to take the Joestar fortune for himself so he manipulates Jonathan Joestar. But Jonathan wins the battle with Dio.
The vampire enemy of Jonathan Joestar that has possessed Jonathan's body, emerges from the bottom of the Atlantic Ocean. As DIO develops a manifestation of life energy known as a Stand, Jonathan's descendants Joseph Joestar, Jotaro Kujo, and Holly Kujo also gain Stands.
The group is joined by Jean Pierre Polnareff, a former assassin of DIO who discovers that DIO is employing the murderer of Polnareff's sister, along with the Stand user dog Iggy, aided by Kakyoin, who reveals the nature of DIO's time-stopping Stand The World in his last moments, Jotaro kills DIO in Egypt, allowing Holly to recover.
Season 3 (2016)
JoJo's Bizarre Adventure: Diamond Is Unbreakable
Jotaro Kujo tracks down the illegitimate son of Joseph Joestar, to help him find a magical bow and arrow which grants people Stand powers. Along the way, Josuke and his friends discover that a Stand-using serial killer is on the loose in their hometown of Morioh and they set out to stop him.
Season 4 (2-18-2019)
JoJo's Bizarre Adventure: Golden Wind
Two years after the events of Diamond is Unbreakable, Koichi Hirose is sent to Italy and tasked by Jotaro Kujo to search for Giorno Giovanna, an aspiring mafia gangster who is a son of Dio Brando. But as Dio possessed the body of Jonathan Joestar at the time of his conception, Giorno is technically a Joestar and takes more after them than the father he never knew, despite his blond hair.
Season 5 (2021)
JoJo's Bizarre Adventure: Stone Ocean complete information.
For seeking revenge Dio murdered Jonathan's pet dog, Danny. In the battle Dio's blood being spilled in a mysterious stone mask and it reacted with his blood. That mask was used by the Aztecs to bring the wearer immortality Jonathan and Dio develop an interest in that mask.
JoJo's Bizarre Adventure Wallpaper and Images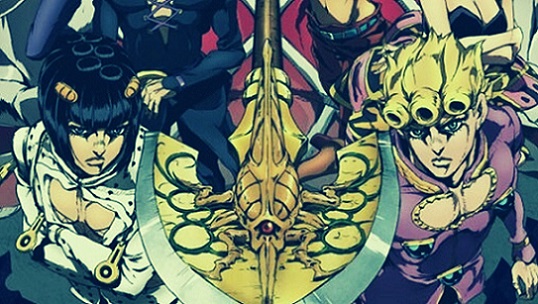 JoJo's Bizarre Adventure Official trailer
JoJo's Bizarre Adventure Voice Cast
Matthew Mercer as Jotaro Kujo
Daisuke Ono as Jotaro Kujo
Unshô Ishizuka as Joseph Joestar
David Vincent as Narrator
Fuminori Komatsu as Jean-Pierre Polnareff
Richard Epcar as Joseph Joestar
Tôru Ohkawa as Narrator
Phillip Reich as Giorno Giovanna
Kenshô Ono as Giorno Giovanna
Yûichi Nakamura as Bruno Bucciarati
Yuki Ono as Josuke Higashikata
Doug Erholtz as Jean-Pierre Polnareff
Kyle Hebert as Noriaki Kakyoin
Daisuke Hirakawa as Noriaki Kakyoin
Jun'ichi Suwabe as Leone Abbacchio
Kellen Goff as Diavolo
Kenta Miyake as Muhammad Avdol
Daiki Yamashita as Narancia Chirga
JoJo's Bizarre Adventure Age Rating and​ JoJo's Bizarre Adventure Parents guide
Know about JoJo's Bizarre Adventure Parents Guide. Why JoJo's Bizarre Adventure received this age rating? Read the complete information here about JoJo's Bizarre Adventure age ratings in the UK, US, Australia, Canada, Ireland, Switzerland, and overseas.
JoJo's Bizarre Adventure is rated MA15+ in Australia, R-16 in Phillippines, 16+ in Russia, M18 in Singapore, 15 in the United Kingdom, TV-MA in the United States.
FAQ
What JoJo's Bizarre Adventure Series is Rated?
JoJo's Bizarre Adventure series is rated TV-14 officially.
Can 10 years old Watch JoJo's Bizarre Adventure series?
No. 10 years old Can't Watch JoJo's Bizarre Adventure series.
How Many Seasons in JoJo's Bizarre Adventure Series Included?
5 Seasons in JoJo's Bizarre Adventure Series Included.
In fact, the age rating, fixed by MPAA( Motion Picture Association of America TV Series rating system),  BBFC (British Board of Film Classification), and Commons sense, TV Parental Guidelines (A television content rating system in the United States).
Stay tuned to get more updates on the age rating of all Netflix TV Series, TV shows, books, and games. Finally, any suggestions are always welcomed.
Also, please make use of the comment box for your reviews. We are always providing the complete details on age rating for kids, We will make the easy and best way for your kids.