What is the Johnny Test age rating | Johnny Test Parents Guide
Read about Johnny Test Parents Guide. However, the Johnny Test age rating is TV-Y7 because the series Contains some crude humor, and some episodes are rated TV-Y7-FV which means programming with fantasy violence that may be more intense or more combative than another programming in the TV-Y7 category.
TV-Y7 Rating Meaning
TV-Y7 rated programs most appropriate for children age 7 and up.
The board provides the information of the content shown in the series so that you can decide that the show is appropriate for your children or not.
Johnny Test Parents Guide
[su_box title="Why is Johnny Test series Rated TV-Y7?" style="noise" radius="9″]
There is no sexual content and Nudity in the cartoon series Johnny Test.
No use of profanity, however words like stupid, idiot are used throughout.
There is no blood content in the series but some violence is a part of the series which is very mild.
Johnny Test farts fire and I found it very Funny.
Scientific experiments throughout the series.
No use of alcohol, smoking, and other drugs.
[/su_box]
Official Poster and Details
[su_box title="Johnny Test Series" style="noise" radius="9″]
[su_table responsive="yes"]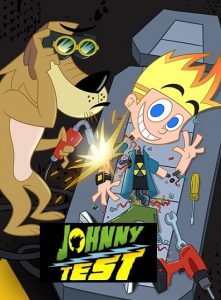 | | |
| --- | --- |
| Series Name | Johnny Test |
| Genre | Sci-Fi, Action, Adventure, Comedy, |
| Age Rating  | TV-Y7 |
| Created by | Scott Fellows |
| Episodes | 126 |
| Season | 7 |
| Runtime/ episode | 23-30 minutes |
| Distributed by  | Warner Bros. Television Distribution, Netflix |
| Official website | netflix.com |
[/su_table] [/su_box]
Johnny Test Season 7 is scheduled to premier on 16 July 2021 on Netflix.
[su_expand more_text="Continue Reading" less_text="Show less" height="90″ link_style="dotted" link_align="center" more_icon="icon: arrow-down" less_icon="icon: arrow-up"]
Johnny Test director and production
Johnny Test is an animated television series created by Scott Fellows.
The series is produced by Cookie Jar Entertainment. Moreover, it is distributed by Warner Bros. Television Distribution and Netflix.
The second and Third seasons premiered on Kids' WB on 17 September 2005.
From season 3 to season 6 the series aired on Cartoon Network starting, and season 7 of Johnny Test is Scheduled to release on 16 July 2021 on Netflix.
Johnny Test 

Overview
The adventures series of the title character named Johnny Test who lives with his parents, his twin sisters named Susan and Mary they both are scientists and each other's best friend, and a talking dog named Dukey.
Johnny is used throughout as a test subject for his scientists' twin sisters' inventions and experiments. Their experiments always caused problems that Johnny must resolve and sometimes fight with villains. He occasionally saves the world with his sisters' inventions.
Johnny Test (season 1)
Susan and Mary let Johnny use their drill vehicle, and when they get to the center of the Earth, the stolen items turn out to be from mole people after all and the mole people capture him.
Johnny Test (season 2)
See Johnny and Dukey go back in time to learn about pirates, but they find themselves on pathetic pirate Nobeard's ship.
Johnny Test (season 3)
When Eugene finds out that Johnny is the only one who stands in the way of him and Susan, he made a plan to set up Johnny forever as he tries to get the last ingredient for his sister Susan. When Eugene eats it, Susan's problem is finally over, but it's now Mary's problem.
Johnny Test (season 4)
Susan and Mary purposely revert themselves back into babies while the parents are out, and Johnny has to keep them safe from the irresponsible babysitter Gil; this interferes with a party he and Dukey had been planning and Mr. and Mrs. Test are mad.
Johnny Test (season 5)
Now Johnny is old enough to participate in Porkbelly's Annual Running of the Squirrels, but he has to get past Lila because they think it's too dangerous for Johnny and they duct tapes, Johnny, to the Chair.
Johnny Test (season 6)
Johnny tries to extend his summer vacation with Susan and Mary's time-stopping watch. But accidentally it gets breaks and so they try to fix it.
Johnny Test (season 7)
Season 7 is the upcoming 7th season of Johnny Test. In 2020, production studio WildBrain announced its release for Netflix 2021.
Official trailer of Johnny Test
Summary of Johnny Test Characters & Voice Cast
Johnny Test voiced by James Arnold Taylor
Dukey voiced by Louis Chirillo in seasons 1–4, and by Trevor Devall in seasons 5–6
Susan Test voiced by Maryke Hendrikse
Mary Test voiced by Brittney Wilson in seasons 1 and 5, and Ashleigh Ball in seasons 2–4 and 6
Hugh Test voiced by Ian James Corlett
Lila Test voiced by Kathleen Barr
Gil Nexdor voiced by Andrew Francis
Mr. Black voiced by Bill Mondy
Mr. White voiced by Scott McNeil
Johnny Test 
Age Rating and​ Johnny Test
parents guide
Know about​ Johnny Test age rating and parental Guidance here.
In fact, the age rating, fixed by MPAA( Motion Picture Association of America TV Series rating system),  BBFC (British Board of Film Classification), and Commons sense, TV Parental Guidelines (A television content rating system in the United States).
Johnny Test  2020 rating  U in the United Kingdom and TV-Y7 in the United States and overseas. In addition, it is rated C8 in Canada, PG in Australia, and 6 in Germany.
Other ratings include 7 in South Korea, TP in Spain, and 6 in the Netherlands. Also, 6+ in Russia. This includes the age rating of Johnny Test in the US, UK, NZ, Ireland, Canada, Singapore, etc…
Stay tuned to get more updates on the age rating of all movies, tv shows, books, and games.
Also, please make use of the comment box for your reviews. We are always providing all age ratings for kids, We will make the easy and best way for your kids.
[/su_expand]