Game of Thrones Age Rating 
The TV Series  Game of Thrones, an American fantasy drama television series created by David Benioff and D. B. Weiss.
In fact, the TV Series. Production companies are HBO Entertainment, Television 360, Grok! Television, Generator Entertainment, Startling Television, Bighead Littlehead.
Moreover, the TV Series is Distributed by HBO.
Read about Game of Thrones Parents Guide. However, the Game of Thrones age rating is TV-MA for the content shown in the series. Game of Thrones one of the most is violent TV shows of all time.
TV-MA Rating Meaning
The program rated TV-MA maybe not be suitable for people under 18 years of age. This program is intended to be viewed by mature, adult audiences. Programs with this rating commonly include dark humor, frequent use of profanity, intense violence (may include blood and gore), and/or strong sexual themes. 
The board provides the information of the content shown in the series so that you can decide that the show is appropriate for your children or not.
Game of Thrones Parents Guide
[su_box title="Why Game of Thrones series Rated TV-MA?" style="noise" radius="9″]
[su_table responsive="yes"]
A lot of Sexual references- Almost every season contains sexual acts. Intense Kissing scenes. Prostitution is very common throughout the series.
Too much Nudity- Female Breast are clearly visible, female and male butt is also shown frequently throughout the series
Massive Blood contents – As the whole series is based on the battle between kingdoms there is a lot of blood contain.
Violence- Battle between kingdoms. People are beaten up. A lot of weapon use. Sometimes innocent people are also killed by the persons who are in power.
Frightening creatures names white walkers. Army of a dead people.
Hard combat fights between kingdoms.
People burned by dragons. Fight between dragons and white walkers.
Incredibly brutal violence.
Severe curse words. Profanity is so common, Fuck word is used very frequently throughout the series.
Drinking and illegal drugs usage, Heroin usage, Every season has scenes where people having alcohol and other drug usage.
Disturbing scenes of torture. A psycho king  Ramsay Bolton cut off Theon's penis and send it as a present to his father.
Some episodes contain extreme blood and gore and stabbings, mutilations, beheadings, people being crushed by horses.
Head cut from the body and fall in the ground you can see this several times.
Very terrifying battle scenes, soldiers are stabbed, get chopped in half, and get their heads split in half.
In the show, there are some scenes of sexual violence.
A sexual love relationship between brother and sister ( a leading character) and they have 3 children.
There are also some emotional scenes where you see some characters are killed unexpectedly.
Smashed head with a large pool of blood.
The extreme force applied to a male person's skull plenty of blood coming out from his eye-sockets and his head is crushed with an explosion of blood, brain matter, bone, and skin bursting out and splattering everywhere.
[/su_table][/su_box]
Official Poster and Details
[su_box title="Game of Thrones series" style="noise" radius="9″]
[su_table responsive="yes"]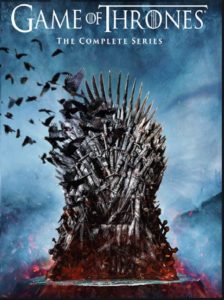 Series Name
Game of Thrones
Genre

Fantasy, Serial drama, Tragedy

,
Age Rating 
TV-MA
Directed by
David Benioff and D. B. Weiss
Episodes
73
Season
8
Runtime
50-82 mins
Distributed by 
HBO
Official website
hbo.com
[/su_table] [/su_box]
Note! If you already watched the series, please inform us about the parental guidance here with your support, we can bring out a better vision to everyone.
[su_expand more_text="Continue Reading" less_text="Show less" height="90″ link_style="dotted" link_align="center" more_icon="icon: arrow-down" less_icon="icon: arrow-up"]
Game of Thrones Overview
season 1
Like the novel, the division initially focuses on the ancestors of blueblood Eddard "Ned" Stark, the Warden of the North, who is asked to become the King's Hand (chief advisor) to his longtime friend, King Robert Baratheon. Ned seeks to acquisition out who murdered his predecessor, Jon Arryn.
season 2 
Two Season mainly centers on the War of the Five Kings, fought amid the leaders of Westerosi factions who are either staking an affirmation to the Iron Throne, or gluttonous ability from it.
season 3
Like the novel, the division continues the storyline of The War of the Five Kings: afterward, the afterlife of Renly Baratheon, all four kings in Westeros accept an affirmation to the Iron Throne, besides Robb Stark, who seeks advancement for the afterlife of his father, Ned Stark, and the ability for the North.
season 4
After the afterlife of Robb Stark at The Red Wedding, all three actual kings in Westeros accept an affirmation to the Iron Throne. Baron Joffrey is dead by adulteration at his wedding, and his uncle Tyrion is blamed; adolescent Tommen Baratheon is crowned king. Meanwhile, Sansa Stark escapes King's Landing.
season 5
After the murders of Baron Joffrey and his grandfathering Tywin Lannister, Tywin's young, changeable grandson, Tommen, rules Westeros asking. Tyrion flees to Essos, an area he meets Daenerys Targaryen, who struggles to aphorism Slavers' Bay and achieve ascendancy over her growing dragons.
season 6
The season follows the continuing attempt amid the blue-blooded families of Westeros for the Iron Throne. … Arya Stark finishes her apache training, escapes Essos, and allotment to Westeros to resume her animus list. Bran Stark becomes the Three-Eyed Raven, escapes the White Walkers, and allot to the Wall.
season 7
The penultimate season focuses on the aggregation of the show's capital plotlines in alertness for the final season. Daenerys Targaryen arrives in Westeros with her army and three ample dragons and begins to allowance war adjoin the Lannisters, who accept defeated her allies in the south and west of West
season 8
The final season depicts the acme of the series' two primary conflicts: the Great War adjoin the Army of the Dead and the Last War for the ascendancy of the Iron Throne. In the aboriginal bisected of the season, Jon Snow, Daenerys Targaryen, and the abounding of the capital characters assemble at Winterfell to face the Dead.
Official trailer of Game of Thrones
 Game of Thrones Cast
The TV Series casting includes Sean Bean, Mark Addy, Nikolaj Coster-Waldau, Michelle Fairley, Lena Headey, Emilia Clarke, and others. In this series, Kit Harington as Jhon Snow, Sean Bean plays the role of Eddard "Ned" Stark.
While Mark Addy features Robert Baratheon. And Nikolaj Coster-Waldau comes as Jaime Lannister. Furthermore, Michelle Fairley stars as Catelyn Stark.
We will update more details very sooner
Game of Thrones Age Rating and​ Game of Thrones parents guide
Know about​ Game of Thrones age rating and parental Guidance here.
In fact, the age rating, fixed by MPAA( Motion Picture Association of America TV Series rating system),  BBFC (British Board of Film Classification), and Commons sense, TV Parental Guidelines (A television content rating system in the United States).
Game of Thrones  2020 rating 18 in the United Kingdom and TV-MA in the United States and overseas. In addition, it is rated 13+ in Canada, MA15+ in Australia, and 12 in France.
Other ratings include R16 in New Zealand, 18 in South Korea, 18 in Spain, and 16 in the Netherlands. Also, 15 in Norway. This includes the age rating of Game of Thrones in the US, UK, NZ, Ireland, Canada, Singapore, etc…
Stay tuned to get more updates on the age rating of all movies, tv shows, books, and games.
Also, please make use of the comment box for your reviews. We are always providing all age ratings for kids, We will make the easy and best way for your kids.
[/su_expand]