Fallout 4 Age Rating | Fallout 4 Parents Guide
Fallout 4 is an action role-playing game developed by Bethesda Game Studios and published by Bethesda Softworks. It is directed by Todd Howard and produced by Ashley Cheng, Jeff Gardiner.
Production Companies are Bethesda Game Studios, Bethesda Softworks.
However, Fallout 4 is rated M for Blood, Language, Use of Alcohol, Use of Tobacco, and Realistic Looking Violence.
In fact, the age rating, fixed by PEGI for UK citizens and ESRB for the US Continent. PEGI rated Fallout 4 as 18 and ESRB rated the same as M.
The game Fallout 4 is rated M in Argentina, MA15+ in Australia, 18 in Germany and the United Kingdom, Z in Japan, R18 in New Zealand, M18 in Singapore, R-18 in Taiwan, M in the United States.
Moreover, the PEGI rating is based on the physical content of the game and not on the players' condition or their abuse usage online.
Fallout 4 Parents Guide
[su_box title="Why Fallout 4 is rated M ?" style="noise" radius="9″]
[su_table responsive="yes"]
Brief Nudity, Players can remove armor/clothing, and are left in underwear.
Strong Blood Content, The most common enemies are monsters that emit a lot of blood.
It contains graphic science-fiction violence ranging from shooting to the stabbing.
Mild coarse language, The words "f**k," "sh*t," and "a*shole" are heard in the dialogue.
The player can drink alcohol, and take fictional drugs.
The escape to the vault is suspenseful and can be distressing to some.
[/su_table][/su_box]
We will update more details very sooner
Official Poster and Details
[su_box title="Fallout 4″ style="noise" radius="9″]
[su_row][su_column size="1/2″ center="no" class=""]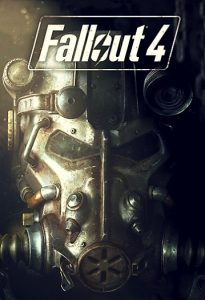 [/su_column] [su_column size="1/2″ center="no" class=""]
[su_table responsive="yes"]
Game Name

Fallout 4

Genre

Action, Adventure, Drama, Sci-Fi

Age Rating 

ESRB- M

PEGI- 18

Developed by

Bethesda Game Studios

Platform

Microsoft Windows, PlayStation 4, Xbox One

Official Website

Bethesda
[/su_table]
[/su_column] [/su_row]
[/su_box]
Note! If you already played the game, please inform us about the parental guidance here with your support, we can bring out a better vision to everyone.
[su_expand more_text="Continue Reading" less_text="Show less" height="90″ link_style="dotted" link_align="center" more_icon="icon: arrow-down" less_icon="icon: arrow-up"]
Game Fallout 4 Gameplay
Fallout 4 is an action role-playing game set in an open-world environment.
The player has the ability to freely roam in the game's world and leave a conversation at any time.
Returning features include a camera that can switch between a first-person and third-person perspective.
It is an open-world role-playing game developed by Bethesda Game Studios.
In it, the player begins as a parent and spouse in the year 2077, but then must enter Vault 111 to survive the nuclear apocalypse.
The player becomes the last remaining survivor of Vault 111 as he/she emerges into the nuclear wasteland in 2287, amidst the ruins of the city of Boston.
Official trailer of Fallout 4
 Summary of Fallout 4 Characters Voice Cast
Brian T. Delaney as Player Male
Courtenay Taylor as Player Female
Stephen Russell as Nick Valentine
Courtney Ford as Piper Wright
Peter Jessop as Paladin Danse
Jon Gentry as Preston Garvey
Claudia Christian as Desdemona
Ryan Alosio as Deacon
Danny Shorago as Hancock
Katy Townsend as Cait
Matthew Mercer as MacCready
Sophie Cortina as Curie
Tim Russ as Lancer Captain Kells
Jonathan Roumie as Jack Cabot
Jan Johns as Scribe Haylen
Jennifer Massey as Madison Li
Matthew Waterson as Virgil
Byron Marc Newsome as Tinker Tom
Nicholas Guy Smith as Proctor Quinlan
Philip Anthony-Rodriguez as Sturges
Jerry Whiddon as Henry Cooke
Noshir Dalal as Knight Rhys
Elisabeth Noone as Ronnie Shaw
T.W. Leshner as Paul Pembroke
Roberta Farkas as Bobbi No-Nose
Meher Tatna as Doctor Amari
Clarke Kohler as Tommy Lonegan
Sean T. Krishnan as Doctor Carrington
William Holmes as Edward Deegan
David Paluck as X6-88
Sean Schemmel as Strong / Male Ghoul
Brendan Hunt as Travis Miles / Perry
Tony Amendola as Father
Derek Phillips as Elder Maxson / Z2-47
Ron Perlman as Anchorman
Lynda Carter as Magnolia
Kari Wahlgren as Proctor Ingram
Chelsea Tavares as Glory
Greg Baldwin as Proctor Teagan
Matthew Yang King as Justin Ayo
Dwight Schultz as Knight Captain Cade
Maya Massar as Mama Murphy
Ellen Dubin as Alana Secord
Christopher Crutchfield Walker as Initiate Clarke
Keythe Farley as Kellogg
Mike Rosson as Minutemen Radio Voice
Finneas O'Connell as Liam Binet
Dave Carter as Mel
Jay Giannone as Kent Connolly
Dimitri Diatchenko as Vadim Bobrov
Emmanuel Todorov as Yefim Bobrov
Cindy Robinson as Gwen McNamara
James Sie as Jun Long
Jack Riedy as Austin Engill
Brandon Bales as Bobby De Luca
Robert Picardo as Alan Binet
Colleen Delany as P.A.M.
The Fallout 4 Game Price
The cost of the game Fallout 4 is $ 18.43 on Amazon.
Fallout 4 Age Rating and​ Fallout 4 Parents Guide
Know about​ Fallout 4 age rating and parental guidance here. In fact, the age rating is fixed by ESRB (Entertainment Software Rating Board) and PEGI (Pan European Game Information).
Stay tuned to get more updates on the age rating of all Netflix TV Series, TV shows, books, and games. Finally, any suggestions are always welcomed.
Also, please make use of the comment box for your reviews. We are always providing the complete details on age rating for kids, We will make the easy and best way for your kids.
[/su_expand]