Easter Sugar Cookies
The Easter Day sugar cookies are soft and buttery with a hint of vanilla. They are basically beautiful in pastel shades with royal icing on them, which helps to create that crisp design.
They look absolutely gorgeous on the plate and are quick to disappear. The cream cheese gives the rich taste of melt-in-your-mouth Easter Day sugar cookies.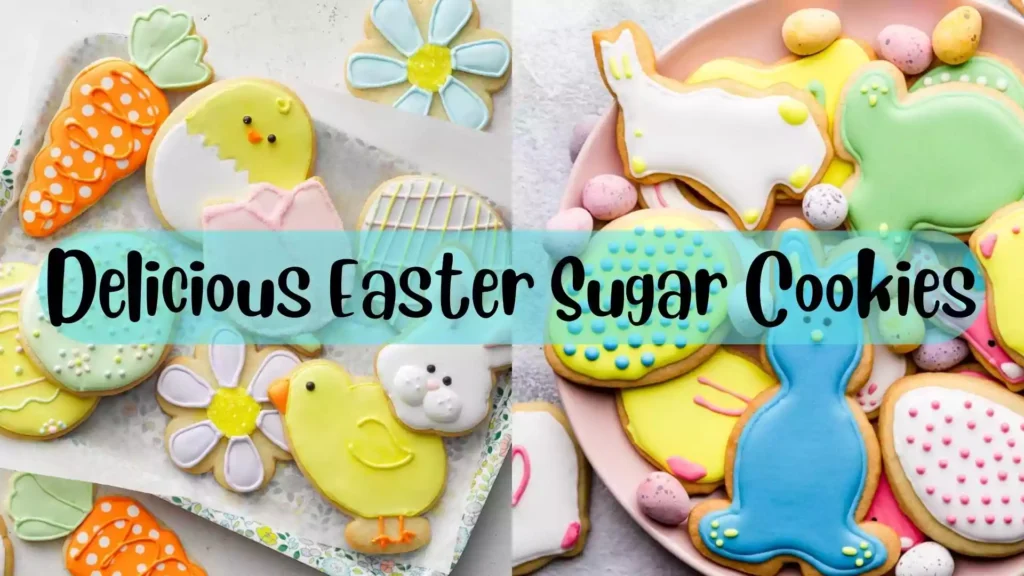 They have such a nice flavor, you can skip the frosting and sprinkle them with colored sugar.
Easter Sugar Cookies Making
Ingredients Used
1 cup butter, softened
3 ounces cream cheese, softened
1 cup sugar
1 large egg yolk, room temperature
1/2 teaspoon vanilla extract
1/4 teaspoon almond extract
2-1/4 cups all-purpose flour
1/2 teaspoon salt
1/4 teaspoon baking soda
Tinted frosting or colored sugar
How to make the best Easter sugar cookies

Easter Sugar Cookies wallpaper and images | Easter 2022
In a bowl add cream butter, cream cheese, and sugar.
Then, beat all the above ingredients in egg yolk and extract.
Combine the flour, salt, and baking soda.
Gradually add to creamed mixture.
Cover and refrigerate for 3 hours or until easy to handle.
Preheat the oven to 375°.
On a lightly floured surface, roll out dough to 1/8-in. thickness.
Cut the cookie with a cookie cutter and dipped in flour.
Place 1 apart on ungreased baking sheets.
Bake until the edges begin to brown for 8-10 minutes.
Cool for 2 minutes before removing from pans to wire racks.
Decorate the cookies with royal icing using different colors like sky blue, lemon yellow, violet, and fuchsia.
You can also add decorative designs in different colors like polka dots, squiggles, plaid, or stripes. (Source- Google)