Dragon Rider Parents Guide
Dragon Rider (German: Drachenreiter), also known as Firedrake the Silver Dragon by Netflix, is a 2020 German 3D computer-animated fantasy film based on the novel of the same name by Cornelia Funke.
Netflix acquired global distribution rights to the film and is scheduled for a September 10, 2021 release on the streaming platform.
Dragon Rider Age Rating 
Dragon Rider is PG-Rated. 
PG-rated means Parental Guidance Suggested, Some Material May Not Be Suitable for Children. The film should be investigated further by parents. There may be some content such as language, violence, or brief nudity, but they aren't so intense that more than guidance is suggested.
Dragon Rider Release Date
The film was due to be released in theatres on August 6, 2020, but due to the COVID-19 pandemic, the film release was postponed until October 1, 2020
Official Poster and Details
[su_box title="Dragon Rider film" style="noise" radius="9″]
[su_row][su_column size="1/2″ center="no" class=""]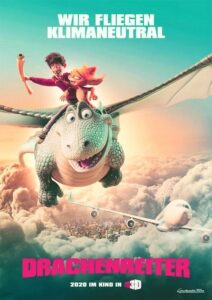 [/su_column] [su_column size="1/2″ center="no" class=""]
[su_table responsive="yes"]
[/su_table][/su_column][/su_row] [/su_box]
Note! If you already watched the series, please inform us about the parental guidance here with your support, we can bring out a better vision to everyone.
[su_expand more_text="Continue Reading" less_text="Show less" height="90″ link_style="dotted" link_align="center" more_icon="icon: arrow-down" less_icon="icon: arrow-up"]
Dragon Rider Parents Guide
[su_box title="Why Dragon rider rated PG ?" style="noise" radius="9″]
[su_table responsive="yes"]
There are no sexual references and no nudity is shown in the movie.
Mild Violence and maybe Gore content in it.
Very mild Smoking and drink content.
Little Frightening and Intense scenes are included in this movie.
[/su_table][/su_box]
DRAGON RIDER OVERVIEW
Firedrake is a young silver dragon, who has had enough of continually use to hide in a wooded valley. What he wants is to show the older generations of dragons that he is a real dragon. When humans are about to vanish from his family's home, Firedrake secretly sets off on an adventurous journey with forest brownie, Sorrel,  to find the "Rim of Heaven", the dragons' mysterious haven.
On their adventure, Firedrake and Sorrel met Ben, an orphan and stray, who claims to be a dragon rider. soon Ben and Firedrake turn to be friends quickly, while Sorrel becomes increasingly distrustful and tries to get out of the orphan at every opportunity. But the unlikely trio has to learn to come together because they are being hunted by Nettlebrand, an evil, dragon-eating monster was created by an alchemist with the aim of tracking down and destroying every dragon on Earth.
DRAGON RIDER WALLPAPER AND IMAGES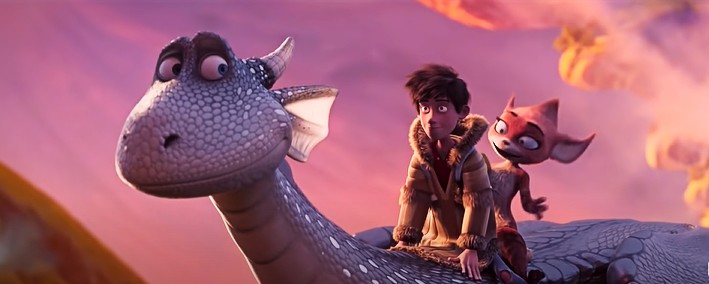 DRAGON RIDER OFFICIAL TRAILER 
Dragon Rider Voice Cast and Characters
Thomas Brodie-Sangster as Firedrake
Felicity Jones as Sorrell
Freddie Highmore as Ben
Patrick Stewart as Nettlebrand
Jimmy Hibbert as Twigleg
Alex Norton as Grevelbeard
Nonso Anozie as Mighty Djinn
Meera Syal as Subisha Gulab
Sanjeev Bhaskar as Mad Doc
Dragon Rider Age Rating and Dragon Rider Parents Guide
Know Dragon Rider Parents Guide. Why did the film Dragon Rider receive this age rating? Read the complete information here about Dragon Rider Age ratings in the UK, US, Australia, Canada, Ireland, Switzerland, and overseas.
Dragon Rider Is Rated in Argentina Atp, Australia PG, Brazil 10, Italy T, Mexico TV-Y7, New Zealand PG, Portugal M/6, Russia 6+, Singapur PG, Spain A, and in Switzerland 6.
In fact, the age rating, fixed by MPAA( Motion Picture Association of America TV Series rating system),  BBFC (British Board of Film Classification), and Commons sense, TV Parental Guidelines (A television content rating system in the United States).
Stay tuned to get more updates on the age rating of all Netflix TV Series, TV shows, books, and games. Finally, any suggestions are always welcomed.
Also, please make use of the comment box for your reviews. We are always providing the complete details on age rating for kids, We will make the easy and best way for your kids.
[/su_expand]