Down for Love Parents Guide: Down for Love is a Netflix dating show about people with Down Syndrome. The reality tv show will follow ten people living with Down syndrome who are on a quest to find love.
In five episodes, our hopeful Romeos and Juliettes set out on a journey of dates, some experiencing this for the very first time. Along the way, they seek guidance from family, friends, experts, and other couples. As they navigate the path to love, their candidness and willingness to open up might just teach us all a valuable lesson.
| | |
| --- | --- |
| Title | Down For Love |
| Genre | Documentary, Romance, Reality TV |
| Season | 1 |
| Episodes | 5 |
| Release Date | August 11, 2023 |
| Language | English |
| Country | New Zealana |
| Distributors | Netflix |
Down for Love Parents Guide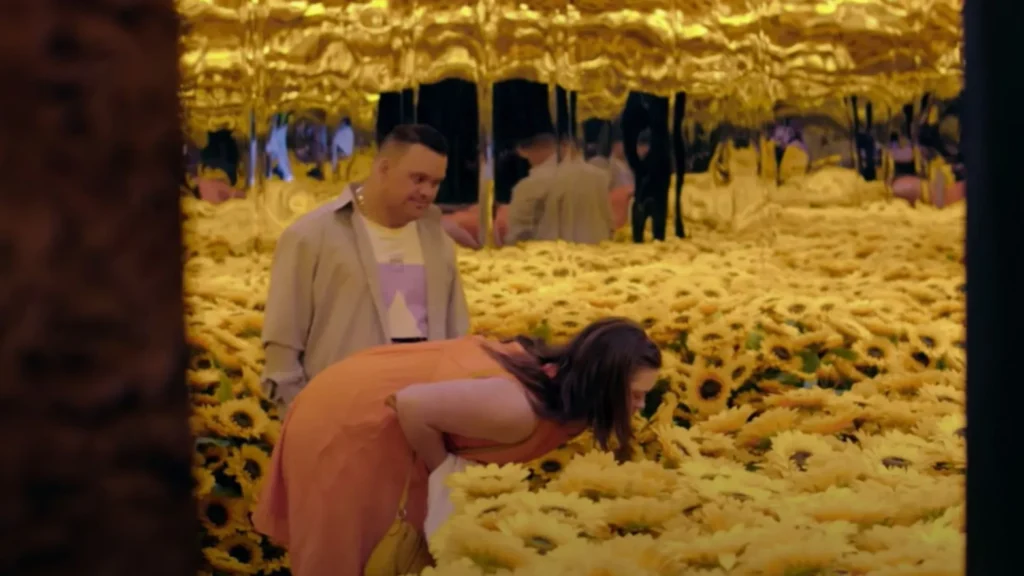 Down for Love Parents Guide
This content advisory for Down for Love is made up to guide parents to learn if Down for Love is OK for kids or not. If you are a parent or a guardian you must be thinking if your teen can watch Down for Love or if is it suitable for them. Our Down for Love Parents Guide is an answer to all your questions, read it out below:
Overview
Down for Love is a reality TV show that centers around individuals with Down Syndrome who are on a journey to find love. The show explores their experiences, emotions, and relationships as they navigate the challenges and joys of dating. It aims to celebrate diversity and highlight the universal pursuit of love.
Themes
The show primarily revolves around themes of diversity, love, relationships, and personal growth. It portrays the participants' search for love as something relatable and universal, emphasizing the importance of understanding and empathy.
Content Breakdown
The show follows ten individuals with Down Syndrome as they embark on a quest to find romantic relationships.
The focus is on their experiences with dating, exploring emotions, challenges, and positive moments.
Participants go on dates, some of which might be their first-ever experiences.
Family, friends, experts, and other couples provide advice and guidance to the participants throughout their journey.
Messages and Lessons
The show celebrates the diversity of the participants and reinforces the idea that everyone, regardless of their background, seeks love and connection.
It promotes understanding and empathy by shedding light on the challenges and triumphs that people with Down Syndrome experience in the realm of dating.
The participants' openness and honesty offer valuable lessons about communication, vulnerability, and the importance of being oneself.
Viewer Considerations
The show's primary focus is on dating experiences, emotions, and personal growth. It does not aim to be explicit or sensationalistic.
The content aims to be positive and heartwarming, highlighting the genuine pursuit of love by individuals with Down Syndrome.
While the show may touch on challenges and emotions, its overall tone is meant to inspire and uplift.
Viewer discretion is recommended based on individual sensitivities and preferences.
Overall Tone
Down for Love is a show that showcases the personal journeys of individuals with Down Syndrome in their pursuit of romantic relationships. It aims to provide a positive and relatable perspective on the universal desire for love, while also promoting understanding and empathy.
As a parent or guardian, it's advised to preview the show to determine its suitability for your family's preferences and the sensitivities of your child.