Dota Dragon's Blood Parents Guide
Dota: Dragon's Blood is an action-adventure animated Netflix series. It is based on Dota 2, a 2013 MOBA video game that was developed and published by Valve.
The show is produced by Studio Mir in association with Ashley Edward Miller's company Kaiju Boulevard and animated by Production Reve. The series first premiered on Netflix on March 25, 2021. 
Dota Dragon's Blood Boy Age Rating
Dota: Dragon's Blood Rated TV-MA for violence and language.
TV-MA Rated means Mature Adults. Children Under 17 Require Accompanying Parent or Adult Guardian. The new release is intended to be viewed by mature, adult audiences and may be unsuitable for children under 17. Contains content that is unsuitable for children.
Dota Dragon's Blood Season 2

Release date
Dota: Dragon's Blood second season is scheduled for a January 18, 2022 release.
Official Poster and Details
[su_box title="Dota: Dragon's Blood" style="noise" radius="9″]
[su_row][su_column size="1/2″ center="no" class=""]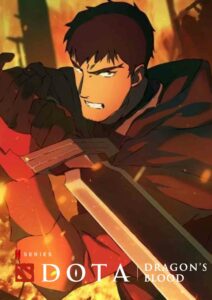 [/su_column] [su_column size="1/2″ center="no" class=""]
[su_table responsive="yes"]
| | |
| --- | --- |
| Movie Name | Dota: Dragon's Blood |
| Genre | Animated, Action, Adventure |
| Age Rating | TV-MA |
| Developed by | Ashley Edward Miller |
| Season | 2 |
| Season | 16 |
| Official Website | netflix.com |
[/su_table][/su_column] [/su_row][/su_box]
Note! If you already watched the Movie, please inform us about the parental guidance here with your support, we can bring out a better vision to everyone.
Dota Dragon's Blood Parents Guide
There is some sexual dialogue in the series but no sex or nudity is shown in the first season.
A couple is found sleeping on a bed naked but no nudity is shown as blankets was on.
There is a scene where characters will be kissing one another in a group (homosexual and heterosexual). 
The series is full of violence- dragons crush and kill humans all with a lot of blood.
Blood content- someone is killed in the first scene with his blood coming out like sprinklers.
A man turned into a monster, then proceed to rip through and slaughter a group of armed men.
In some scenes bodies got torn apart on screen, extremely graphic and gory.
Use of strong language. Occasional usage of the F*ck word.
We see some drunken people with jars filled with beer.
Dota: Dragon's Blood Synopsis
Set in a fantasy world of magic and mysticism, the story follows a Dragon Knight, Davion who hunts and slays dragons to make the world a safer place. In a battle between demons and dragons, an elder dragon merges his soul with Davion. Along with a moon princess Mirana, Davion pursues a journey to stop the demon Terrorblade who wants to kill all dragons and collect their souls.
Dota: Dragon's Blood Wallpaper and Images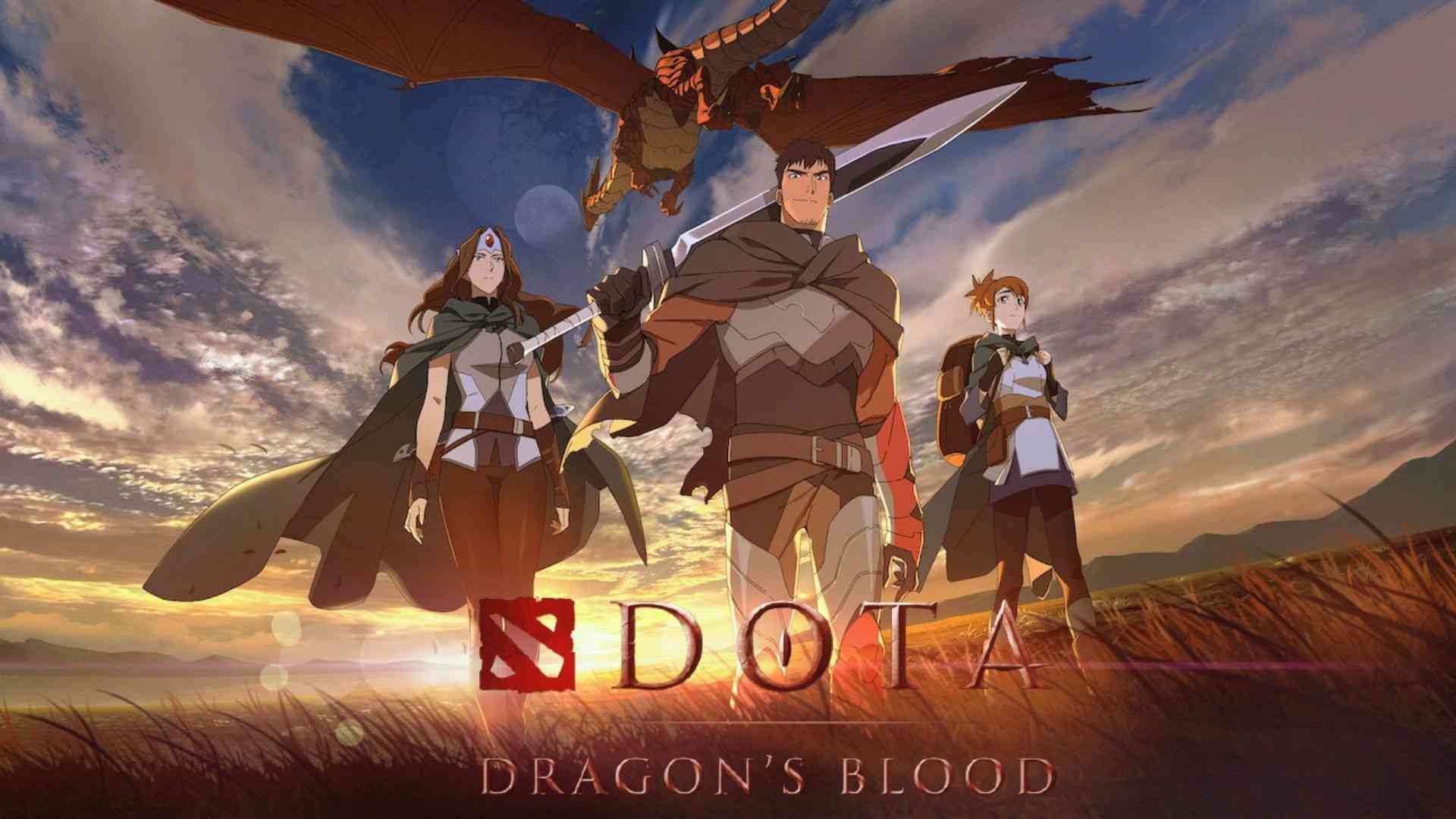 Dota: Dragon's

Blood

Voice Cast
Yuri Lowenthal as Davion: a Dragon Knight who hates dragons for massacring his whole family as a boy. 
Lara Pulver as Princess Mirana: the exiled princess of the Nightsilver Woods.
Tony Todd as Slyrak the Ember Eldwyrm: one of the Eight Great Dragons.
Troy Baker as Invoker: a powerful magical Elven Sage who is pivotal to Mirana's quest.
Josh Keaton as Bram: Davion's squire, now serving Kaden in "curing" Davion of Slyrak's possessing him.
Kari Wahlgren as Luna: once known as Scourge of the Plains, she commits war crimes upon the Elves who refuse to worship Selemene.
Alix Wilton Regan as Selemene: the goddess of the Moon, she is an antagonist to the Elven Enclaves who refuse to worship her and declares war on them following Fymryn's theft of her Lotuses.
Freya Tingley as Fymryn: a young Elven girl who steals Lotuses from Nightsilver Woods because of a prophecy about her Moon goddess, Mene.
Stephanie Jacobsen as Drysi: leader of the Elven Resistance against the Dark Moon Order's colonization and conversion of her people under Selemene's zealots.
Anson Mount as Kaden: the only Dragon Knight to survive fighting an Eldewyrm.
JB Blanc as Terrorblade: The main antagonist of the series, a demon aiming to kill the dragons in a plan to reshape the universe as he desires.
Dota: Dragon's Blood Trailer
Dota: Dragon's Blood Age Rating and Dota: Dragon's Blood Parents Guide
Know about Dota Dragon's Blood Parents Guide. Why Dota: Dragon's Blood receive this age rating? Read the complete information here about Dota: Dragon's Blood age ratings in the UK, US, Australia, Canada, Ireland, Switzerland, and overseas.
Dota: Dragon's Blood rated 16 in Argentina and in the rating in the Philippines is R-18. The show is rated  M18 in Singapore and 16 in Spain. In the United Kingdom, it is rated 15. In the United States, the show is rated TV-MA.
In fact, the age rating, fixed by MPAA( Motion Picture Association of America TV Series rating system),  BBFC (British Board of Film Classification), and Commons sense, TV Parental Guidelines (A television content rating system in the United States).
Stay tuned to get more updates on the age rating of all movies, tv shows, books, and games. Finally, any suggestions are always welcomed.
Also, please make use of the comment box for your reviews. We are always providing all age ratings for kids, We will make the easy and best way for your kids.