D Gray Man Parents Guide | D Gray Man Age Rating
D Gray man is a Japanese manga series written and illustrated by Katsura Hoshino. Set in an alternate 19th century, it tells the story of a young Allen Walker, who joins an organization of exorcists named the Black Order.
The production company is TV Tokyo.
Series D Gray Man is Rated TV-14 for strong language, blood content, and mild nudity.
TV-14 – Some shown content in the series may be inappropriate for children under the age of 14. 
D Gray Man Parents Guide
[su_box title="Why is D Gray Man is rated TV-14 ?" style="noise" radius="9″]
[su_table responsive="yes"]
Brief Nudity, A woman is seen a few times naked.
A few mild sexual references and innuendos.
The show has a lot of frequent action violence with punching, shooting, stabbing, but very rarely shows any blood.
Mild Profanity, Maybe 1-3 uses of fu*k and also the uses of sh*t, cr*p, damn, etc are about the same.
Occasional smoking and drinking from adult characters.
The entire show is counted as a 'dark anime', meaning the storyline is intense.
The appearance of the demons is guaranteed to frighten young kids.
[/su_table][/su_box]
We will update more details very sooner
Official Poster and Details
[su_box title="D Gray Man" style="noise" radius="9″]
[su_row][su_column size="1/2″ center="no" class=""]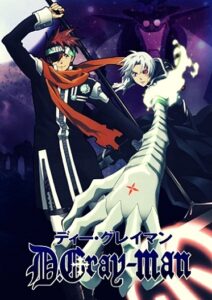 [/su_column] [su_column size="1/2″ center="no" class=""]
[su_table responsive="yes"]
| | |
| --- | --- |
| Series Name | D Gray Man |
| Genre | Animation, Action, Comedy, Drama |
| Age Rating | TV-14 |
| Release date | 03 October 2006 |
| Created By | Katsura Hoshino |
| Official Website | Viz |
[/su_table]
[/su_column] [/su_row][/su_box]
Note! If you already watched the Series, please inform us about the parental guidance here with your support, we can bring out a better vision to everyone.
[su_expand more_text="Continue Reading" less_text="Show less" height="90″ link_style="dotted" link_align="center" more_icon="icon: arrow-down" less_icon="icon: arrow-up"]
Series D Gray Man

 Overview
Allen Walker, a young Exorcist with a cursed eye that can see the suffering of the Akumas created by The Millenium Earl.
Travels to England to the Headquarters of the exorcists, the Black Order, where his Master.
General Cross Marian, has sent him to meet with the other exorcists.
He battles the Millenium Earl and the Noah Family alongside Yuu Kanda, Leenalee Lee, and Ravi, as well as others.
Along with his team, he travels the world fighting Akuma and searching for Innocence, the Anti-Akuma weapon exorcists use.
D Gray Man Official trailer
Summary of D Gray Man Cast
Sanae Kobayashi as Allen Walker
Shizuka Itô as Lenalee Lee
Kenichi Suzumura as Lavi
Katsuyuki Konishi as Komui Lee
Takahiro Sakurai as Yu Kanda
Takeshi Aono as Bookman
Mitsuo Iwata as Arystar Krory
Toshiyuki Morikawa as Tyki Mikk
Junpei Takiguchi as Millennium Earl
Ryôtarô Okiayu as Reever Wenhamm
Ai Shimizu as Road Kamelot
Megumi Toyoguchi as Miranda Lotto
Mamoru Miyano as Chaozii Han
Monica Rial as Lero
Tomohiro Tsuboi as Johnny Gill
Hiroki Touchi as General Cross Marian
Travis Willingham as Yu Kanda
Shin'ichirô Miki as Bak Chang
Takaya Hashi as General Froi Tiedoll
Eric Vale as Arystar Krory
R. Bruce Elliott as Bookman
Chuck Huber as Reever Wenhamm
Arisa Ogasawara as Lulu Bell
Shogo Matsui as Kie
Caitlin Glass as Lala
Chris Cason as Number
Hidekatsu Shibata as Samo Han Wong
Minami Takayama as Anita
Takako Honda as Mahoja
Mitsuki Saiga as Devit
Shôtarô Morikubo as Jasdero
Christopher Bevins as Johnny Gill
Bryan Massey as Jerry
Yûko Kaida as Hevlaska
Jun Fukuyama as Rikei
Hiro Shimono as Shifu
Hiroki Shimowada as Maosa
Kate Oxley as Mimi
Brad Hawkins as Tyki Mikk
Maaya Sakamoto as Rohfa
Kenta Miyake as Skin Boric
Kiyoyuki Yanada as Noise Marie
Mike McFarland as Toma
Fumihiko Tachiki as Mana Walker
Kan Tanaka as Tapp Dopp
Mîna Tominaga as Fou
D Gray Man

Age Rating and​ D Gray Man Parents Guide
Know about D Gray Man Parents Guide. Why D Gray Man received this age rating? Read the complete information here about D Gray Man age rating in the UK, US, Australia, Canada, Ireland, Switzerland, and overseas.
D Gray Man is rated PG in Australia, 12 in Germany and United Kingdom, M in New Zealand, NC-16 in Singapore, 15 South Korea, TV-14 in United States.
In fact, the age rating, fixed by MPAA( Motion Picture Association of America TV Series rating system),  BBFC (British Board of Film Classification), and Commons sense, TV Parental Guidelines (A television content rating system in the United States).
Stay tuned to get more updates on the age rating of all movies, tv series, books, and games. Finally, any suggestions are always welcomed.
Also, please make use of the comment box for your reviews. We are always providing all age ratings for kids, We will make the easy and best way for your kids.
[/su_expand]