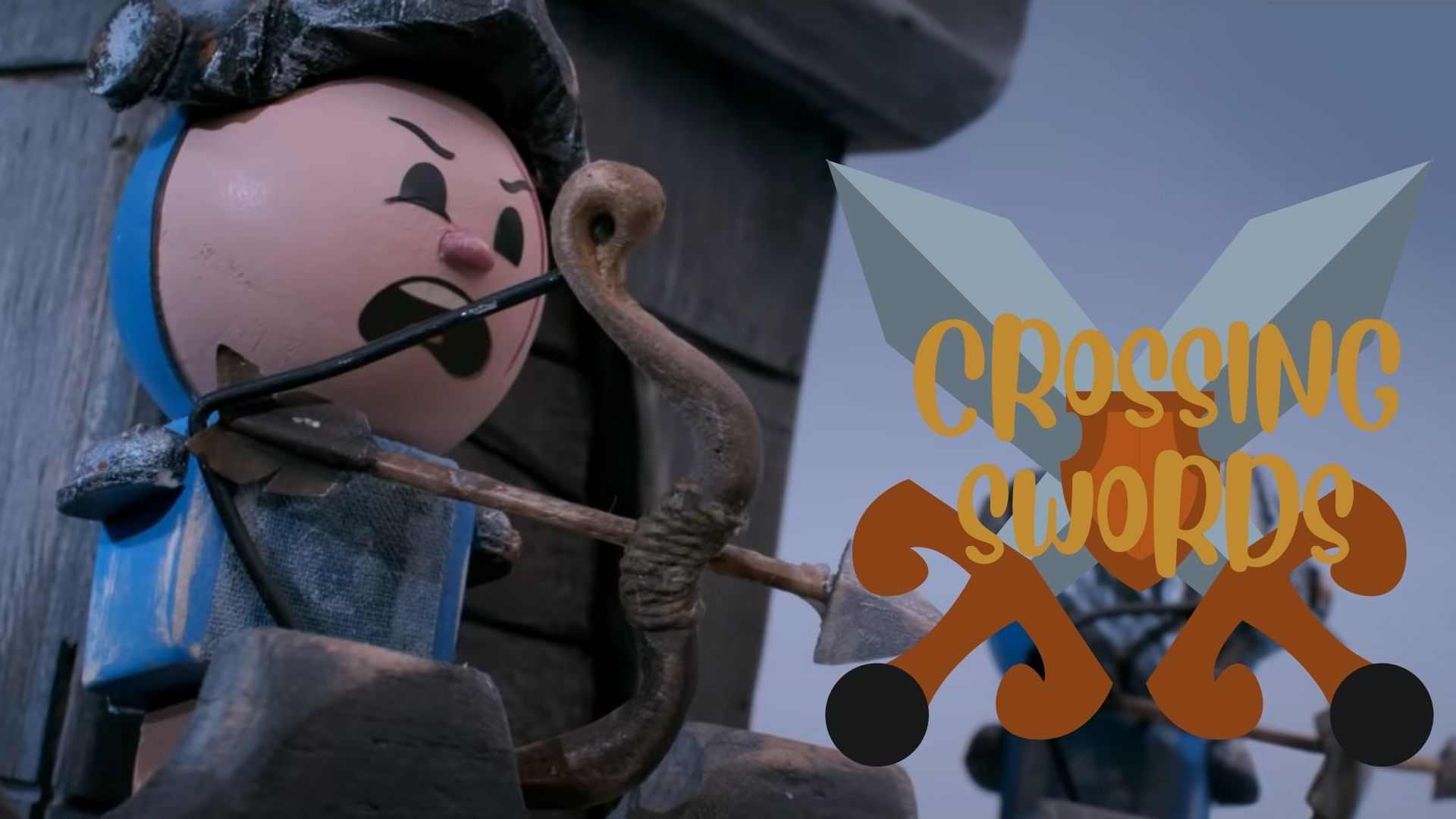 Crossing Swords Parents Guide
Crossing Swords is an American adult animated stop-motion sitcom created by John Harvatine IV and Tom Root for Hulu. The series is produced by Mario De Jesus and the production companies are Buddy System Studios Tom Is Awesome, Stoopid Buddy Stoodios, Sony Pictures Television. Moreover, the series is distributed by Hulu and Sony Pictures Television.
Crossing Swords Age Rating
Crossing Swords rated TV-MA for strong cartoon violence, pervasive language, crude humor, strong sexual content, and nudity.
TV-MA rated means TV Mature Audience Only This program is specifically designed to be viewed by adults and therefore may be unsuitable for children under 17.
Crossing Swords Season 2 Release date
The series was first premiered on June 12, 2020. Six days after its premiere, the series was renewed for a second season. Season 2 will premiere on December 10, 2021.
Official Poster and Details
[su_box title="Crossing Swords" style="noise" radius="9″]
[su_row][su_column size="1/2″ center="no" class=""]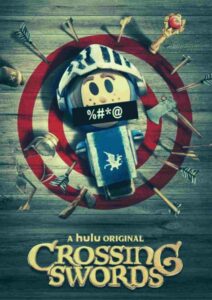 [/su_column] [su_column size="1/2″ center="no" class=""]
[su_table responsive="yes"]
Series Name

Crossing Swords

Genre
Animated sitcom, Fantasy
Adventure, Black comedy
Age Rating

TV-MA

Created by

John Harvatine IV and Tom Root

No. of seasons

2

No. of episodes

20

Runtime

22 min/episode

Official Website
sonypictures
[/su_table]
[/su_column] [/su_row][/su_box]
Note! If you already watched the Movie, please inform us about the parental guidance here with your support, we can bring out a better vision to everyone.
Crossing Swords Parents Guide
SEXUAL CONTENT
Several references to sexual acts include uncensored genitalia and breasts., s*x toys, and anatomical bits. Many of the characters modeled to resemble children's playthings, mind cavort around fully "nude," exposing their little painted bodies to viewers and sometimes engaging in full-on toy sex. 
Full-frontal nudity and sex is clearly shown. However, since the figures are peg people, their genitalia and breasts are not realistic and therefore it is not as graphic.
Queen Tulip wants to have s*x with all of the squire candidates, and she makes it secretly a part of the contest. She has them all strip down to their undies (one doesn't have any, and so we see his toy privates on full display), oils them up, and brings them back to her tent.
She, too, is completely naked (her wooden breasts protrude from her wooden body, and pubic hair is scrawled across the appropriate area), and she invites Patrick to have sex while hanging from a chandelier. She asks Patrick if he's under 18: If he is, she insists, the encounter will be all the sweeter. Patrick tries to lie his way out of intimacy, telling her that he's secretly a woman and pregnant to boot. That only fires up Tulip's passions more. But when Patrick refuses the encounter, Tulip lets him leave. Later, we learn the rest of the contestants contracted a venereal disease.
We also see a bobblehead of the kingdom's most famous prostitute (and hear that she spread another disease far and wide).
Patrick's mother and father discuss getting intimate on a newly purchased pool table (and later we see shadows of the two having sex). Another segment of the contest features participants repeatedly hitting each other in the privates. And that's just one of multiple gags that crudely deal with people being hit in the crotch.
VIOLENT CONTENT
Lots of medieval violence throughout, including sword penetration, stabbing, characters being crushed, and lots of stop motion blood & gore 
Violence is less of an issue, despite it being fairly pervasive: You can kill and maim and dismantle peg figures all you want, and it still doesn't pack the punch of even a 2005-era video game. But if the sight of toy blood bothers you, steer well away from this show. But for the very same reasons that the violence in Crossing Swords feels less extreme.
Patrick reluctantly joins his siblings in smashing dragon's eggs in an attempt to find one filled with gold. After smashing several (much to Patrick's horror), the siblings find a live baby dragon who claws the face of one of Patrick's brothers and sends him bouncing down the mountainside. The mother dragon attacks the other siblings, and the melee eventually leads to several deaths and the immolation of a kitten orphanage. (We see a few dead kittens roll down the street.)
CRUDE OR PROFANE LANGUAGE
The f-word is uttered 17 times and the s-word nearly a dozen. We also hear a**, b*ch, b**tard, "p*ssy" and "p*ssed." God's name is paired with the word damn once, and Jesus' name is also abused.
DRUG AND ALCOHOL CONTENT
Drug use is common and sometimes pervasive. Alcohol and drinking is shown up constantly within the show.
Crossing Swords Overview
A good-hearted peasant dreaming of knighthood becomes a squire at the royal castle. But his dream job isn't everything he'd hoped it would be. Crossing Swords follows "Patrick, a goodhearted peasant who lands a coveted squire position at the royal castle. His dream job quickly turns into a nightmare when he learns his beloved kingdom is run by a hornet's nest of horny monarchs, crooks, and charlatans.
Even worse, Patrick's valor made him the black sheep in his family, and now his criminal siblings have returned to make his life hell. War, murder, full-frontal nudity—who knew brightly colored peg people led such exciting lives?
Crossing Swords Official Trailer
Crossing Swords Voice Cast
Nicholas Hoult as Patrick, the King's new squire who wishes to be a knight
Luke Evans as King Merriman
Alanna Ubach as Queen Tulip, Merriman's wife who is very promiscuous
Adam Pally as Broth, Patrick's best friend and fellow knight
Tara Strong as Coral, Patrick's pirate sister
Tara Strong also voices Trina Franklin, a plucky peasant girl
Tony Hale as Blarney, Patrick's clown brother
Adam Ray as Ruben, Patrick's bandit brother
Seth Green as Blinkerquartz, the Castle's Wizard
Breckin Meyer as Glenn, Patrick's father
Wendi McLendon-Covey as Doreen, Patrick's mother
Yvette Nicole Brown as Sgt. Meghan, trainer of the knights
Maya Erskine as Princess Blossom, Merriman and Tulip's spoiled, bratty daughter
Ben Schwartz as Keefer, Blossom's rockstar boyfriend
Rob Corddry as The Old King, Merriman's insane father whom he dethroned
Jameela Jamil as Sloane, who is a maid in the castle and Patrick's love interest. She is revealed to be Danielle, the daughter of Donna, in the episode "Unchained Monarchy"
Crossing Swords Parents Guide and Crossing Swords Age Rating
Know About Crossing Swords Parents Guide. Why do Crossing Swords receive this age rating? Read the complete information here about Crossing Swords age rating in the UK, US, Australia, Canada, Ireland, Switzerland, and overseas.
In fact, the age rating, fixed by MPAA (Motion Picture Association of America TV Series rating system), BBFC (British Board of Film Classification), and Commons sense, TV Parental Guidelines (A television content rating system in the United States).
Stay tuned to get more updates on the age rating of all movies, tv shows, Netflix, books, and games. Finally, any suggestions are always welcomed.
Also, please make use of the comment box for your reviews. We are always providing all age ratings for kids, We will make the easy and best way for your kids.