Cowboy Bebop Anime Parents Guide
Cowboy Bebop is a Japanese science fiction anime, created and animated by Sunrise, by a production team (billed as Hajime Yatate), and director Shinichirō Watanabe.
26 episodes of the anime Coyboy Bebop are coming to Netflix in October 2021 also a live-action adaptation of Cowboy Bebop is arriving in November. Those who are new to the world of Cowboy Bebop Anime will be delighted to learn all of them.
Cowboy Bebop is one of the most popular, and one of the most beloved anime around of 19's. The anime was first aired in Japan between April and June 1998, but in the USA it arrive in 2001  and was available to watch on Cartoon Network.
Cowboy Bebop Age Rating
Cowboy Bebop Anime age Rating is TV-MA and 18+ by Netflix for some adult material.
 Program-rated TV-MA is intended to be viewed by mature, adult audiences and may be unsuitable for children under 17. Contains content that is unsuitable for children.
Cowboy Bebop Anime Netflix Release date
All 26 episodes of Cowboy Bebop will be available to stream on Netflix on Thursday, October 21st. The anime will be available to stream on Netflix globally.
Official Poster and Details
[su_box title="Cowboy Bebop Anime" style="noise" radius="9″]
[su_row][su_column size="1/2″ center="no" class=""]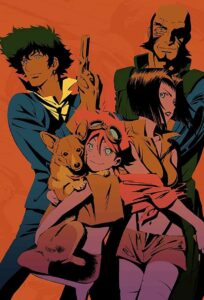 [/su_column] [su_column size="1/2″ center="no" class=""]
[su_table responsive="yes"]
| | |
| --- | --- |
| Movie Name | Cowboy Bebop (Anime) |
| Japanese Title | カウボーイビバップ |
| Genre | Animation, Adventure, Action |
| Age Rating | TV-MA |
| Season | 1 |
| Episodes | 26 |
| Release date | October 21st, 2021 Netflix. |
| Created by | Hajime Yatate |
| Directed by | Shinichirō Watanabe |
| Runtime | 24 mint/ episode |
| Official Website | Netflix |
[/su_table][/su_column] [/su_row][/su_box]
Note! If you already watched the Movie, please inform us about the parental guidance here with your support, we can bring out a better vision to everyone.
[su_expand more_text="Continue Reading" less_text="Show less" height="90″ link_style="dotted" link_align="center" more_icon="icon: arrow-down" less_icon="icon: arrow-up"]
Cowboy Bebop Parents Guide
[su_box title="Cowboy Bebop Anime" style="noise" radius="9″]
[su_table responsive="yes"]
Sexual content and nudity, there is a scene the man is reading a pornographic in which magazine, various women and their bodies can be seen.
Female character's breasts practically visible, Faye in femme fatale mode seduces a Male.
A woman character wearing a tight and unbuttoned shirt that reveals the inner of her breasts.
Female bare breasts are shown.
Bloody violence, shootings, and a few fistfights.
The deaths of several characters could be emotional to some.
Use of smoking throughout, also as well as some drinking. 
Scenes of using drugs and a number of scenes take place in bars.
 Throughout there are various uses of suggestive language.
[/su_table][/su_box]
We will update more details very sooner
Cowboy Bebop Anime Overview
An accident happened therewith a hyperspace gateway that made the planet earth uninhabitable and people had to live in rocky planets and moons of the solar system. Along with humanity, there occurred crimes for which inter solar system police was appointed and they set up a contract in which bounty hunters were asked to chase criminals in return for a reward. Some bounty hunters worked through Bebop A SPACESHIP, Spike Spiegel and Red Dragon were the original members and later added Faye Valentine to their crew who was skilled in hacking and Ein. The team went through a lot and became broke with time.
The series is all about the rivalry between Spike and Vicious who were once friends but became enemies when Spike started dating Vicious's girlfriend. Vicious wanted to kill Julia and Spike so they planned an escape and parted their ways for the same. after years they reunites and Vicious came to know about it. he sent hitmen after them and in the run, Julia gets killed. Spike bids his farewell to Bebop and while infiltrating the syndicate he comes across Vicious and confronted him. Spike kills Vicious and descends the staircase and eventually falls on the ground.
Cowboy Bebop Anime Wallpaper and Images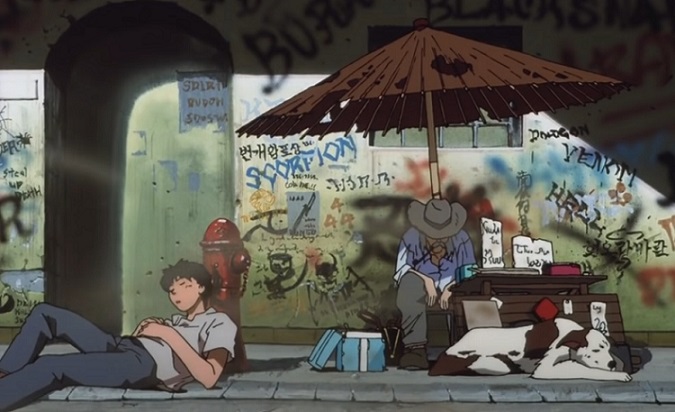 Cowboy Bebop Anime Official Trailer
Cowboy Bebop Anime Voice Cast
Kôichi Yamadera as Spike Spiegel 26 episodes 
Unshô Ishizuka as Jet Black 26 episodes 
Megumi Hayashibara as Faye Valentine 24 episodes 
Steve Blum as Spike Spiegel 26 episodes 
Beau Billingslea as Jet Black 26 episodes 
Wendee Lee as Faye Valentine 25 episodes
Kevin Seymour

as Additional Voices

…

26 episodes

 

Isshin Chiba

as Man 2

17 episodes

 

Melissa Fahn

as Edward Wong Hau Pepelu Tivruski IV

16 episodes

 

Aoi Tada

as Edward Wong Hau Pepelu Tivruski IV

16 episodes

Hiroshi Naka

as Jobim

10 episodes

Tsutomu Tareki

as Punch

9 episodes

 

Miki Nagasawa

as Judy …

9 episodes

Toshihiko Nakajima

as Carlos

…

8 episodes

Jin Hirao

as Antonio

…

7 episodes

 

Skip Stellrecht

as Vicious

7 episodes

 

Kazuhiro Nakata

as Bodyguard 2

…

6 episodes

 

Shinpachi Tsuji

as Amjad

…

6 episodes

 
Cowboy Bebop Anime Parents Guide and Cowboy Bebop Anime Age Rating
Know about Cowboy Bebop Anime Parents Guide. WhyCowboy Bebop Animereceived this age rating? Read the complete information here about Cowboy Bebop Anime age rating in the UK, US, Australia, Canada, Ireland, Switzerland, and overseas.
In Argentina, it is rated 16, and in Australia, its rating is MA15+, for Canada Cowboy Bebop Anime rated 14+, In Japan Cowboy Bebop Anime rated R Japan, in the Netherlands, it is rated 12 also 16 in Spain, Switzerland:16, United Kingdom:15, and in the United States TV-14.
In fact, the age rating, fixed by MPAA( Motion Picture Association of America TV Series rating system), BBFC (British Board of Film Classification), and Commons sense, TV Parental Guidelines (A television content rating system in the United States).
Stay tuned to get more updates on the age rating of all movies, tv shows, Netflix, books, and games. Finally, any suggestions are always welcomed.
Also, please make use of the comment box for your reviews. We are always providing all age ratings for kids, We will make the easy and best way for your kids.
[/su_expand]