Clickbait

Parents Guide
Clickbait is an upcoming American–Australian drama streaming television miniseries, created by Tony Ayres and Christian White and produced by Tom Hoffie, Joanna Werner.
The series is distributed by Netflix. However, the production companies are Master Key Production, Heyday Television, Matchbox Pictures, Tony Ayres Productions (TAP).
Clickbait

Age Rating
The TV-Series Clickbait is rated TV-MA for Mild Nudity, Violence, and Blood Content.
TV-MA – Some shown content in the series may be inappropriate for children under the age of 17.
Clickbait

Parents Guide
[su_box title="Why Series Clickbait is rated TV-MA ?" style="noise" radius="9″]
[su_table responsive="yes"]
There are some kissing scenes throughout the series.
Brief Nudity, A girl is shown without upper clothes, but only her back is visible.
Some Violence, abusing women in public.
Blood Content, victims are cruelly murdered.
[/su_table][/su_box]
We will update more details very sooner
Clickbait

Release date
The series Clickbait is scheduled to be released on 25 August 2021 on Netflix.
Official Poster and Details
[su_box title="Clickbait" style="noise" radius="9″]
[su_row][su_column size="1/2″ center="no" class=""]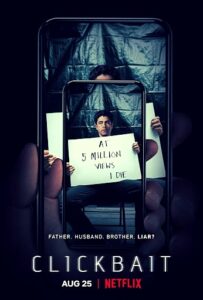 [/su_column] [su_column size="1/2″ center="no" class=""]
[su_table responsive="yes"]
| | |
| --- | --- |
| Series Name | Clickbait |
| Genre | Crime, Drama, Mystery, Thriller |
| Age Rating | TV-MA |
| Release date | 25 August 2021 |
| Season | 01 |
| Episodes | 08 |
| Creators | Tony Ayres, Christian White |
| Official Website | Netflix |
[/su_table]
[/su_column] [/su_row][/su_box]
Note! If you already watched the Series, please inform us about the parental guidance here with your support, we can bring out a better vision to everyone.
[su_expand more_text="Continue Reading" less_text="Show less" height="90″ link_style="dotted" link_align="center" more_icon="icon: arrow-down" less_icon="icon: arrow-up"]
2021 Netflix TV Series Clickbait

 Overview
Episode 1
It starts with a birthday party organized by all the kids, and pia learns that her brother Nick presenter her the planter instead of a bread maker it turns into an argument, and then pia goes out for clubbing it involved crashing and accidentally dropped her phone in the toilet, the next day at work her patient.
Vincent shows her the recent viral videos, and she sees the video of her brother and her friend which one reaches 5million views he'll die, the videos were about to touch 4 thousand views, Pia goes to Nick workplace but could find him there, she then goes to Sophie's place the receptionist tried to stop her but she doesn't listen and interrupts Sophie's lesson to show her the video which has nice thousand views and go to the police but as Nick has only been missing for five hours they ignored, but detective Amiri agrees to listen to them, pia has a voice mail from Nick.
It was the night before he apologizes for the argument and explains the stuff going on and that he and pia should talk soon, suddenly a new video gets posted online thus time Nick holds a card saying he killed the woman this time the card isn't in Nick's hand, the detective Amiri ask Pia and Sophie if Nick has ever been violent before because both the cards could be a death threat and a confession.
After pia plays Nick's voicemail Sophie is against taking it to the police but the conversation is interrupted by a phone call from a journalist, because the video of Nick is going viral it's gaining the interest of the public, later Sophie and pia logged into Nick's laptop.
With the viral videos Vincent visits pia to help her with his software skills and get to know that he is in a delivery van, taking an advantage of the moment Vincent tried to kiss pia but she refuses, the video of Nick is now at 4.5 million views and quickly rising, pia has a traumatic flashback to Nick telling her to get out of his life as the video reaches five million views. Detective Amiri tells them that there's a lead, the van that Nick has been held in has been found.
Episode 2 
The detective opens the door and it is empty, and the case turns into a homicide. All the family members handed their phones except Pia because it was at her flat drying from the water damage. Pia asks the detective if it is true that if the missing person lasts more than 48 hours then the chances of him being alive dropped by 50% and he says yes. As he's not in charge now because the case is homicide he tells them if they want to request a change it can change soon.
As the viral video brings a lot of negative comments Nick's son couldn't do anything but read them. An app launches to find Nick's body, the detective learns that Nick's disappearance is all the latest gossip, Sophie wonders why the kidnapper hasn't called for the ransom, she appeals to the public and asks whoever is holding Nick hostage to let him come home. After a voicemail from Pia, the detective has an argument with his superior.
It's been 48 hours since Nick went missing, however, they found the crime scene where they found Nick's bike and a needle. The assumption leads to Nick being drugged by someone who knew his work routine. The detective believes that Nick and Sophie were having marital problems and if Nick had an affair. Everyone panicked, especially Pia but when the body got washed up. Luckily it was just a dummy, someone played a prank on them. The detective finds footage of Nick fighting with someone.
Now this unknown person is the person of interest. Detective Amiri and his superior agrees to search a remote area which is the edge close to water where the body-finding app had led the journalists, and detective Amiri finds Nick's body. The detective tells Pia that Nick is dead, he walks into the crowd of applause as he is now promoted to the homicide and he finds some photos of Sophie with the man Nick was fighting as known as a person of interest.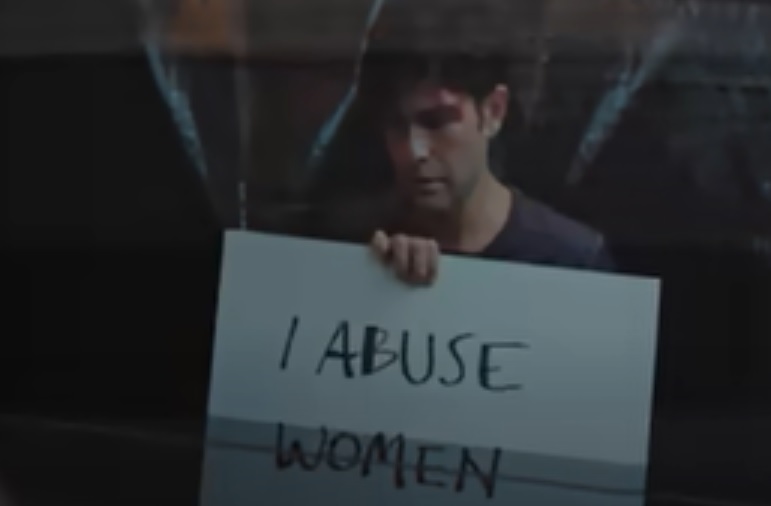 Episode 3
When the detective asks Sophie about the photos, she denies knowing anything about the man fighting with Nick but tells the truth when shown the images of him from her own social media. He's Curtis who resigned from teaching, after a brief questioning she returns home. Later she pays a visit to Curtis to know why he fought with Curtis, but he claimed that Nick initiated the fight.
A flashback goes to Nick and Sophie's anniversary, though it was a special day Sophie decides to tell him the truth. As Curtis is now the priest suspect detective Amiri tells Sophie that she will be charged if she holds on to the evidence again. Besides journalists outside the family home And a woman ( Emma Beesley) lurking around. When Sophie confronts her she tells her that Emma and Nick met on a dating app 6 months ago and it was more than normal meetups. Youtubers suspected it to be a revenge killing and reported publicly the affair between Sophie and Curtis.
A  memorial was held at Nick's workplace yet all the judges' eyes were on Sophie. A kind-hearted receptionist Dawn who is more forgiving introduced Sophie to Jenny, who is a part of the volleyball team. She says Nick was close to some other girls but Nick's colleague Matt interrupts the conversation. As the memorial was too much for Sophie she rushes out and a guest says "same on you Sophie" she takes the guest's glass and splashes it in her face. Pia's Buddy investigates that not only Emma was telling the truth but he was on that app for a long time, long before Sophie's affair.
Episode 4
Emma visits Nick's workplace, and cleans up some scribbling that's vandals have written on Nick's memorial before introducing herself to Matt. She looks around and then dawn tells her that she's in her private office, pia hears she's here so pia chases her but couldn't catch up. As Sophie picks out the coffins for Nick she started to get abusive things. After tracking Emma she learns Nick thought about the world of her. Pia funds Emma sad and takes Emma's no. In case she wanted to ask any further questions.
Suddenly Sophie's no. And card details get posted online, Nick's mother gets angry that the focus should be on Nick's killer. It turns into an argument Sophie's mother defends her, the scene ended with Nick's mother crying. Emma receives a call in her room the caller says I've been watching you, I know the room you live in, you should leave the city or it won't end well. Emma got stressed and started to flee, but a car rammed into her and she ended up in a hospital. She explained everything to detective Amiri, while Pia doesn't believe her but the detective thinks it's true because of the involvement of other women with Nick.
Pia tells Emma that Nick has been using at least 3 dating apps or probably more, he meets women, chases them for relationships, and then deactivates the profile after the relationship ends. She felt a sense of betrayal so she burned the photo of Nick she had.
Episode 5
Ben is desperate to make prime time so he slides into the family house by posing as a delivery man. After Pia and Sophie identify him, he tells them that Emma is talking to the press conference and also tells them to be Nick's voice. Detective Amiri allows them to take the interview so that the killer may take a move.
Then Ben pays a visit to Nick's workplace to check if he had hurt any of his students, he learns that Nick has a fight with one of his fellow students who quit the volleyball team a week later, he tracks her down but she doesn't reveal a thing but says "Jenny doesn't know shit". After returning to the office, he sees Sophie with an attorney and she threatens to sue the news channel after Ben gained access to her home under false pretenses unless they stopped the interview with Emma.
He says there's no way it is going to stop but if you agree to have an interview with us it might decrease the importance of Emma's interview, she agreed hesitantly. Ben managed to find one of Nick's deactivated dating apps with the help of his boyfriend, which leads him to Maggie.
Maggie turns out to be a cat, but he finds out the woman he's been looking for is Sarah. But unfortunately, she died a few months ago, instead of giving the information to the police, Ben decides to keep it to himself. After tracking the information he sneaks into an apartment that belongs to Sarah's brother Simon. Simon returns and sees Ben. Simon chased him before Cameron successfully drove them away.  Going through Sarah's phone that he stole from the apartment, Ben finds a message from Jeremy, who ended the relationship with her.
He took the information to Dakota and says he'll take the story to another channel unless he gets to interview Sophie's, Ben gets what he wanted. Ben raises questions about Nick's violence, affairs, and emotional abuse towards Emma. But the interview warms up when he talks about the information he found on the phone, Ben tells Sophie that Nick had an affair with another girl named Sarah who killed herself and the final chat between them has been obstructed, after reading the conversation Sophie runs out of the interview.
The interview is on TV, it shows the final conversation between Nick and Sophie before Sarah dies, Nick told her to " do it, go ahead I don't care" as cruel Nick's messages are it shows this led to Sarah's suicide
Episode 6
Being a suspect for Nick's murder Simon practices his alibi with Daryl, but Daryl wants to make a run for it. Pia stalks Simon and Daryl on Facebook. She told the detective what she found and nearly slept together. The detective tried to stop it because he feared losing his job if someone finds out.
A small flashback to the day when Nick disappeared, Simon and Daryl tracked him down and surrounded him before attacking him. Detective Amiri wants to record a formal statement of Simon at the station, he agrees but wants to take a ride in his own car.
He's allowed but he took the opportunity to fly from the police. Meanwhile, Pia decided she wants to have a conversation with Simon. Simon is cornered in a carriageway and after a tense standoff, Simon finally surrenders to detective Amiri. 11 days ago, Nick was forced at gunpoint to hold up the cards while Simon and Daryl recorded him.
Nick refuses to know anything about Sarah and asks about the evidence that proves that he got anything to do with her death. Nick denies the dating app as well and says photos were photoshopped And the real ones are him and Sophie.
Simon believes what Nick says and allows him to escape. Nick does say that only one person knows about Sophie's affair and it was discussed with Sarah, he knew who created the fake accounts. When the detective questions Simon he asks to talk to Pia, she wants to know what did he achieve but she's taking back when he admits to getting the wrong guy and when we last saw him he was alive.
The detective doesn't believe him; he thinks Simon is trying to save his own ass. Simon is in the cell, and Nick's son Ethan texts someone that it looks like they caught the guy behind this.
Episode 7
At Balfour, Ethan speaks to AL_2005 probably the same guy he texted. Micheal Hastings mocks the family. Kai hears what Micheal said, he hits Michael and Ethan has to drag Kai out. Pia tells her family that she doesn't believe Simon killed Nick. Sophie tells her that she wants Ethan and Pia out of it.  She agreed but didn't tell that Nick told Sarah to kill herself because their father killed himself.
Ethan watches media clips of Nick with another woman and one of them says she doesn't know anything about Nick Brewer. Ethan contacted Pia and wondered if catfish was involved. After Kai's fight Sophie meets the principal, as Micheal's father wanted a pressing charge against Kai, Elaine thinks it would be better for Sophie to still work in the current circumstances. Ethan wants to help Pia, but Pia is unsure after what Sophie said at the dinner. Knowing what they are doing Sophie argues with Pia, and restricts Ethan from seeing Pia.
Emma states she had a physical relationship with Nick. As for the catfish lead, Pia meets Vincent and thinks that catfish must be someone Nick knew and should be related to the volleyball team. Ethan meets Alison, the one he texted, and learns she has social anxiety and is not good in real life, he also says that he has more chances of having a conversation with Emma than Pia as he's Nick's son. Emma admits she never met Nick. Pia learns that Tara fought with Nick because he didn't want her to quit the volleyball team.
And an incident with her ex (Matt Aldine Nick's colleague) she feared going to the police as she might become the target. Pia checks Matt's PC and finds images that got used on Nick's dating app. Sophie says charges won't be pressed against Kai and you all should leave Balfour, Ethan plays a clip of Emma claiming she never met Nick, and Kai finds the addresses that Allison tracked. Pia tells the detective what she found, and suspects that Nick might have found out the secret about the apps and visited him after escaping Simon and Daryl.
Matt Tells Pia about his relationship with Tara but refuses to post her nude images, and gets angry at her for checking his PC.
Episode 8 
Kai is missing, after seeing an email from Allison, Ethan has an idea where Kai might be. When Nick started working he was introduced to the kind-hearted Dawn, the same person Kai went to. Ed grabs his gun and blames her for the game. On Nick's first day he allows Dawn to handle his password and sync his phone.
As her life was boring, she took the opportunity to start a fake profile with Nick's images. At present Sophie and Pia reach the address where they only find Kai's bat, nothing else. After breaking in, Pia finds framed photos and learns of Dawn's house. Dawn and Ed are driving home and he senses something when they don't drive the right way. Dawn and Ed take Kai to a field, Pia realizes that Dawn planted those photos on Matt's computer, detective Amiri's whole team is looking for Kai and they see Ed's truck.
In a flashback, after Emma wanted to speak to Danny, Dawn used a voice modification. Ed notices that Dawn has been cheerful and they had a close moment. Explaining she wanted to know what it feels like to be someone who someone wanted. At this moment she sends the message to Sarah that led to her death. Dawn doesn't want to run, so she decides to confess but after Kai makes a run, Ed shoots him.
The bullet didn't hit him and Kai hid in the stable. Three of them separate, Sophie, Pia, and the detective with his team reach the caravan. Kai hears them looking for them, Dawn tries to run but she's caught. The day Nick died, Dawn and Ed watched reports of Nick's kidnapping so Ed destroyed all the links of Dawn from a fake account.
But Nick finds out that Dawn did all this and threatens to go to the police, Ed hits him and he dies Ed holds Kai hostage before letting him free. Tara officially filed a complaint against Matt Aldin. Pia tells Sophie "we're still family" before they walk to the funeral together.
Clickbait Official trailer
TV-Series Clickbait

Cast
Zoe Kazan as Pia Brewer
Betty Gabriel as Sophie Brewer
Adrian Grenier as Nick Brewer
Phoenix Raei as Roshan Amir
Elizabeth Alexander as Andrea Brewer
Abraham Lim as Ben Park
Ian Meadows as Matt Aldin
Steve Mouzakis as Zach De Luca
Daniel Henshall as Simon Oxley
Motell Foster as Curtis Hamilton
Jaylin Fletcher as Kai Brewer
Cameron Engels as Ethan Brewer
Clickbait

Age Rating and​

Clickbait

 Parents Guide
Know about Clickbait Parents Guide. Why Clickbait received this age rating? Read the complete information here about Clickbait age rating in the UK, US, Australia, Canada, Ireland, Switzerland, and overseas.
Clickbait is rated NC16 in Singapore, TV-MA in the United States.
In fact, the age rating, fixed by MPAA( Motion Picture Association of America TV Series rating system),  BBFC (British Board of Film Classification), and Commons sense, TV Parental Guidelines (A television content rating system in the United States).
Stay tuned to get more updates on the age rating of all movies, tv-series, books, and games. Finally, any suggestions are always welcomed.
Also, please make use of the comment box for your reviews. We are always providing all age ratings for kids, We will make the easy and best way for your kids.
[/su_expand]