Black Summer Parents Guide | Black Summer
Age Rating
Know Black Summer Age Rating the Netflix series Black Summer is explained here. why Black Summer receive this age rating?  Read the complete information here. Black Summer Parents Guide. What's the age rating of Black Summer in the US, UK, NZ, Ireland, Canada, Singapore, etc…
Director and production 
A Canadian streaming television series created by Karl Schaefer and John Hyams.Based on Z Nation by Karl Schaefer, Craig Engler. The first season Was premiered on April 11, 2019, on Netflix, However, the second season will release on June 17, 2021, on Netflix. Produced by Jodi Binstock, Production company: The Asylum
Official Poster and Details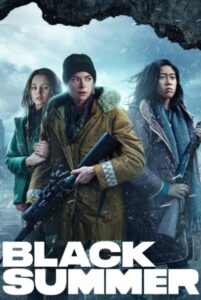 Note! If you already watched the series, please inform us about the parental guidance here with your support, we can bring out a better vision to everyone.
Series Name– Black Summer
Genre-Action, Drama, Horror, Thriller
Age Rating-TV-MA
Release Date –June 17, 2021
Episodes-16
Season-2
Run time-20–44 minutes
Official website–NetflixOfficial
What is the Black Summer age rating
In fact, the age rating, fixed by MPAA( Motion Picture Association of America TV Series rating system). BBFC (British Board of Film Classification). CSM (Commonsense media and). TV Parental Guidelines (A television content rating system in the United States). The board provides the information of the content shown in the series so that you can decide that the series is appropriate for your children or not.
Black Summer rated TV-MA for the contents shown in the Series. They included a Kissing scene, A kid is shown shooting a man, Dead bodies seen, Shooting in the head, The old lady is eaten, alive man, Hit by a car, etc…
If you have watched the Netflix Series, please provide the comments and thus help other kids/parents with the age rating and its contents.
Recommended by Amazon
Details of Parental Guidance for Black Summer
The Netflix Series Black Summer, Age rating, is TV-MA.
Black Summer (2019-2021) rating 15 in the United Kingdom and TV-MA in the United States and overseas. In addition, it is rated TV-MA in Canada. Other ratings include M18 in Singapore, 16 in Spain,  and 16 in France. Also, 16 in Brazil. This includes the age rating of Black Summer in the US, UK, NZ, Ireland, Canada, Singapore, etc…
Black Summer Overview | Black Summer
Parents Guide
The Episodes of the season 1 include
A month and a half after the beginning of the zombie end of the world, Rose (Jaime King) is isolated from her little girl, Anna, and she leaves on a nerve-racking excursion to discover her. Push close by a little gathering of displaced people in North America, she should overcome an antagonistic new world and settle on severe choices during the most destructive summer of a zombie end times.
Sexual references
Attempted sexual assault
Strong language
Severe curse words
Kissing scene
A kid is shown shooting a man
Dead bodies seen
Shooting in the head
The old lady is eaten, alive man
Hit by a car
The Episodes of the season 2 include
Out of the gathering of survivors just Sun, Spears and Rose endure the excursion to the arena. Rose's story is successfully finished up subsequent to rejoining with her girl. Lances' just inspirations were to endure and help Rose on her excursion
Bloody contents
Gunshot
Weapon use
Car explosion
Strong language
Severe curse words
Some emotional scene
We will update more details very soon
The Netflix Series Black Summer, Age rating, is TV-MA, This series is intended to be viewed by mature, adult audiences and may be unsuitable for children under 17.
Wallpapers and Images of Black Summer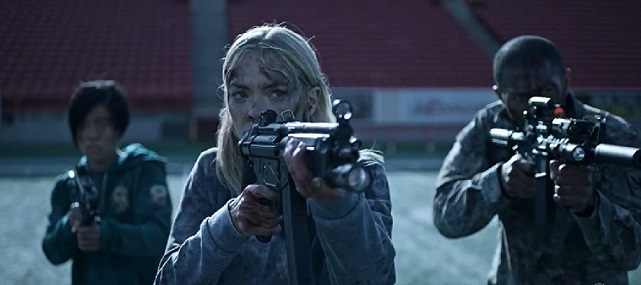 Official trailer of Black Summer
[youtube https://www.youtube.com/watch?v=O9-kJB8AVFA]
Summary Of Black Summer Cast
Jaime King as Rose, Justin Chu Cary as Julius James, Christine Lee as Ooh "Sun" Kyungsun, Kelsey Flower as Lance, Sal Velez Jr as William Velez, Zoe Marlett as Anna
 Stay tuned to get more updates on the age rating of all TV Series, TV shows, books, and games. Finally, any suggestions are always welcomed. Also, please make use of the comment box for your reviews. We are always providing complete details on age ratings for kids. We will make the easy and best way for your kids.