Besiege Age Rating and Parents Guide
Besiege is a strategy role-playing video game developed and published by Spiderling Studios.  Besiege features a reworked user interface, photo mode, and a different Workshop for sharing user creations. However, it does not have the multiplayer or level editor functionality of the PC version.
Besiege Release Date
A console version for Xbox One and Xbox Series X/S is set to be released in February 2022.
| | |
| --- | --- |
| Developer | Spiderling Studios |
| Publisher | Spiderling Studios |
| Engine |  Unity |
| Mode | Single-player, Multiplayer |
| Genre | Role-playing |
| Release Date | 10 February 2020 |
| Platforms | Linux macOS Microsoft Windows Xbox One Xbox Series X/S |
Besiege Game Price: Besiege game price is $14.99.
Besiege Gameplay
The game allows players to build outlandish medieval siege engines to pit against castles or armies. Players select from a collection of mechanical parts that can be connected together to build a machine. Each level has a goal, such as "destroy the windmill" or "kill 100 soldiers". Although the goals are relatively simple, the wide variety of possible approaches allows for experimentation.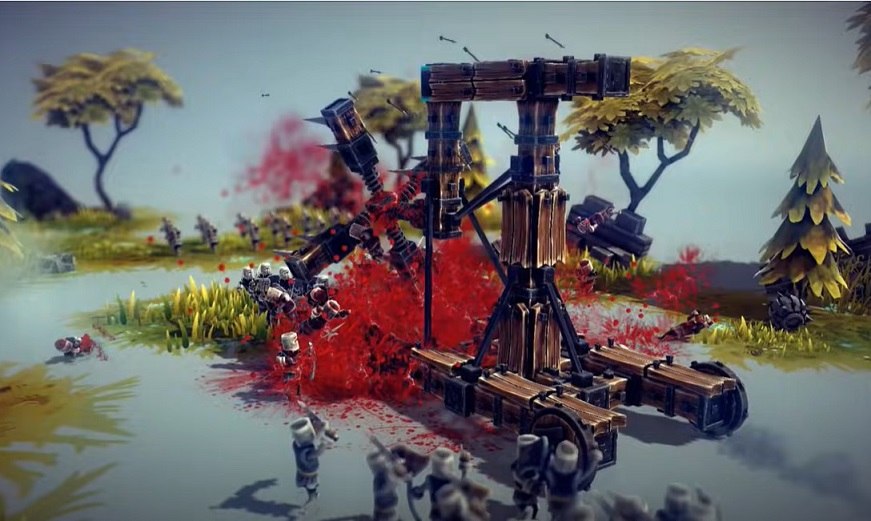 Despite the medieval theme to the game, players are able to build intricate working models of four-stroke and two-stroke engines and vehicle systems, including computer systems, as well as modern vehicles such as tanks, automobiles, bomber planes, propeller planes, helicopters, airships, and battleships. An update in December 2017 added a level editor and multiplayer capabilities, such as pitting the vehicle creations against each other, or other players attempting to knock down a castle created by another.
Later they added advanced build mode which grants the player the possibility to build complicated machines. With these additions, players developed systems to run tournaments similar to the television show BattleBots, pitting their Besiege creations in one-on-one matches with others to try to take the other out.
Besiege Age Rating
ESRB- Besiege age rating is M (MATURE17+) by ESRB for Blood and Violence. ESRB M (MATURE 17+) means that the content of the game is generally suitable for ages 17 and up.
PEGI- Besiege has received PEGI 12 for violence.
 Besiege Parents Guide
The gameplay includes a lot of violence, destruction, and explosion.

Severe blood content.

Soldiers are killed or burned brutally.
Besiege System Requirements
MINIMUM:
OS: Windows XP 64bit (latest SP)
Processor: 2.2Ghz Dual Core
Memory: 4 GB RAM
Graphics: 1 GB Dedicated VRAM
DirectX: Version 9.0c
Storage: 3 GB available space
RECOMMENDED:
OS: Windows 10
Processor: 4Ghz Quad Core
Memory: 8 GB RAM
Graphics: 3 GB Dedicated VRAM
DirectX: Version 11
Storage: 5 GB available space
Besiege Official Trailer
Official website: Besiege
Know about Besiege age rating and the parents guide. Besiege Age rating is The age rating, fixed by PEGI (Pan European Game Information) for UK citizens and ESRB (Entertainment Software Rating Board) for the US Continent.
FAQ
What Besiege Game Is Rated?
Besiege age rating is M (MATURE17+) by ESRB and Rated 12 by PEGI.
Why Besiege Game is Rated M By ESRB?
Besiege age rating is M (MATURE17+) by ESRB for Blood and Violence.
Why Besiege Game Is Rated 12 by PEGI?
Besiege has received PEGI 12 for violence.
Moreover, the PEGI rating is based on the physical content of the game and not on the players' condition or their abuse usage online. Stay tuned to get more updates on the age rating of all Netflix TV Series, TV shows, books, and games.
Finally, any suggestions are always welcomed. Also, please make use of the comment box for your reviews. We are always providing the complete details on age rating for kids, We will make the easy and best way for your kids.
Besiege
Date Created: 2015-01-28 09:53