Beowulf Parents Guide | Beowulf Age Rating
Beowulf is a 3D computer-animated fantasy action film directed and co-produced by Robert Zemeckis.
Production companies are Paramount Pictures, Shangri-La Entertainment, and ImageMovers.
Beowulf is rated PG-13 for intense sequences of violence including disturbing images, some sexual material, and nudity.
PG-13 – Some shown content in the film may be inappropriate for children under the age of 13.
Beowulf Parents Guide
Mild Nudity can be seen in some scenes. A woman's dress is laced up the front and cleavage is visible.
Many people are shown drinking mead until the point of drunkenness in several scenes.
Some Violence, A creature is shown dragging two bodies back to its cave.
A flying creature looks like a dragon with large sharp teeth and enormous wings and it blows fire.
A man reaches for a woman and pulls on her arm while asking for a kiss, but she pulls away.
A female creature speaks seductively to a man and asks him to give her a son.
Grendel's screams can be frightening to young viewers.
Beowulf Parents Guide
Beowulf Release date
The film Beowulf was released on 16 November 2007.
Official Poster and Details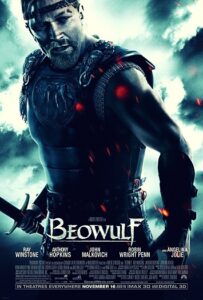 | | |
| --- | --- |
| Movie Name | Beowulf |
| Genre | Animation, Action, Adventure, Fantasy |
| Age Rating | PG-13 |
| Release date | 16 November 2007 |
| Runtime | 1hr 55min |
| Director | Robert Zemeckis |
| Official website | Paramount |
Beowulf Parents Guide
Note! If you already watched the Movie, please inform us about the parental guidance here with your support, we can bring out a better vision to everyone.
Film Beowulf

Overview
Set against the coming of Christianity, this is the story of the last hero.
In 507, a monstrous troll wreaks havoc in the mead hall of Danish King Hrothgar.
He offers rewards for the death of Grendel, a great and boastful Geat warrior, who arrives with his thanes.
Beowulf sets aside his armor and awaits the monster.
A fierce battle ensues that leads to Beowolf's entering the watery lair of Grendel's Mother, where a devil's bargain awaits.
Beowulf returns to Herot, the castle, and becomes King.
Jump ahead many years, and the father's sins are visited upon Beowulf and his kingdom.
The hero must face his weakness and be heroic once again.
Summary of Beowulf Cast
Ray Winstone as Beowulf, the title character.
Crispin Glover and Angelina Jolie as Grendel and his mother, the antagonists.
Anthony Hopkins as King Hrothgar.
John Malkovich as Unferth.
Brendan Gleeson as Wiglaf, Beowulf's lieutenant.
Robin Wright as Queen Wealtheow.
Alison Lohman as Ursula, Beowulf's concubine when he is an old king.
Costas Mandylor as Hondshew.
Sebastian Roche as Wulfgar.
Greg Ellis as Garmund.
Tyler Steelman as Young Cain, Unferth's disabled slave.
Dominic Keating as Adult Cain.
Rik Young as Eofor.
Charlotte Salt as Estrith.
Leslie Harter Zemeckis as Yrsa.
Fredrik Hiller as Finn of Frisia.
Beowulf Age Rating and Beowulf Parents Guide
Know Beowulf Parents Guide. Why Beowulf received this age rating? Read the complete information here about Beowulf age rating in the UK, US, Australia, Canada, Ireland, Switzerland, and overseas.
Beowulf is rated M in Australia, 18A in Canada, 11 in Denmark, K-13 in Finland, 12 in Germany and Iceland, R16 in New Zealand, PG-13 in Philippines, NC-16 in Singapore, R-12 in Taiwan, 12A in United Kingdom, PG-13 in United States.
In fact, the age rating, fixed by MPAA( Motion Picture Association of America TV Series rating system), BBFC (British Board of Film Classification), and Commons sense, TV Parental Guidelines (A television content rating system in the United States).
Stay tuned to get more updates on the age rating of all movies, tv shows, netflix, books, and games. Finally, any suggestions are always welcomed.
Also, please make use of the comment box for your reviews. We are always providing all age ratings for kids, We will make the easy and best way for your kids.