What is The Beastars Age Rating?
Read about Beastars Parents Guide. However, Beastars Age Rating is TV-MA  for Sexual Threat, Violence, Sexual Violence References, Sexual Images, Sexual Violence, Partial Nudity, Brief Smoking.
TV-MA Rating Meaning
Programs rated TV-MA are intended to be viewed by mature, adult audiences and may be unsuitable for children under 17. Contains content that is unsuitable for children.
Beastars Parents Guide
[su_box title="Why Beastars series Rated TV-MA?" style="noise" radius="9″]
[su_table responsive="yes"]
There is partial Nudity and sexual content. You will see a scene where Haru is wearing only a bra and panty but there is not brief sex or nudity in the series.  ( season 1)
Kissing scenes and couples are shown in the bed there is a sex scene but nothing shown, you can only see the sheets covering their entire body except for their shoulders up.
In one episode Haru is kidnapped by the Shishigumi, a gang that hunts and eats herbivores. They threaten Haru to strip naked and treat her.
Legosi squeezed Haru's breast accidentally when he was trying to hold her waist and want to hug her.
Characters are smoking cigarettes and drug dealing is also there in the series.
You will also see some emotional scenes in the series.
In the series, you will see Violence throughout and also blood content, not massive but you can see it in some episodes.
Criminal  and illegal activities and murders, gunshots,
Uses of profanity and cursed words.
[/su_table][/su_box]
Official Poster and Details
[su_box title="Beastars series" style="noise" radius="9″]
[su_table responsive="yes"]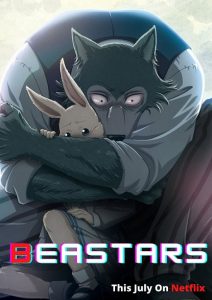 | | |
| --- | --- |
| Series Name | Beastars |
| Genre | Animation, Crime, Drama |
| Age Rating  | TV-MA |
| Directed by  | Shin'ichi Matsumi |
| Episodes | 24 |
| Season | 2 |
| Distributed by  | Netflix |
| Official website | netflix.com |
[/su_table] [/su_box]
Beastars Season 2 Netflix Releasing Date- July 2021 on Netflix
[su_expand more_text="Continue Reading" less_text="Show less" height="90″ link_style="dotted" link_align="center" more_icon="icon: arrow-down" less_icon="icon: arrow-up"]
Beastars director and production
Japanese Anime Netflix TV Series Beastars, directed by Shin'ichi Matsumi. The Series is based on the Japanese manga series of the same name and the manga was written by  Paru Itagaki. 
Japanese TV Series Beastars is produced by Shunsuke Hosoi, Hyuntae Kim, Kiyotaka Waki, Yoshinori Takeeda.
Moreover, the TV Series is Distributed by Netflix.
Beastars Overview
The story is about a place in a world of modern, civilized, anthropomorphic animals with a cultural divide between carnivores and herbivores.
Season 1
A herbivores murders unsettle Cherryton academy with some suspecting grey wolf, Dwarf Rabbit Hal struggles with her classmate bullying.
We will update more details very sooner
Official trailer of Beastars
Summary of Beastars Voice Cast
Chikahiro Kobayashi as Legoshi.
 Yuki Ono as Louis.
 Sayaka Senbongi as Haru.
 Fukushi Ochiai as Sanou.
 Sayumi Watabe as Els.
Junya Enoki as Jack.
Naoto Kobayashi as Durham.
Yûko Hara as Sheila.
Takeo Otsuka as Collot.
Yûichi Iguchi as Kibi.
Genki Muro as Dom
Takaaki Torashima as Bil Nobuhiko.
Okamoto as Kai.
Jonah Scott as Legoshi.
Brian Beacock as Dom.
Ben Diskin as Jack.
Lara Jill Miller as Haru.
Daman Mills as Kai.
Beastars Age Rating and​ Beastars parents guide
Know about​ Beastars age rating and parental Guidance here.
In fact, the age rating, fixed by MPAA( Motion Picture Association of America TV Series rating system),  BBFC (British Board of Film Classification), and Commons sense, TV Parental Guidelines (A television content rating system in the United States).
Beastars  2020 rating 15 in the United Kingdom, and TV-MA in the United States and overseas. In addition, it is rated 14+ in Canada, 16 in Australia.
Other ratings include 16 in Germany, 18 in South Korea, 16 in Spain, and 9 in the Netherlands. Also, 16 in Brazil. This includes the age rating of Beastars
in the US, UK, NZ, Ireland, Canada, Singapore, etc…
Stay tuned to get more updates on the age rating of all movies, tv shows, books, and games.
Also, please make use of the comment box for your reviews. We are always providing all age ratings for kids, We will make the easy and best way for your kids.
[/su_expand]