What is Trinkets Age Rating | Trinkets Parents Guide
Trinkets,  an American teen drama streaming television series, Created by Amy Andelson, Emily Meyer, Kirsten "Kiwi" Smith, based on the 2013 novel of the same name by Kirsten Smith.
Produced by Don Dunn, Scott Levine, Melanie Kirk, Emma Fletcher, Kevin Sullivan.
Production company: AwesomenessTV, Two Blocks Apart Productions.
However, the series Trinkets is distributed by  Netflix.
Read about Trinkets Parents Guide. However, Trinkets age rating is TV-MA for strong language.
TV-MA RATED MEANING:
TV-MA– This program is intended to be viewed by mature, adult audiences and may be unsuitable for children under 17.
Trinkets Parents Guide
[su_box title="Why is Trinkets series Rated TV-MA ?" style="noise" radius="9″]
[su_table responsive="yes"]
Intimate partner violence is core to one story; a boy grabs his girlfriend roughly and refuses to stop having sex when he's pulling her hair and hurting her.
A girl punches a boy. Some blood showed nothing too serious.
Severe curse words like "fuck," "shit," "bitch," "goddamn" and others.
Three underaged girls take pill drug called ecstasy then act that it was great and enjoyable
Teen kids seeing drinking alcohol.
No nudity is shown but some kissing scenes are shown throughout the series.
[/su_table][/su_box]
Trinkets Season 2 Release date
The series Trinkets (season second and final season) was released on 25 August 2020, on Netflix.
Official Poster and Details
[su_box title="Why is Trinkets series Rated TV-MA ?" style="noise" radius="9″]
[su_row][su_column size="1/2″ center="no" class=""]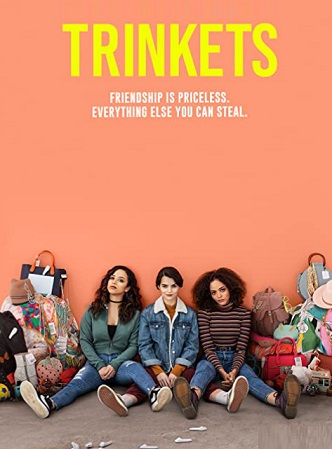 [/su_column] [su_column size="1/2″ center="no" class=""]
[su_table responsive="yes"]
Series 

Name
Trinkets

Genre

Comedy, Crime, Drama

Age Rating 

TV-MA

Season 

2

Episode

20

Running time 

21–30 minutes

Created by

Amy

Andelson, 

Emily Meyer,

Kirsten "Kiwi" Smith

Distributor 

Netflix

Official website

NetflixOfficial
[/su_table][/su_column][/su_row][/su_box]
Note!
If you already watched the
series
, please inform us about the parental guidance here with your support, we can bring out a better vision to everyone.
[su_expand more_text="Continue Reading" less_text="Show less" height="90″ link_style="dotted" link_align="center" more_icon="icon: arrow-down" less_icon="icon: arrow-up"]
Series Trinkets

Overview
Season 1 
Portland teens Elodie, Tabitha, and Moe meet at a Shoplifters Anonymous gathering and rapidly bond over their unique arrangement of unlawful abilities. Be that as it may, which begins as taking little things from stores grows into quite genuine wrongdoing by the finale.
SEASON 2 
Season two happens throughout the fall and starts not long after the finish of season 1. All through, we watch as each character attempts to recuperate old injuries, fundamentally around trust, and prep for their future. With Elodie, this implies accommodating, again, with her dad and his new family, and relinquishing her need to take. Meanwhile, after a turbulent time with Sabine, attempt to discover love with the undeniably less muddled Jillian.
With respect to Tabitha? Indeed, managing her folks, Lori and Whit, are a minor piece of her excursion. Essentially she centers around attempting to build up herself personally, outside of her folks or likely sentiments, while attempting to get Brady forever out of her life. An errand which is hard since he trusts her rejoining with Moe is a stage that will before long be finished.
Leaving the incredible and amazing Moe. With her scholarly position compromised, if not lost, she appears to be prepared to satisfy her family's standing until her sibling, Ben, gets back home. Somebody who additionally is battling with bearing in their life however apparently will outfit himself towards the culinary expressions. Be that as it may, while things approve of Ben, among Noah and the appearance of Moe and Ben's dad Danny, Moe's center is by all accounts about pardoning and figuring out how to not hold resentment as she attempts to continue on.
Trinkets – Wallpapers and Image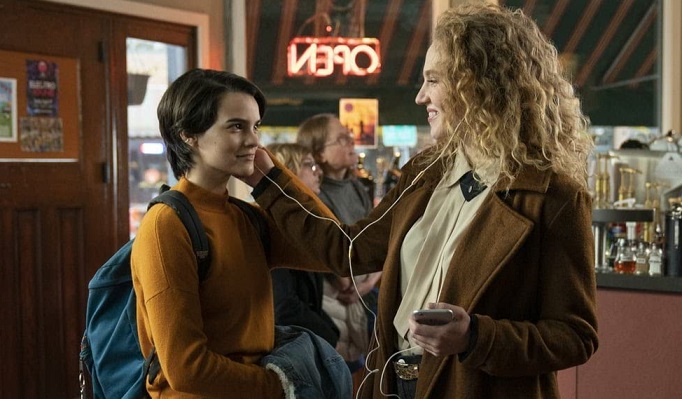 Official Trailer of Trinkets
[youtube https://www.youtube.com/watch?v=BegK8MyhDf0]
[youtube https://www.youtube.com/watch?v=2iabHMeHSGs]
Summary of Trinkets -Cast
Brianna Hildebrand as Elodie Davi
Kiana Madeira as Moe Truax
Quintessa Swindell as Tabitha Foster
Brandon Butler as Brady Finch
Odiseas Georgiadis as Noah Simos
Larry Sullivan as Doug Davi
Linden Ashby as Whit Foster
October Moore as Vicky Truax
Henry Zaga as Luca Novak
Parker Hall as Spencer
Jessica Lynn Skinner as Kayla Landis
Haley Tju as Rachelle Cohen-Strauss
Katrina Cunningham as Sabine
Joy Bryant as Lori Foster
Jacob Skidmore as AJ
Andrew Jacobs as Ben Truax
Chloë Levine as Jillian
Austin Crute as Marquise
Nik Dodani as Chase 
We will update more details very sooner
Trinkets Age Rating and Trinkets parents guide
Know about​ Trinkets age rating and parental Guidance here. Trinkets' age rating in the UK, US, Canada, Ireland, Switzerland, and overseas is explained here.
16 in Argentina, M in Australia, 12 in Germany, 16 in the Netherlands, R21 in Singapore, 18 in South Korea, 13 in Spain, 15 in the United Kingdom, TV-MA in the United States
Stay tuned to get more updates on the age rating of all movies, tv shows, books, and games. Finally, any suggestions are always welcomed. In fact, the age rating, fixed by MPAA( Motion Picture Association of America TV Series rating system),  BBFC (British Board of Film Classification), and Commons sense, TV Parental Guidelines (A television content rating system in the United States).
Also, please make use of the comment box for your reviews. We are always providing all age ratings for kids, We will make the easy and best way for your kids.
[/su_expand]