Totally Killer (2022 Film) Introduction and Wiki
Totally Killer Age Rating
Why Totally Killer is rated R?
MPA Rating– Totally Killer is Rated R for bloody violence, language, sexual material, and teen drug/alcohol
The R rating indicates that the content is intended for adult audiences, typically 17 years and older. This suggests that the film may contain content that is not suitable for younger viewers and could be potentially offensive or inappropriate.
Officially the film is rated R, but it depends on how mature your kids are to watch the film. As a parent, you will have to decide if Totally Killer is suitable for your kids or not. Our detailed content guide will help you to decide if Totally Killer is OK for your kids or not.
Film Totally Killer Parents Guide
Here is the detailed content guide about the film that parents should read before letting their kids watch the film.
Our parents guide for Totally Killer will help you to decide if Totally Killer is OK for kids and you will also get to know if Totally Killer is appropriate for kids or not.
Sex & Nudity
The section will be updated for you soon
Violence & Gore
In this movie, there is a lot of violence and gore shown.
There are parts where you see pictures that have a lot of blood and scary things in them.
A man wearing a cartoon mask tried to stab a girl in the stomach.
There are many scenes in this film where knives have been used extensively.
A lot of Frightening scenes throughout the film.
Alcohol & Drug Use
The characters in the film are shown drinking alcohol and smoking cigarettes.
The film depicts teenagers using drugs.
Parental Considerations
Given the film's R rating, parents and guardians should exercise caution when considering whether the content is appropriate for their children.
The explicit content detailed in the age rating suggests that the film is intended for mature audiences who can handle adult themes, strong language, and sexual content.
Parents should consider their child's maturity level, comfort with explicit content, and their family's preferences when viewing.
Other Details
Here is the Totally Killer synopsis, cast, and trailer.
Totally Killer Release Date
Totally Killer is scheduled to be released on October 6, 2023.
What Totally Killer is about?
In this film, there is a killer named "Sweet Sixteen Killer" and he comes back after 35 years to hurt someone again. But by chance, a 17-year-old boy named Jamie goes back to 1987, where he tries to stop the killer and save people. He wants to make sure bad things don't happen again.
Who is in the cast of Totally Killer?
Here, is the list of Totally Killer Cast and Characters
Kiernan Shipka as Jamie Hughes
Olivia Holt as Pam Miller
Charlie Gillespie as Teen Blake Hughes
Lochlyn Munro as Adult Blake Hughes
Troy Leigh-Anne Johnson as Teen Lauren Creston (as Troy L. Johnson)
Liana Liberato as Tiffany Clark
Kelcey Mawema as Amelia Creston
Stephi Chin-Salvo as Marisa Song
Anna Diaz as Heather Hernandez
Ella Choi as Teen Kara Lim
Jeremy Monn-Djasgnar as Teen Randy Finkle
Nathaniel Appiah as Teen Doug Summers
Jonathan Potts as Chris Dubasage
Randall Park as Sheriff Dennis Lim
Julie Bowen as Pam Hughes
Zachary Gibson as Teen Lurch (as Zach Gibson)
Nicholas Lloyd as Teen Chris Dubasage
Kimberly Huie as Adult Lauren Creston
Official Trailer
Conclusion
Totally Killer Parents Guide: This is a Horror, Comedy film, but its R rating for explicit content is a cautionary sign for parents and guardians.
While the film may appeal to adult audiences who appreciate this type of humor, parents need to make informed decisions about whether the content aligns with their family's values and their child's readiness for mature content.
Totally Killer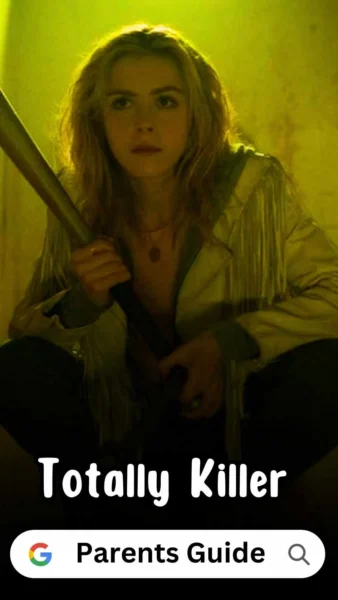 Director: Nahnatchka Khan
Date Created: 2023-10-06 11:01