The Santa Clause Parents Guide
The Santa Clause is An amazing Comedy, Drama, Family, and Fantasy film it was directed by John Pasquin and was penned by Leo Benvenuti, and Steve Rudnick It will make your Christmas celebration more colorful and cheerful.
The Santa Clause film was released in 1994 in the United States, The fixed date of release was November 11, 1994, and it grossed approximately $190 million. Two sequels were also made to this film Santa Claus 2 and 3 and both films were successful.
The franchise is still continuing as a series that premiered on Disney+ on November 16, 2022. The series was also titled The Santa Clause.
You need to pay attention to whether it is suitable for the age of your children or not, Or you are in dire need of paying attention to whether the movie or series being watched somewhere is not suitable for your children.
So keeping this in mind we and our team come up with your parents guide and age rating to keep your kids away from inappropriate things like About some inappropriate movies, series, and games. Read The Santa Clause Parents Guide and Age Rating article below.
To get more information related to this Movie, read carefully the complete article written below and get more information. Our aim is to provide you with the best and simple parenting guide so that you can provide the right program for your children.
Synopsis/Overview
When a man accidentally knocks down Santa Claus on Christmas Eve, he finds himself in Santa's place because of that mistake.
Have a look at the Age Rating of The Santa Clause
The Santa Clause is Rated PG for a few crude moments. (Rated PG means some content that parents of children may find inappropriate.)
According to the rating given to this movie, it is allowed to be viewed with adults which means you can watch it in the presence of an adult, And adult presence is required because it may contain material that parents may find inappropriate for their children.
Read The Santa Clause Parents guide below
There are some crude moments.
The word hell is used in the beginning.
Scott, the main character of the film, is being interrogated by the police in one scene and the policeman is seen smoking a cigarette.
The officer is seen taking out the cigarette from the table.
In a hurry, Santa Claus falls from the roof and dies. He could have been hurt. This is a comic scene but it also shows the damage.
Wallpaper and Images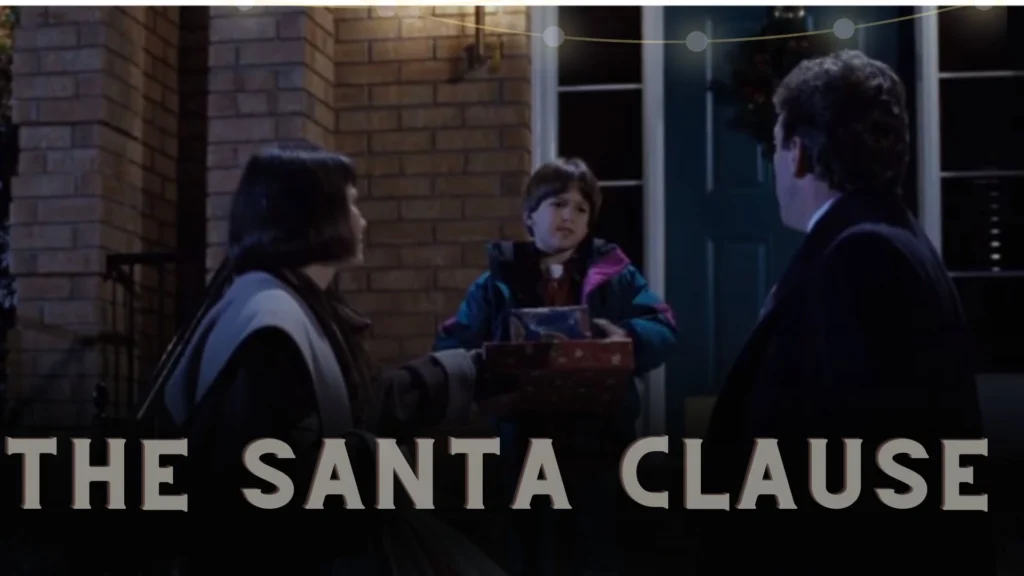 Know the Cast of The Santa Clause
Tim Allen as Scott Calvin
Judge Reinhold as Neal
Wendy Crewson as Laura
Eric Lloyd as Charlie Calvin
David Krumholtz as Bernard
Larry Brandenburg as Detective Nunzio
Mary Gross as Ms. Daniels
Paige Tamada as Elf-Judy
Peter Boyle as Mr. Whittle
Judith Scott as Susan
Jayne Eastwood as Waitress
Melissa King as Little Girl
Bradley Wentworth as Elf at North Pole
Azura Bates as Elf in Hangar
Joshua Satok as Elf-Larry
Zachary McLemore as Bobby
Joyce Guy as Principal Compton
Lindsay Lupien as Kid Two
Watch the trailer of The Santa Clause here
Know what the trailer of The Santa Clause says
Scott Calvin is a successful toy salesman who prepares to celebrate the coming Christmas with his son. His son's name is Charlie. His father wants his son to keep his faith in Santa Claus. Scott's first wife and her husband gave up their belief in Santa at an early age, and they both want Charlie to do the same.
One Christmas Eve, Scott lights a turkey and comes out with what appears to be a noise that surprises Santa on the roof. And Santa Claus falls down in a huff, he is dead and his body disappears. Scott receives a business letter from Santa.
It is written in that letter that if something happens to me, then wear this coat, the rest of the work is known to the deer. And Scott goes on a journey dressed in a suit with twelve horns and he finds himself as Santa Claus.
Big sites that are aware of your children and tell you further ratings and help you in your good guidance like MPAA ( Motion Picture Association of America Film rating system),  BBFC (British Board of FilmClassification), and Commons sense, TV Parental Guidelines (A television content rating system in the United States).
What is the Age Rating of The Santa Clause?
The Santa Clause film is Rated PG.
Why The Santa Clause movie is Rated PG?
The Santa Clause Movie is Rated PG for a Few Crude Moments.
Is The Santa Clause Movie Appropriate for 12 years old kids?
Yes, The Santa Clause Movie is suitable for children from 12 years old but must be accompanied by an adult.
Can 10-year-olds see The Santa Clause movie?
Yes, The Santa Clause Movie is suitable for children from 10 years old but must be accompanied by an adult.
Does The Santa Clause movie contain some material inappropriate for 10-year-olds?
yes, this movie has some inappropriate content for 10-year-olds like some funny memes here and there and some crude moments in it.
Why did you need to read The Santa Clause Parents Guide?
Parents Guide A guide that is for the good and bad of the children There are some scenes that are not good for the children, Such material is told through the parents guide that the movie or series or game is not suitable for children and the reason for this is the material present in it, Which can spoil the children and also improve.
So that's why it is important to read the parents guide before watching anything be it a movie series or game. The Parent's Guide for this series is not available at the moment and will let you know as soon as we find out.
The Santa Clause Parents Guide. Do you know what is the use of reading parents' guides and Age ratings if not then know Having a rating and outcome guide is essential because it guides what is or isn't right for your kids.
The Santa Clause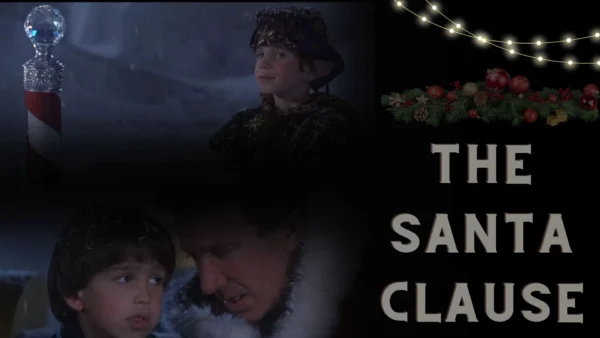 Director: John Pasquin
Date Created: 1994-11-11 04:03