The Mean One Parents Guide
The Mean One is an upcoming American Christmas slasher comedy film. The film is directed by Steven LaMorte and written by Flip and Finn Kobler. Finn Kobler has worked with director LaMorte previously on other projects.
It casts David Howard Thornton, Krystle Martin, Chase Mullins, and Amy Schumacher. The Mean One is edited by Mathew Roscoe.
The Mean One is the fourth screen adaptation of Doctor Seuss's children's book. The first adaptation is the 1966 television special, the second adaptation is the 2000 live-action feature-length film.
The style of the movie will be the same as other horror film adaptations of children's franchises, like Winnie-the-Pooh: Blood and Honey and The Banana Splits Movie.
If you want to know The Mean One parents guide and age rating of the upcoming film named The Mean One then you are at the right place, here we will provide you with all the details of each and every film and series. Read The Mean One Parents Guide and Age Rating Below the article.
The Mean One Release date
The new film The Mean One was announced to release on December 15, 2022, but Now, it is shifted to release on December 9, 2022. According to the news, its date is being told as December 9, although earlier it was likely to be released on December 15.
| | |
| --- | --- |
| Name | The Mean One |
| Genre | Horror |
| Director | Steven LaMorte |
| Release Date | December 15, 2022 |
| Runtime | 1h 33m |
| Country | United States |
| Language | English |
| Age Rating | 17+ |
| Production Company | Sleight of Hand Productions |
| Distributor | Atlas Film |
The Mean One Parents Guide
Official Synopsis
The story is focused on a small mountainous village called Newville, A green monster terrorizes the inhabitants every holiday season wearing a red Santa suit. After witnessing The Mean One brutally murder her parents 20 years ago, Cindy You-Know returns to Newville, dead set on vengeance.
The Mean One Age Rating
The Mean One is Not Rated in the United States it is Rated 15 in Sweden.
Age rating tells us which age group of movies and series are suitable for which age audience and for whom they are inappropriate. Through the age rating, it is easily known whether you can watch it at the age you are It is necessary as a way to show the way to the parents.
The Mean One is intended to be viewed by mature, adult audiences as it contains content that is unsuitable for children. Children Under 17 Require Accompanying Parent or Adult Guardian.
Age ratings are recommendations for parents and carers of kids to help them decide what is appropriate for their child depending on what stage of development they are at.
The Mean One Parents Guide
Violence and Gore.
The scary-looking creature that looks like a cannibal animal breaks some glass thing on a person's head, and some splashes of blood are shown from the head but it was not clear.
Murder Cannibal-looking creature commits murder, and kills people mercilessly.
When a cannibal kills an old man, a blood-soaked blade breaks the glass and comes out.
In horror scenes, an unknown hand scares a sleeping girl.
Use of Weapons like Guns Firing.
The Mean One Parents Guide
The Mean One Wallpapers and Images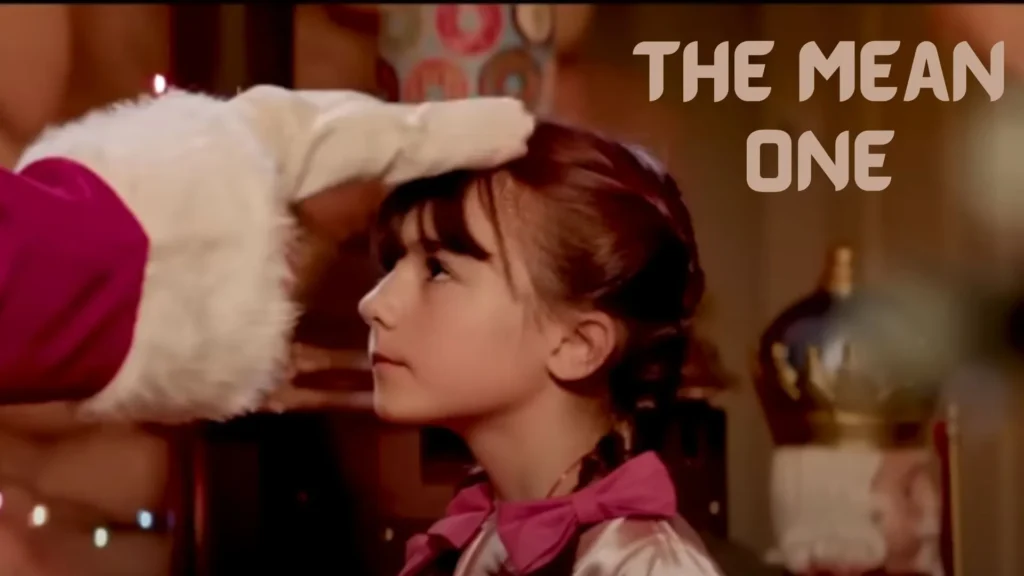 The Mean One Casts and Characters
The cast of The Mean One includes:
David Howard Thornton as The Mean One
Krystle Martin as Cindy
Chase Mullins as Officer Burke
Amy Schumacher as Mayor McBean
Christopher Sanders as Narrator
Rachel Winfree as Bartender
Jessie Holder Tourtellotte as Anchorwoman
Allyson Sereboff as Nurse
Stephanie Bates asStephanie
Molly Flanagan as Ms. Claus Influencer
Flip Kobler as Lou
Steven Busby as Anchorman
Robert DiTillio as Don
Ernie Charles as EMT
Andrew Fultz as Dick Santa 2
Alexandra Vaughan as Hiker Girl
Whit Spurgeon as Bus Driver
Victoria Ippolito as Waitress Emily
Erik Baker as Sheriff Hooper
Aubrey Mozino as Christmas Box Influencer
John Bigham as Doc
Christine DiTillio as Martha
Tina Van Berk as Mom
Saphina Chanadet as Young Cindy
Brian Waters as Dick Santa
Josh Arnold as Delivery Driver
Kale Shepherd as Santa Con Santa
What The Mean One film is Rated?
The Mean One is Not Rated in the United States it is Rated 15 in Sweden.
Can teens watch The Mean One film?
No, The Mean One film is Unsuitable fr teens.
Is The Mean One film appropriate for 15 years old?
The Mean One film is not appropriate for 15 years old because there is some inappropriate content.
Official Trailer
Ratings are not designed to tell that films are appropriate or inappropriate. Ratings are designed for saying what kind of content is included in the movie or series to give parents a chance informed decisions on what they are allowing their children to watch so read The Mean One Parents Guide.
The age rating is fixed by the MPAA ( Motion Picture Association of America Film rating system), BBFC (British Board of FilmClassification), and Commons sense, TV Parental Guidelines (A television content rating system in the United States) read The Mean One Parents Guide.