Swarm Parents Guide
Swarm is a Comedy, Drama series of 2023 created and written by Donald Glover, and Janine Nabers.
Swarn is Amazon Studios produces series which is also be going to distributed by Amazon Prime Video.
Here in this article, we are writing about what parents should know about Amazon Studios' series Swarm. The Swarm Parents Guide and Age rating are essential for parents to know whether Swarm is appropriate for their children or not.
Swarm Age Rating
Swarm is rated TV-MA on prime videos which means Swarm is not appropriate for younger teens and should be viewed by Mature Adults Only or by viewers 18 and up.
No one below 17 is allowed to watch Swarm. It is advised to parents to not let their minor kids watch the series as it contains mature content.
Swarm Parents Guide
Sexual Content and Nudity
There is a sex scene with moaning and thrusting and brief kissing scenes.
The shirtless man is shown in multiple scenes throughout.
Female characters are seen in revealing clothes.
There is a scene in episode two in which a girl is showing off her butt.
Full male and female nudity is shown in episode two showing their bare butts and breast, and episode four also includes scenes of nude females showing their bare breasts.
Episode two includes brief sexual content also seen a man is m*sterb*ting and moaning.
Violence:
A guy is killed by a girl by attacking his head not shown in front of the camera and then blood is seen on her face and hands. These scenes can be sensitive for some viewers.
A man and a woman are killed in the episode and blood is shown.
A man tries to kill a girl by strangling her but she was saved by other girls and then the man is killed instead.
A man is brutally beaten with a hammer on his head and killed in episode three a lot of blood is shown on the floor this scene was very sensitive. Later the girl is shown cleaning the bloody floor.
There is a kissing scene between two girls in episode seven.
Substance use:
People are seen drinking alcohol in multiple scenes.
A lot of consumption of alcohol and another type of illegal drugs is shown in the series.
Language:
Swarm includes adult and mature language throughout the series.
Words such as f*cking, a**, f*ck, s*cking, etc… and also some dialogues about c*nd*m.
Plot: What's the Story About?
This comedy, series is titled Swarm. This film's story about A young woman's obsession with a pop star takes a dark turn.
When and Where can I Watch Swarm?
You can watch the Swarm series on Amazon Prime Video on March 17, 2023.
Wallpaper and Images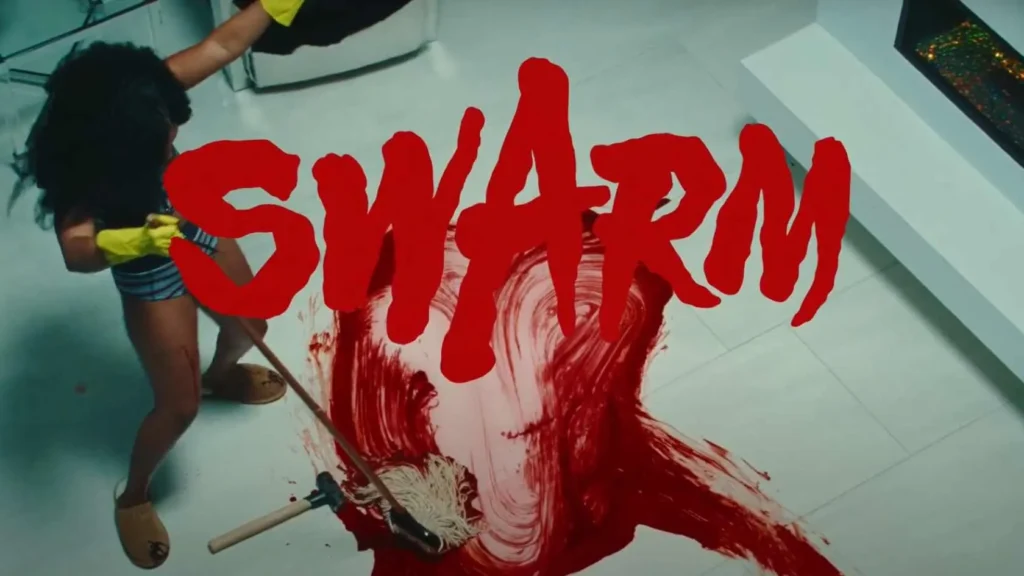 Who is in the Cast of Swarm?
Here, is the complete list of Swarm Cast and Characters
Dominique Fishback as Dre
Damson Idris
Leon
Rory Culkin
Karen Rodriguez
Chloe Bailey as Marissa
Nirine S. Brown
Christopher Avila as Caesar
Geeta S. Munshi as Vaishnavi
Pam Trotter as Black Mom
Nicole Mangi as Nurse
Derrick T. Tuggle as Funeral Director
Kevin E Tribble as Funeral Director #2
Kai N. Ture as Young Dre
Kyleigh Reese as Young Marissa
Atkins Estimond as Reggie
Danielia Maximillian as Grace
Kenzie Dalton as Audrey
Swarm Official Trailer
Swarm FAQ
Who is the director of Swarm?
Donald Glover is the director of Swarm.
When will Swarm be released?
Swarm is scheduled to be released on March 17, 2023.
Who is the distributor of Swarm?
Amazon Prime Video is the distributor of Swarm.
Movies and series get different ratings in different countries like the UK, the US, Australia, Singapore, Canada, etc.
Before watching a movie, it is crucial for parents to read the Parents Guide and further ratings so that they know whether the movie is correct or not for their children And they get to know about the good or bad content present in the film.
If it is suitable for the kids then they can watch it with them, And if not, then they can refuse to see them because if any material in it is not suitable for their children, then they can tell that.
Sites Like MPA (Motion Picture Association of America), and BBFC (British Board of Film Classification) Gives rating license for movies and supports you for a better future for your children, That's why it should be the duty of every parent to open the doors of a better future for their children through age rating and parents guide.
Swarm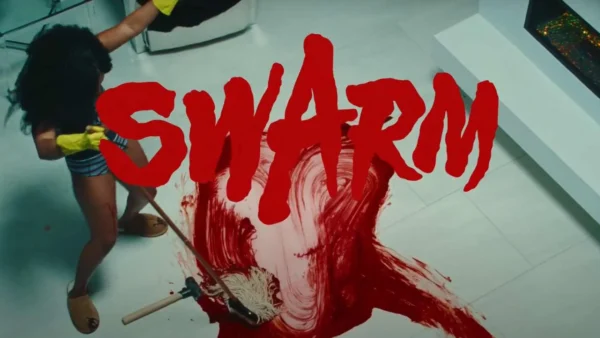 Director: Donald Glover
Date Created: 2023-03-17 16:52