Rogue One: A Star Wars Story Parents guide and Age Rating
Rogue One: A Star Wars Story is a 2016 American epic space opera film. Gareth Edwards directs this film. His upcoming movie is True Love. It was produced by Lucasfilm and distributed by Walt Disney Studios Motion Pictures.
Main Characters of Rogue One: A Star Wars Story are Felicity Jones, Diego Luna, Ben Mendelsohn, Donnie Yen, Mads Mikkelsen, Alan Tudyk, Riz Ahmed, Jiang Wen, and Forest Whitaker.
| | |
| --- | --- |
| Name | Rogue One: A Star Wars Story |
| Also Known as | Rogue One |
| Director | Gareth Edwards |
| Genre | Action, Adventure, Sci-Fi |
| Release Date | December 16, 2016 |
| Run Time | 2Hours 13Minutes |
| Age Rating | PG-13 |
| Country | United States |
| Language | English |
| Distributor | Walt Disney Studios Motion Pictures. |
Synopsis
Rogue One: A Star Wars Story tells that Former scientist Galen Erso lives on a farm with his wife and young daughter, Jyn. His peaceful existence is cut short when the evil Orson Krennick takes him away from his loving family.
After a long time, Galen becomes the Empire's lead engineer for the Death Star, the most powerful weapon in the galaxy. Knowing that her father holds the key to its destruction, Jean joins forces with a spy and other Resistance fighters to steal the space station's plans for the Rebel Alliance.
Rogue One: A Star Wars Story Wallpaper and Images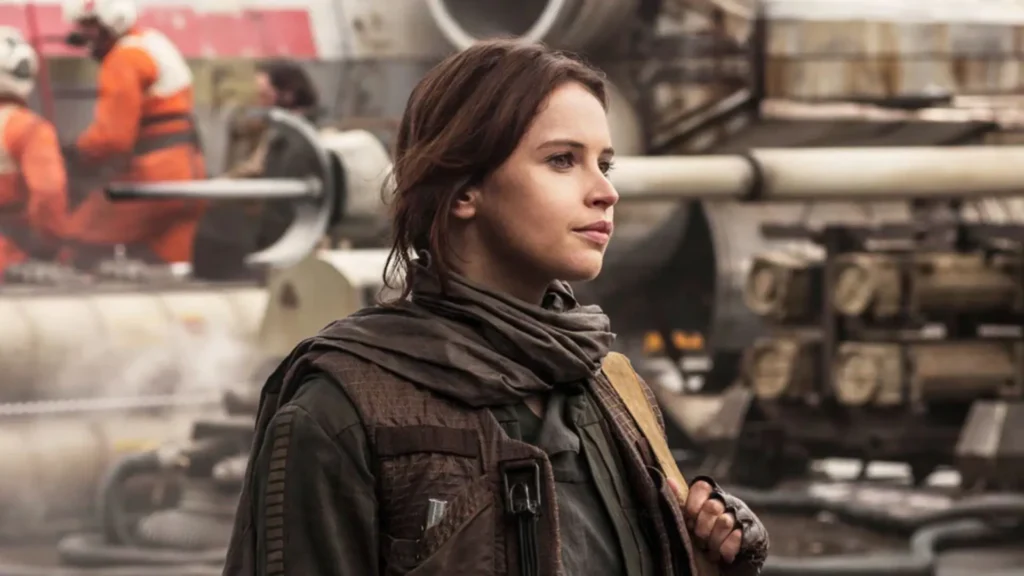 Rogue One: A Star Wars Story Age Rating
Rogue: One: A Star Wars Story rated is PG-13. It means that this is not considered suitable for children under the age of thirteen but parents can decide whether or not to allow their children to watch the movies.
Wonder if you want to know why those under the age of 13 children can not watch Rogue One: A Star Wars Story. So we have written below Parents Guide which you can know by reading.
Rogue One: A Star Wars Story Parents Guide
Some Violence
Use of Alcohol
Use of Strong Language
Frightening Scenes
Official Trailer
Trailer Explained
This new trailer opens with a beautiful view of a ringed planet, with an Imperial shuttle coming in for a landing. The team is composed of Death Troopers who are part of the Imperial Intelligence Division, with the team operating under Director Krennic, who is high up in the Advanced Weapons Research Division. We've seen them in trailers before, and they're very, very scary.
Then, we get our first glimpse of Galen Erso, a brilliant weapons designer who apparently played a key role in bringing the Death Star online. This is likely a flashback to when Krennic recruited Erso for the job.
The Cast of Rogue One: A Star Wars Story
Felicity Jones as Jyn Erso
Diego Luna as Cassian Andor
Alan Tudyk as K-2SO
Donnie Yen as Chirrut Îmwe
Wen Jiang as Baze Malbus
Ben Mendelsohn as Orson Krennic
Guy Henry as Governor Tarkin
Forest Whitaker as Saw Gerrera
Riz Ahmed as Bodhi Rook
Mads Mikkelsen as Galen Erso
Jimmy Smits as Bail Organa
Alistair Petrie as General Draven
Genevieve O'Reilly as Mon Mothma
Ben Daniels as General Merrick
Paul Kasey as Admiral Raddus
Stephen Stanton is voiced by Admiral Raddus
Ian McElhinney as General Dodonna
Fares Fares as Senator Vaspar
Here through this article, know what rating this series has got and why it has got different ratings in different countries. Why did it get this rating in all these countries like the UK, the US, Australia, Canada, Ireland, Switzerland, and abroad?
Big sites that are aware of your children and tell you further ratings and help you in your good guidance like MPAA ( Motion Picture Association of America Film rating system), BBFC (British Board of FilmClassification), and Commons sense, TV Parental Guidelines (A television content rating system in the United States).