Pacific Rim Age Rating | Explained With Reason
Know what is the age rating of Pacific Rim, the 2013 movie. Pacific Rim Age Rating is explained here. Why Pacific Rim 2013 received this age rating? Read the complete information here. Pacific Rim 2013 movie age rating in the UK, US, Canada, Ireland, Switzerland, and overseas. Pacific Rim MPAA rating and the BBFC rating 2013.  Find Pacific Rim movie Parental Guidance and Parental Appropriate here.
| | |
| --- | --- |
| Movie Name | Pacific Rim  |
| Film By | Guillermo del Toro |
| Type | Action, Adventure, Sci-Fi |
| Age Rating | PG-13 |
| Cast | |
| Running Time | 131 Min |
| Release Date | 12 July 2013 |
| Price | Buy Now | Watch Now |
| Official SIte | – |
Pacific Rim Film Overview
Film Pacific Rim, directed by Guillermo del Toro. The  American Monster, Adventure, Sci-Fi, action, genre movie casting includes Charlie Hunnam, Idris Elba, Rinko Kikuchi, Mana Ashida, Charlie Day, Rob Kazinsky, and others. Obviously, Charlie Hunnam plays the role of Raleigh Beck, a former pilot. While Idris Elba stars as Marshal Stacker Pentecost, Raleigh's commanding officer. And Rinko Kikuchi features as Mako Mori, the co-pilot. Moreover, Charlie Day comes as Dr. Newt Geiszler, a scientist.
Legendary Pictures and DDY produced the movie, Pacific Rim. It plots the story of the war between human and a strange gigantic sea monsters. Where a former pilot and a trainee are paired up to drive an enormous machine/ weapon to fight against the monsters.
What is Pacific Rim Age Rating
The movie, Pacific Rim Age rating, is PG-13.
In fact, the age rating, fixed by MPAA( Motion Picture Association of America film rating system). PG-13 means the movie includes contents where children under the age of 13 require parental guidance.  Firstly, PG-13 rated -Pacific Rim, for including brief language, sci-fi violence, and action throughout, not suited for children under the age of 13.
Pacific Rim 2013 rated 12A in the United Kindom and PG-13 in the United States and overseas. In addition, it is rated M in Australia and PG in Canada. Other ratings include a PG13 in Singapore 12 in South Korea, 12 in Spain, 14 in Switzerland. This includes the age rating of Pacific Rim in the US, UK, NZ, Ireland, Canada, Singapore.
Explained Why Pacific Rim Received PG-13 Age Rating
Men are found shirtless no nudity or kissing
Sci-fi violence involving giant monsters stabbing and shooting
Bloody content on human characters
Characters fall from the Robots and bloodshed
Underwater stabbing and gun involved violence
a massive explosion due to a bomb explosion in ocean killing all monsters
Moderate profanity with major swear words usage
No alcohol usage, only medical drugs usage
Constant peril and some monsters are frightening scenes for kids
Man being eaten by Kaiju is aggressive
Eventually, these are the reasons for the PG-13 rating for Pacific Rim.
Pacific Rim Age Rating – Release date
In fact, Pacific Rim reached the global theatres 12 July 2013. In addition, the distribution rights purchased by Warner Bros. Pictures.
Pacific Rim Age Rating – wallpapers and Images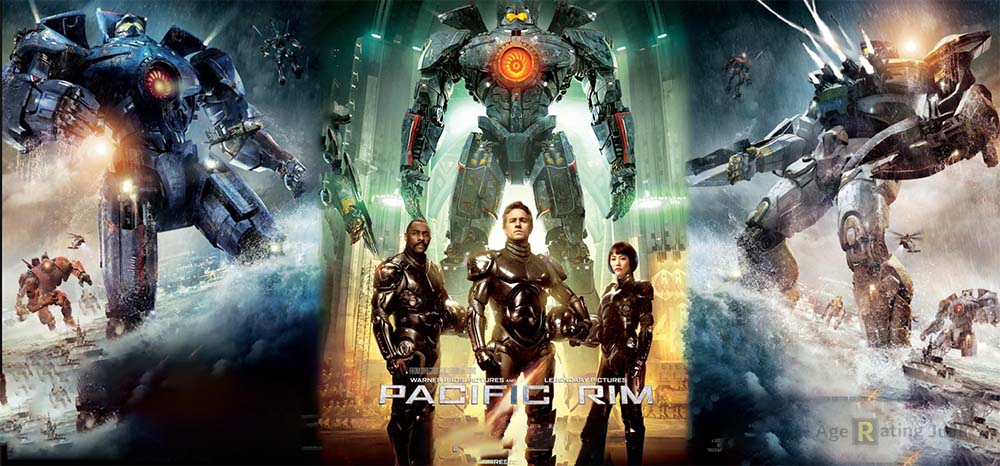 Official Trailer of the film Pacific Rim
What is Pacific Rim Runtime
The movie will take an approximate 131 minutes. That's a 2 hour,11 minute movie.
Stay tuned to get more updates on the age rating of Pacific Rim. In fact, you can read the complete information about the upcoming movies to reach theatres here. Finally, any suggestions always welcomed. Also, please make use of the comment box for your reviews.