My Adventures with Superman is an upcoming Animation, Action, Adventure television series created by Jake Wyatt. The main cast includes Jeannie Tirado, Jack Quaid, Kiana Madeira, and others.
The production work of this Series is done by the following production company DC Entertainment, and Warner Bros. Animation. Famous Distributor Adult Swim and HBO Max distribute it.
Age ratings are recommendations for parents and carers of kids to help them decide what is appropriate for their child depending on their stage of development.
Here's a look at My Adventures with Superman age ratings, My Adventures with Superman Parents Guide, Release Date, Cast, Official Trailer, and more.
Details:
| | |
| --- | --- |
| Name | My Adventures with Superman |
| Genre | Animation, Action, Adventure |
| Release Date | July 6, 2023 |
| Country | United States |
| Language | English |
| Age Rating | TV-PG |
| Distributor | HBO Max |
My Adventures with Superman Parents Guide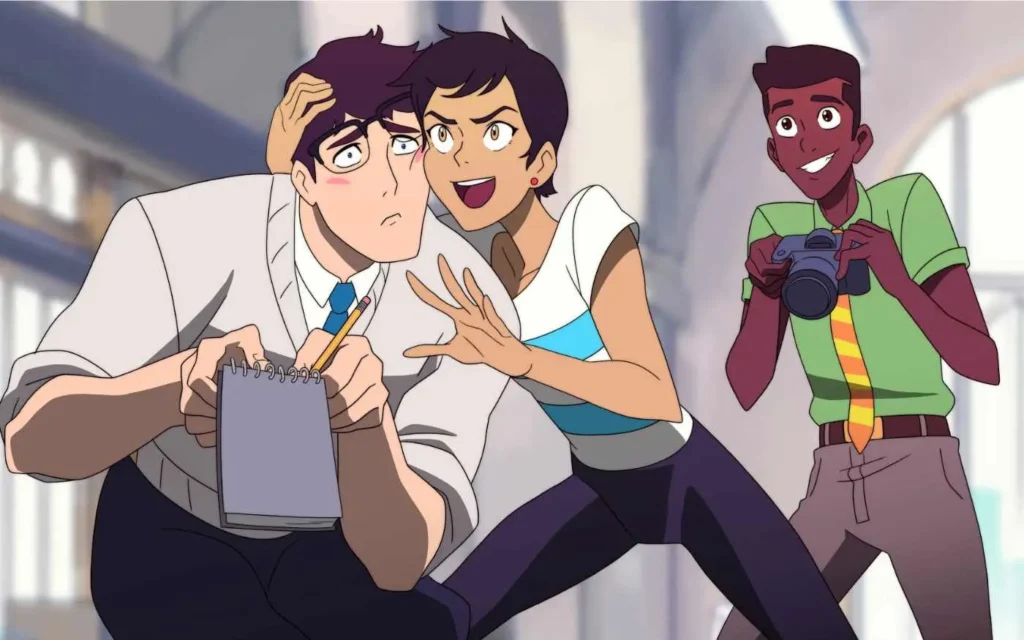 My Adventures with Superman Age Rating
My Adventures with Superman is rated TV-PG which makes it suitable for a broad audience including children and pre-teens, as well as older viewers.
TV-PG rating indicates that the show contains content that may require parental guidance for younger audiences due to mild thematic elements or occasional humor that could be better understood by older viewers. While the show remains appropriate for most age groups, parents and guardians are encouraged to watch alongside their children to ensure that the content aligns with their comfort levels and values.
My Adventures with Superman Parents Guide: Content Advisory
Parents are advised to be aware of the following content which is included in the tv show. The given content guide is made to aware parents of the content that they will see in the series.
Sexual Content and Nudity
There is no explicit sexual content or nudity in the show. However, there are moments in some episodes where the main characters, Clark and Lois, engage in playful flirting and share nervous glances with each other. These interactions are suitable for the participant's age and have a playful tone.
Violence & Gore
The show contains mild violence with scenes involving evil giant robots, explosions, futuristic guns, and other sci-fi weapons. These action sequences are stylized and fantastical in nature, intended to maintain a sense of excitement and adventure. While there is action and peril, the level of violence is suitable for a general audience, including children and pre-teens.
Profanity
The show refrains from using explicit profanity. Instead, mild language and name-calling such as "heck" and "dummies" are occasionally used. The language remains within a mild and playful context, aligning with the show's family-friendly nature.
Alcohol, Drugs & Smoking
There are no depictions of alcohol, drugs, or smoking in the show. The content maintains a clean and wholesome atmosphere without portraying these elements.
Frightening & Intense Scenes
While the show features characters often facing perilous situations, it's important to note that Superman always comes to the rescue and ensures a positive outcome.
The intensity of these scenes is generally mild and is designed to maintain a balance between excitement and safety. Younger viewers might find some moments to be slightly intense, but the overarching theme of heroism and rescue should reassure them.
Key Messages for Children
Parents may use My Adventures with Superman as an opportunity to discuss the following messages with their children:
Embracing Your Identity
Follow Clark as he discovers his true self and builds his secret Superman identity. Just like him, it's okay to take your time to understand who you are and embrace your strengths and abilities.
Friendship and Mentorship
Lois becomes a guiding figure for aspiring photographer Jimmy Olsen, teaching the value of friendship and helping others grow. Just like Lois, you can be a mentor to your friends and learn from those who have more experience.
Love and Partnership
Watch as Clark and Lois fall in love and share exciting adventures together. Remember, love and partnership are about supporting and caring for each other as you face challenges side by side.
Facing Challenges
See Clark and Lois take down bad guys and overcome obstacles. Just like them, you can face challenges with courage, determination, and the belief that you can make a positive difference.
Heroism and Responsibility
Learn about what it means to be a hero, not just in strength but in character. Like Superman, you can be a hero by helping others, standing up for what's right, and making the world a better place.
Teamwork and Cooperation
See how Clark, Lois, and their friends work together to achieve their goals. Teamwork and cooperation help us accomplish bigger things and create strong bonds with others.
Plot: What's the Story About?
The series is about Clark Kent who takes on his secret Superman identity and embraces his role as the hero of Metropolis, sharing adventures and falling in love with Lois, a star-studded journalist who meets Jimmy.
When and Where Can I Watch My Adventures with Superman?
My Adventures with Superman will be released on July 6, 2023. You can watch My Adventures with Superman on HBO Max.
Wallpaper and Images
Who is in the Cast of My Adventures with Superman?
Here, is the complete list of My Adventures with Superman Cast and CHaracters
Jeannie Tirado as Lana Lang
Jack Quaid as Clark Kent…
Kiana Madeira as Kara Zor-El…
Alice Lee as Lois Lane
Azuri Hardy-Jones as Flip
Michael Yurchak as Winslow Schott
Trailer: Is there any trailer available?
Trailer Breakdown
In this trailer, twenty-year-old Clark Kent catches up with the bright and driven Lois Lane and her best friend Jimmy Olsen as they begin to discover who they are and everything they've been.
Conclusion
My Adventures with Superman is rated TV-PG, indicating that it contains content suitable for a wide range of viewers, including children and pre-teens. Parents and guardians can expect a show that balances action, adventure, and lighthearted romance while maintaining a positive and family-friendly tone throughout. As with any media, watching alongside younger viewers allows for guidance and discussion about the content's themes and messages.
FAQ
Who is the director of My Adventures with Superman?
Jake Wyatt is the director of My Adventures with Superman
When Will My Adventures with Superman be released?
My Adventures with Superman will be released on July 6, 2023
Who is the distributor of My Adventures with Superman?
HBO Max is the distributor of My Adventures with Superman
My Adventures with Superman
Director: Jake Wyatt
Date Created: 2023-07-06 10:55